Starbucks Launched A Secret Society For People Obsessed With Fall — Here's How To Join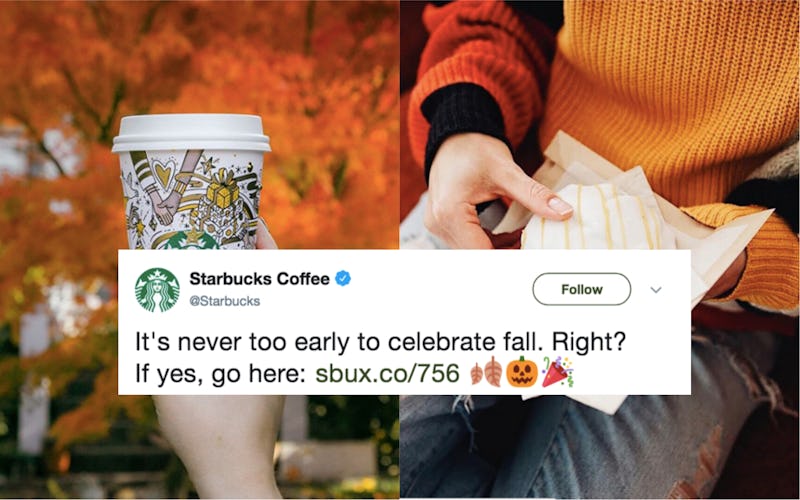 Go ahead and lick your thumb and hold it to the sky. You feel that breeze? 'Tis the wind of thousands of unrepentant autumn stans just waiting for August to end so we can bust out our moodiest nail polishes, chunkiest sweaters, and coziest socks, all in the service of Instagramming our Pumpkin Spice Lattes the way God and the Starbucks mermaid intended. Cast away your shame, fall enthusiasts, because Starbucks has a "Leaf Rakers Society" now that is literally just a secret society for people who are obsessed with fall.
Starbucks quietly tweeted about the new group on Aug. 3, with an autumnally-themed animated video so cute I almost didn't notice I nearly broke my thumb enthusiastically clicking into the link. "It's never too early to celebrate fall. Right? If yes, go here," reads the tweet — which then leads users to a Facebook group you can request to join. Of course, first you have to prove your allegiance to the season (and that you're, y'know, not a bot); a question will prompt you to answer which is better, Autumn or Fall. Only after you pass this test will you be granted entry into this glorious pumpkin-paloooza, where you and fellow fall fanatics can gab about crunchy leaves and three-wick candles in PEACE.
It's worth noting that this isn't just a secret society — like all good societies, this one has a mission. Fortunately, it's about as wholesome as a mission gets, which is simply to celebrate fall in all of its cider-guzzling, leaf-peeping majesty.
Not sure whether or not this is the society for you? Here's who qualifies:
"Welcome to the group that celebrates ... Fall. Year. Long. This is a safe place for a) pumpkins b) year-round scarf-wearers c) those who would rather work on their Halloween costume than their tan d) members of the Great Pumpkinwatch 2017 Facebook Group. This group serves as a forum where we constructively work together with Mother Nature to help Autumn arrive earlier in the calendar year. Maybe we get rid of August, or something?"
(Sorry, Meghan Markle; August birthdays are a sacrifice we'll all have to make for the cause.)
The society also comes with its own set of rules, and first of which is, "Please: no hatin' on fall. This includes pumpkins, cold breezes, leaf piles or autumnal-themed scarves."
And honestly, looking at the entries on the group so far, everything is so hashtag pure that I may just be scrolling up and down the timeline during my lunch break for kicks. Teachers are asking for decorating tips for their classrooms for the fall semester, newbies are asking for Starbucks drink recs, and people are having full-blown comment threads about pumpkin scones. It's an autumnal utopia. This, my friends, is the magical place where all your 2007 Ugg boots and the Valencia filter went when they died.
If you want to join in the fun, you can request to join the Leaf Rakers' Society here; in the meantime, if anyone needs me, I'll be tossing that last sip of my rosé into the street, shaking my fist at the sun, and sprinting to beat everyone in line for the PSL this year, because the Starbucks mermaid told me I could.