Starbucks Is Launching New Pumpkin Spice Latte Products For 2018, Including COOKIE STRAWS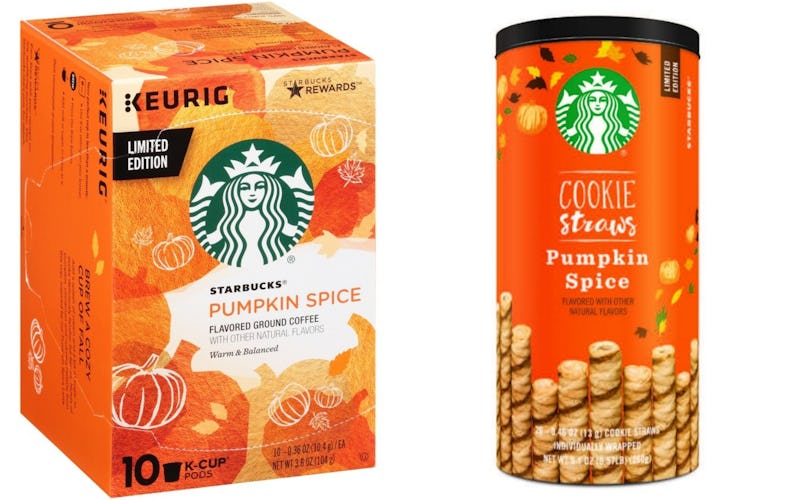 Starbucks/Remixed by Bustle
Gird your autumnal loins, my friends, because pumpkin spice season is almost upon us. In preparation for all things fall, Starbucks and Keurig are teaming up to bring your favorite fall treat to the coffee aisle at your grocery store. That's right: Starbucks Pumpkin Spice Latte products are launching next week, and coming to your Keurig. If you felt something, that was just the sound of basic hearts everywhere exploding with pure, PSL joy.
In honor of the Pumpkin Spice Latte turning 15 years old (yes, our pumpkin spice baby is celebrating her Quinceañera this year), Starbucks is releasing new pumpkin spice products to grocery store shelves nationwide. No need to clamor to the Starbucks counter come September: you'll be able to enjoy a pumpkin spice latte without leaving the confines of your kitchen. Heaven is real and it is just me not leaving my kitchen to enjoy a seasonal beverage!
Two products to get pumped about are the Starbucks Pumpkin Spice Flavored Ground Coffee K-Cup Pods and Starbucks Pumpkin Spice Caffe Latte K-Cup Pods. Finally, you can stop making up your own concoction of milk and spices to replicate the PSL at home. All you'll need is your Keurig, your PSL K-Cups, and a thirst only pumpkin-flavored spices can quench.
If lattes aren't your thing (how dare you), the pumpkin spice coffee comes in packs of ten pods which each feature "notes of pumpkin, cinnamon, and nutmeg" in a Starbucks light roast. The Pumpkin Spice Caffe Latte Pods come in packs of six which also includes sweetened dairy packet to make your PSL latte come to life.
Other on-the-go versions of the Pumpkin Spice Latte will also be available (in case, you know, a cup of coffee isn't portable enough for your particular taste). Pre-mixed, ready-to-drink Pumpkin Spice Lattes are also coming to the refrigerated aisle at your grocery store. You can pick up a single serving Pumpkin Spice Latte Frappuccino bottle. Or, if you aren't kidding yourself, you can purchase the larger, multi-serving Iced Pumpkin Spice Latte bottle. This will be extra handy if fall months don't exactly coordinate with fall weather.
Those who live sans-Keurig, fear not. You too can enjoy a pumpkin spice-flavored roast made at home. Starbucks Pumpkin Spice Flavored Ground Coffee will also be released in bag form. That, and Starbucks just announced the addition of Pumpkin Spice Cookie Straws, "toasted, white chocolatey rolled wafer cookie" with pumpkin spices. Everyone is free to pumpkin spice to their particular pumpkin spice specifications.
If you've ever wondered what's in a Starbucks Pumpkin Spice Latte, the ingredients are pretty much what you'd expect. In addition to the espresso and milk, the flavor primarily comes from two components: the pumpkin spice flavored sauce and the pumpkin spice topping. The spices the baristas sprinkle a top your whipped cream are a combination of cinnamon, ginger, nutmeg, and clove — all classic spices in a pumpkin pie. In addition to some preservatives, the pumpkin spice sauce does contain actual pumpkin. At least, it does now.
When it first debuted, the Pumpkin Spice Latte didn't have any actual pumpkin. For 12 years, the pumpkin-like essence came from artificial flavorings. However, in 2015, Starbucks announced it would start incorporating actual pumpkin into their iconic PSL.
Signs point to the Pumpkin Spice Latte being back at Starbucks soon, despite the fact that the first day of fall is still months away. A recent Reddit post shows a picture of a giant container of Pumpkin Spice Latte mix supposedly in stores now. However, the official Pumpkin Spice Latte Twitter account that actually exists because of course it does hasn't yet tweeted an official drop date (although it did briefly awaken today to talk about Starbucks' Leaf Rakers Society).
Fortunately, for PSL fans everywhere, the Pumpkin Spice K-Cups should be hitting shelves in mid-August.