Stassi & Ariana Talk At 'Pump Rules' Paint Night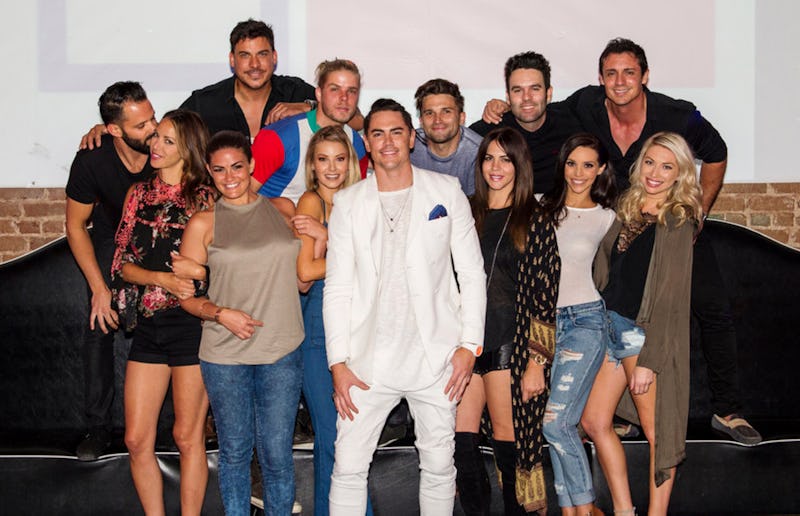 Nicole Weingart/Bravo
I would like to thank Vanderpump Rules for making Stassi and Ariana attend that wine and paint night. I don't know what it was about that art space that really got me (OK, it was the smocks) (oh, and all of the unassuming strangers looking for a relaxing night of crafts and vino, only to be blindsided by a bunch of Bravolebrity drama), but watching those two Pumpers yell at each other while they painted sunsets and trees made me laugh out loud. What a great venue for a Pump Rules face-off.
Also? I always love when Tom Schwartz goes out on a limb (e.g., ring on a string), and bringing up Stassi and Ariana's feud at the otherwise chill paint night was quite a limb. Ply two enemies with cabernet, sheath them in smocks, hand them some acrylic paints, and try to make the reconciliation sparks fly? It is so bold and creative, it just might work. Unfortunately for Schwartz (and fortunately for Ol' Goblin Rohwedder), it really did not work. Instead, it just led to another altercation that left Schwartz with his head in his hands.
But then, something magical happened. As Ariana, Stassi, and Katie bickered about getting along for the sake of the group, shouted about the bachelor/bachelorette trip to New Orleans, and called each other condescending, the camera panned over to a woman in a lime green apron who happened to be seated at the table on the other side of the room. She peeked past her painting to watch the mess, too concerned with missing any of the argument to worry about being inconspicuous. I couldn't relate more.
As she craned her neck around her easel, the woman in the lime green apron grinned. She had a front row seat to a Stassi and Katie vs. Ariana battle, and she wasn't about to squander this opportunity. What did the woman in the lime green apron do next? I don't know. I don't think we saw her again. Truly a shame.
However, I like to think she scrapped the landscape she'd been chipping away at all class, grabbed a fresh canvas, and began working on an original painting of the Pumpers.
"No more trees for me," I imagine her saying as she waved the instructor away. "I have to listen to my heart. And my heart wants me to capture this moment."
I can see the instructor giving the woman in the lime green apron a knowing nod before saying, "I SUR-port it."
And I'd SUR-port it, too.