Stassi From 'Pump Rules' Is "Actively Single" & Here's How She Moved On From Her Breakup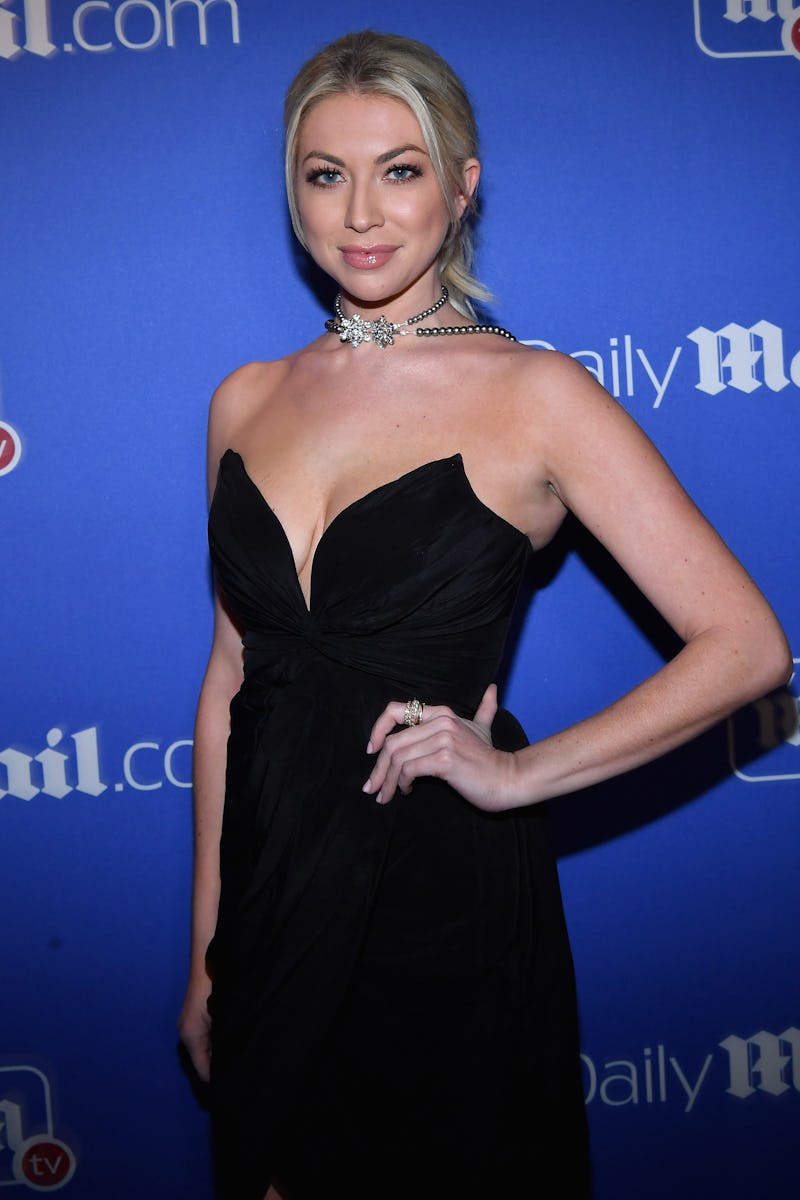 Slaven Vlasic/Getty Images Entertainment/Getty Images
Following her widely publicized split from Patrick Meagher, fans may be wondering about Stassi Schroeder's love life. In a recent interview at Bustle HQ, Vanderpump Rules star Stassi confirms she is single, and she even shares a few breakup tips she learned along the way. It goes without saying that breaking up is always a difficult situation, no matter how you slice it. And with Stassi's account of her recent split from Patrick, it's easy to see why the reality star would have plenty of advice to give. After all, she revealed back in August that her on-again, off-again boyfriend surprisingly dumped her on their four-year anniversary, according to Us Weekly.
Detailing the timeline of their relationship to Bustle, Stassi explains that she and Patrick broke up but ended up getting back together, only to call things off for good this past summer. It's such a confusing tale to untangle, but don't worry, these events will be chronicled on Pump Rules. As for exactly what fans can expect in Season 6, Stassi explains, "So, Patrick and I got back together and he'll be on this season ... But then we broke up again." She laughs and continues, "That's gonna be unfortunate to watch. That's gonna suck. So now I'm actively single and dating again. Right back to where I started."
Us Weekly reported that the explosive breakup reportedly occurred just hours before the pair was scheduled to jet set on a romantic vacation to Mexico. Totally open about the situation, Stassi announced the devastating news during her podcast, which was broadcasted straight from the Mexican retreat, with by her best friend Rachel O'Brien right by her side.
She even explained the breakup in candid detail on her podcast. "We get into an argument on our anniversary that he did not remember. Our four-year anniversary," Stassi said at the time. "Granted, OK, we broke up for a really long time, but we met four years ago on that day ... I didn't even get a f*cking daisy. Not even a weed. What did I get? I got told I was broke up with a day before our Mexican vacation that I already paid for."
As bad as things sounded for the 29-yer-old Bravo star just months ago, it seems that she's completely unbothered by the past drama of it all, explaining to Bustle how she managed to get through the tumultuous ordeal, while sharing tips for others going through a huge breakup. "When I go through a breakup, I really, like, I spend two weeks totally feeling every ounce of sadness," she explains. "I need people there to take care of me, I'm sobbing like 24/7. I just drink and take Xanax and really feel the pain of it. And then after two weeks of having my friends wait on me hand and foot and really just being depressed, I'm like, OK, I really got that out. It's over. My sadness is over, there's nothing I can do about this. It's time to move on."
It appears to be a total life lesson for Stassi, who brings up a good point about not wasting life and time on the wrong things — or in this case, person. The words of wisdom can also prove to be encouraging for someone who may find themselves wallowing in the sorrow of a breakup and trying to find a way to cope. "I've never understood when people are like, it takes half the time of your relationship," she says. "I'm like, what the f*ck? You're telling me it's gonna take two years? I'm gonna pine and be sad for two years? No way."
Following her own advice, Stassi reveals that it took her only one month to begin dating after the split, noting that going on a date with someone new can be "such a help when going through a breakup."
Though the split is sort of fresh, it seems that Stassi is officially done with her relationship with Patrick. Although, she does share that they have been on speaking terms as of late. Referring to him as a "wonderful person," Stassi explains to Bustle, "It took us a really long time to talk. Actually, one of the first times was he reached out to me during the whole podcast thing. And was just like, I'm so sorry, and then retweeted my letter and that was really nice. I mean, we're friendly. He's a wonderful person, we're just not right for each other."
While all of Stassi's advice may not be perfect, she definitely has some good pointers on getting through a breakup. There's, of course, never a proper timeline for matters of this nature, but for some, moving on quickly could prove to be a helpful remedy.
Additional reporting by Kerensa Cadenas.