Stassi Exchanged Numbers With Another Bravolebrity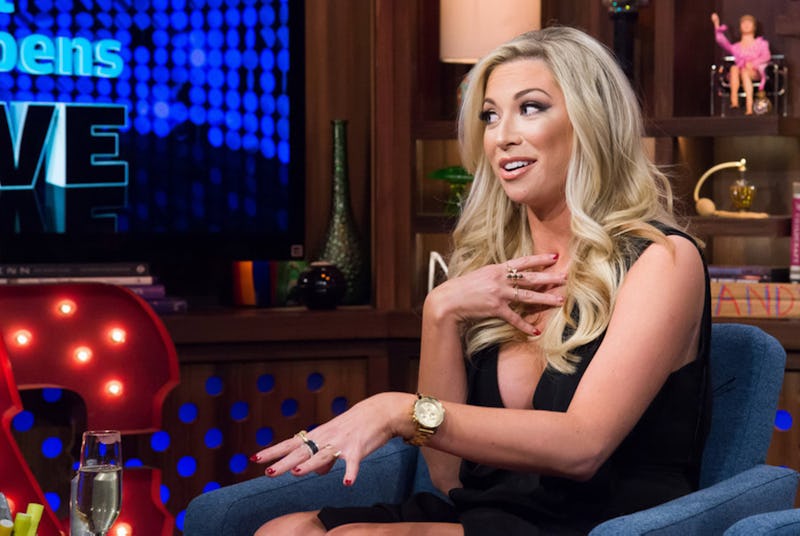 Charles Sykes/Bravo
Do you smell that? That, dear reader, is the sweet scent of a possible Bravolebrity romance wafting in the wind. When Vanderpump Rules queen and goat cheese ball aficionado Stassi Schroeder appeared on Watch What Happens Live with Andy Cohen on Monday night, master of ceremonies Andy Cohen tried his darnedest to set her up with another Bravolebrity. (Way to get those matchmaking reps in before The Love Connection reboot premieres this summer, A.C.) And that Bravolebrity was Timber Creek Lodge star/Clubhouse bartender Mark Milburn.
As Schroeds and Milbs played a match game, talked Thanksgiving dinner, and decided that they would have cute babies, it hit me: I ship them so hard. I don't know why, but I am super into the idea of Schroeder and Milburn. Oh, wait, I know exactly why I'm all about this potential pairing: I love Vanderpump Rules, I am falling in love with terrific newcomer Timber Creek Lodge, I love a Bravo crossover, and I love a Bravo star love connection. I sincerely hope this becomes a thing.
Schroeder told The Daily Dish that she and Milburn did exchange numbers, but wishes all of the spectators would chill out. "Everyone's obsessed with this," Schroeder said. "My friends are pressuring me, so I will be honest. Whenever anybody pressures me to do anything, I run in the opposite direction. So Mark is a very handsome, nice, awesome dude, but because everybody is wanting me to do this, it's making me be like, no."
Oh is that so, Schroeder? Is that how it's going to be? Well in that case, I suppose I don't want you to date Milburn. You hear me? Don't date him. Don't do it. Don't be one half of a super hot Bravolebrity couple. Don't make this Pump Rules/Timber Creek Lodge ship happen. You know what you should do instead? Throw on your turtleneck swimsuit and give that Summer House dude another shot. How about that, Schroeder?
Whatever happens, at least we'll always have Paris. Er, the Bravo Clubhouse.