Stassi Schroeder's Podcast Has Lost Advertisers After Her Reported Comments About The 'Me Too' Movement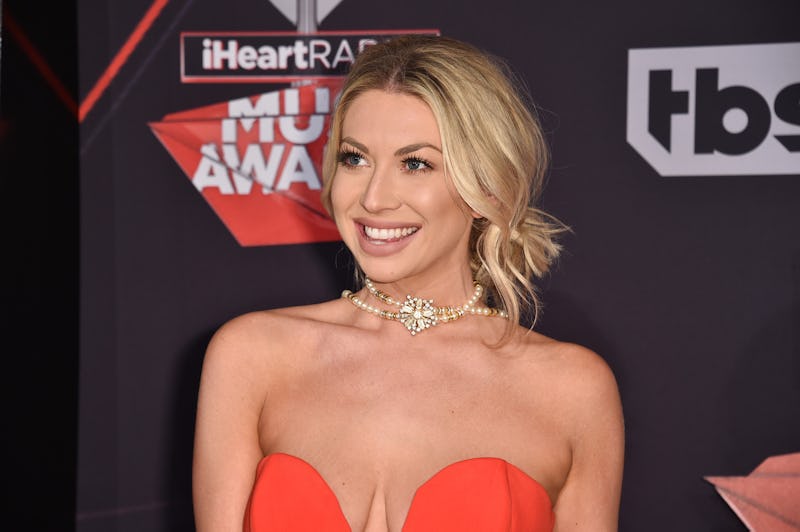 Alberto E. Rodriguez/Getty Images Entertainment/Getty Images
A Vanderpump Rules star is making headlines for something other than the reality TV show. Stassi Schroeder's podcast is losing advertisers after she reportedly criticized the #MeToo campaign during an episode on Nov. 24. On Straight Up With Stassi, the reality star frequently discusses news, relationships, and personal interests, but this topic caused a great amount of Twitter backlash. Later in the day on Nov. 24, some of the podcast's advertisers — such as Rent The Runway, Simple Contacts, and Framebridge — announced on Twitter that they will be pulling ads from Straight Up With Stassi. (Bustle reached out to Stassi's PR rep for comment on the reported podcast comments and the advertiser's tweets, but did not receive a response before publication.)
Update: On Saturday, Nov. 25, Stassi tweeted the following apology via Twitter.
"My podcast is an outlet for me to share my unfiltered opinion with my listeners. But on my latest episode I crossed a line. It was irresponsible for me to make generalized statements about a very serious topic, such as sexual harassment, as it is not my place to speak about anyone else's experiences. I apologize. I will continue to speak my mind on my podcast, but will put more thought behind my dialogue moving forward."
Earlier: It's still not clear or known what the reality star specifically said about the #MeToo campaign, since the podcast audio for the episode, titled "Are We On A Male Witch Hunt?," has since been taken down. Stassi explained the deletion in a tweet, where she responds to a fan asking why the episode is no longer online and available for listening. "Because apparently a lot of people weren't ready for it," Stassi wrote in the tweet, in which the fan's question is quoted in the retweet.
According to the NY Daily News, Stassi reportedly tweeted the following in response to the backlash in a now-deleted tweet.
"Hold up. There is ZERO bashing, & I repeat myself 3726 times how I feel the whole media frenzy has taken away from the victims who were truly assaulted. You may be misinterpreting my point, because we had the best intentions w/ this episode."
(Bustle also reached out to Stassi's PR rep regarding this reported tweet, but didn't receive a response back.)
Later, Stassi tweeted the following on Nov. 24 in a tweet that is still available online.
After that, tweeted, "Just finished recording a follow up episode... stay tuned ;)" along with a GIF of Dany Targaryen from Game of Thrones, saying, "I will answer injustice with justice," so interpret that how you may.
Stassi is known for her brash, unapologetic personality, as well a biting take on literally everything — herself included. She's long been an advocate for full disclosure and self-love, and openly discusses her own cosmetic changes, romantic issues, and unusual, borderline obsessive interests. Vanderpump Rules has followed Stassi through some tumultuous relationships and intense moments on-screen. While it's currently unknown what exactly Stassi said during her podcast, it has received a strong response among its listeners and advertisers.
The brands did more than just end their advertising with the podcast — they made public announcements via Twitter condemning the statements Stassi allegedly made, but are no longer available online. Rent the Runway issued the following statement about the podcast and Stassi via Twitter.
Framebridge also tweeted a statement regarding Straight Up With Stassi in the following tweet.
Simple Contacts also made a statement condemning the remarks and had announced via Twitter they would be pulling their advertisements from Stassi's podcast.
Fans have also been tweeting their responses to the episode and what was said on the Straight Up With Stassi episode.
Some Twitter users were straight up offended.
One Twitter user said they expect an apology no matter what in the next episode.
Another fan was calling out the show's other sponsors.
Then there were some Twitter users who stood by what Stassi said in her podcast episode.
Since the next episode of Straight Up With Stassi will reportedly address the drama, fans are anticipating how the Vanderpump Rules personality will handle it all. If there's one thing to expect from Stassi, it's the unexpected. Now, all fans can do is wait for the response.