This 'Vanderpump Rules' Update About Lisa & Stassi's Relationship Will SUR-prise Fans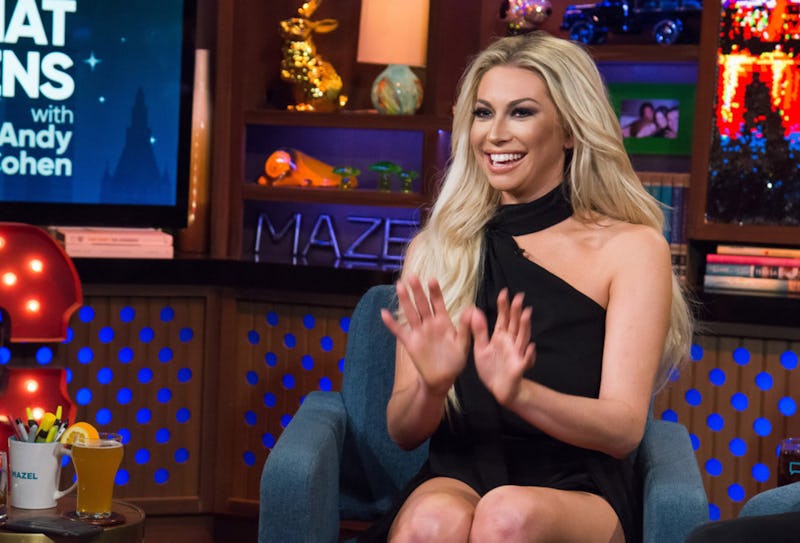 Charles Sykes/Bravo
Like a cocktail shaker planted in a SUR-tender's hands, Vanderpump Rules is really mixing things up for Season 6 — especially in the unexpected friendship department. At last Thursday's Vanderpump Dogs Gala, Entertainment Tonight talked to the cast of Pump Rules about the one thing Pump fiends are clamoring for: the upcoming season. We got a few adjectives to describe the forthcoming batch of episodes, yes, but also the revelation that Stassi Schroeder and Lisa Vanderpump are friends again. When ET asked where she and the ruler of the Sexy Unique Empire currently stand, Schroeder said, "Me and Lisa are great. We're all besties." Given the trajectory of their relationship, this is quite a sea change. Nay, a SUR change.
Here's an oversimplified recap of The Tale of Schroeds and LVP: Schroeder worked as a SURver at SUR for years, and she and Vanderpump were pretty close. But then, Schroeder left the show, setting the wheels in motion for her feud with LVP. When Schroeder severed ties with the series for a hot minute, she said some not-great things about her former co-workers, the show, and Vanderpump. Understandably, this didn't sit well with LVP.
So when Stassi eventually returned to Pump Rules, she and LVP stayed out of each other's way as much as they could. But every now and again, the gravitational pull of the show would cause them to collide like two high heel-wearing stars. And it always made for terrific reality TV.
Toward the end of Season 5, something wild happened: LVP and Schroeder had a heart-to-heart at Tom Schwartz and Katie Maloney's rehearsal dinner. Unlike their interaction at the Season 4 reunion, for example, this conversation was cordial and nice. And that moment was the beginning of a beautiful re-friendship.
LVP and Schroeder are not only back to being besties, but the two are working together. Yes, Vanderpump is the ex-SURver's boss once again. Please let your eyes feast upon this excerpt from Schroeder's Bravo blog:
"Now that her relationship with Lisa is finally on the mend, Stassi makes a surprising return to SUR when she takes a job as the new event planner – despite the protests of her jealous former coworkers."
Schroeds is back at SUR. And she's an event planner. For LVP. What's next? Will James Kennedy's laptop sprout a pair of luxurious wings mid-DJ set and and soar down Santa Monica Blvd.?
The unexpected pairing of Kennedy and Jax Taylor made the trailer. The mind-blowing friendship between Lala Kent and Maloney made the trailer. However, the earth-shattering reconciliation between Schroeder and Vanderpump never came up in the clip. Sure, they sit at a table together, and yeah, that's a big deal, but they don't say anything about their new professional relationship. Of course, the trailer can't cover everything that happens in the season; there's only so much Pump you can fit in 152 seconds. However, Schroeds and LVP working together again like it's 2013 really seems like something that would definitely be highlighted in the preview. But it didn't make the cut. There's just that much happening in Season 6.
While their being back on solid terms isn't as shocking as Taylor admitting he cheated on Schroeder at the end of Season 1, or as life-changing as Kristen Doute flying in Miami Girl, it still feels like a big deal. It's a moment that's several seasons in the making, a tumultuous story arc that fans have followed for years. Season after season, Pump Rules delivers the goods, and this development in Vanderpump and Schroeder's relationship is just one of the many things that the extra-long Season 6 has up its rosé-stained sleeve.