Stassi Went IN On Patrick During The 'Vanderpump' Reunion & Fans Are Loving It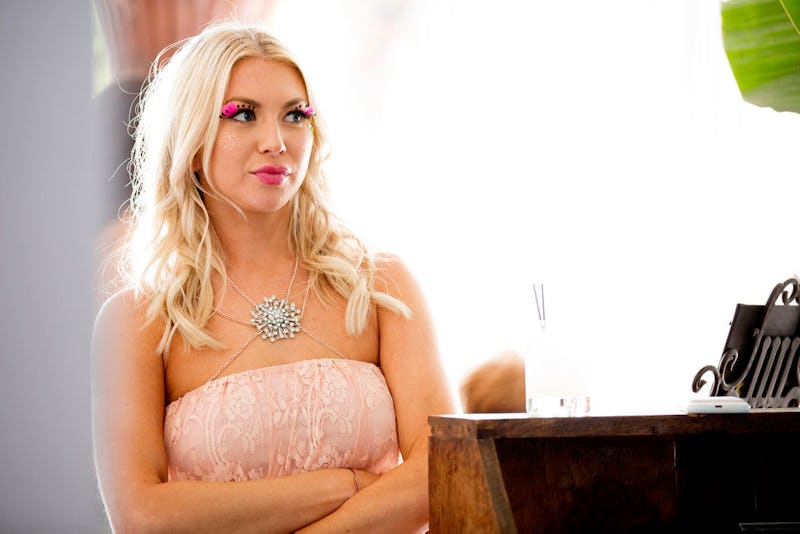 Isabella Vosmikova/USA Network
Spoilers for the Vanderpump Rules Season 6 Reunion, Part 1. The first part of the Vanderpump Rules reunion had it all, including plenty of relationship updates from the show's cast of SURvers. The states of the union included one from Stassi Schroeder on her ex-boyfriend Patrick, who, honestly, was one of the villains of this season. Fortunately, Stassi's comments about Patrick on the Vanderpump Rules reunion were exactly what her fans had been waiting to hear.
Now, if you watched the latest season of Pump Rules, you'd know that Patrick was no prize, to say the least. During the reunion, Andy Cohen even brought up the multiple names that fans of the show called him on social media, which ran the gamut from "smug" to "turd." So, he was definitely not a fan favorite, at all. And many were rooting for Stassi to kick her beau to the curb. Luckily, she finally did, and she told Andy that she's in a new relationship. She also expressed that she knows now that Patrick's behavior towards her and others was not okay.
When Andy asked her what she felt when she saw in the final episodes how Patrick was treating her, she said, "I didn't recognize myself." Stassi further related that she felt as though she was behaving like "someone who was meek and didn't stand up for herself ... I was just submissive." The reality star added, through tears, "I feel like I wasted so much time [on the relationship]."
Thankfully, Stassi's now fully aware that her boyfriend's actions — including talking down to her and blocking her phone number and social media accounts — were simply unacceptable. And she seems to be moving right along in her life. "I want to be able to wake up and live my life exactly how I want to live it," she said, when asked what she wants right now. "I want someone to really love and accept me."
Stassi also had something to say about her ex's multiple, multiple ignorant comments. For her part, the former SUR staffer said that she wasn't even aware of a lot of the stuff that he was saying during the show, like when he said to her friends that she could have sex with other guys, he just didn't want her to date them. She said that she was "horrified" by that comment. And remember when Patrick made all of those comments about Lisa Vanderpump's behind on the finale? Yeah, Stassi was also so "embarrassed" by that.
But, again, Stassi and Patrick have since broken up since the events of the show, which will surely be reassuring to fans of the series who weren't exactly Team Patrick. Now, the reality star has a new man in her life and things seem to be going swimmingly for the pair.
According to E! News, Stassi has been dating her new boyfriend, Beau Clark, for a few months now. By all accounts, things are going super well. The two apparently met through the reality star's besties, Kristen Doute and Katie Maloney, and are "exclusive." An unnamed source told the publication, "Stassi thinks he's hilarious, and they both share similar humor."
Stassi and Beau attended Coachella together in early April, along with Katie, Kristen, Schwartz, and Carter. The two also went on a romantic trip to Italy in early May. Considering the messiness that she went through with Patrick, it's nice to see the Bravo star in such a sweet relationship now. And her reflection on her previous relationship during the reunion should make fans feel confident that she's intent on valuing herself, no matter who she's with.
Based on her comments during the first part of the Pump Rules reunion, fans can rest assured that Stassi knows exactly how terrible Patrick acted on the most recent season of the show. And now, she's putting that drama behind her and only focusing on the positive.