Conversion Therapy Bans Have Impacted Thousands Of Teens So Far, A New Report Found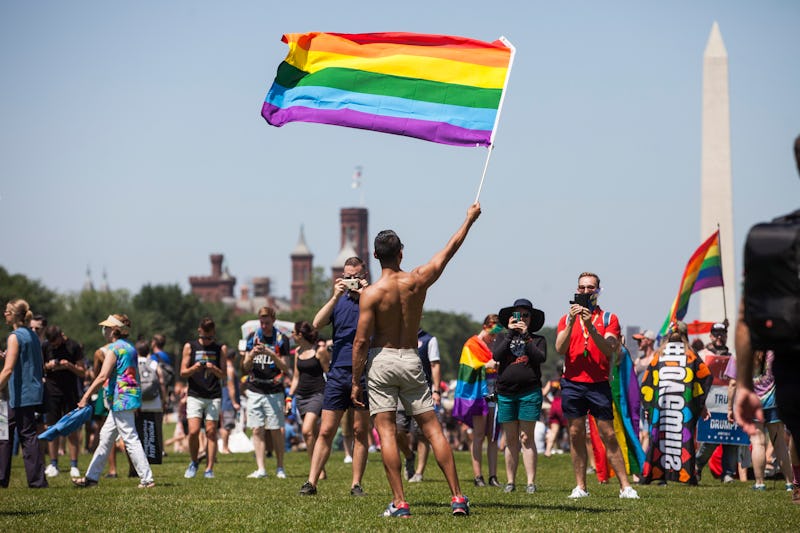 Zach Gibson/Getty Images News/Getty Images
In 2012, California became the first state to ban conversion therapy, the discredited practice of attempting to make gay people straight, for minors. Since then, 17 states and the District of Columbia have instituted similar bans, and it looks like they're working: State bans on conversion therapy have helped 10,000 teenagers avoid the practice, according to a new study from the UCLA Williams Institute.
Conversion therapy has been denounced as ineffective or harmful by the American Medical Association, the American Psychiatric Association, the American Academy of Child Adolescent Psychiatry, the American Academy of Pediatrics, the American Association for Marriage and Family Therapy, the American College of Physicians, and many other organizations.
"The scientific research since the late 1940s has been remarkably consistent that sexual orientation and gender identity are remarkably resistant to efforts to change," Catherine Lugg, professor at the Graduate School of Education at Rutgers University, told NBC News. "Since the 1970s, no credible medical organization has claimed that one can change — or, by implication, should change — their sexual orientation and/or gender identity."
Nevertheless, it remains legal in 32 states for parents to send their children to conversation therapy centers. According to NBC News, around 16,000 children in those states are expected to undergo conversation therapy before they turn 18.
Despite its lack of acceptance in medical communities, conversion therapy is supported and encouraged by many fundamentalist Christian organizations. However, the movement suffered a major blow in 2012 when Alan Chambers, formerly the head of a ministry that promoted conversion therapy and "freedom from homosexuality through the power of Jesus Christ," announced that he no longer believes conversion therapy works. Chambers apologized, shut down the ministry in question, and announced his support for same-sex marriage.
"I am sorry we promoted sexual orientation change efforts and reparative theories about sexual orientation that stigmatized parents," Chambers said at the time. "I am sorry that there were times I didn't stand up to people publicly 'on my side' who called you names like sodomite -- or worse."
During the 2016 presidential campaign, Vice President Mike Pence came under fire for a blog post he'd written years earlier that many interpreted as an endorsement of conversion therapy. Pence, who was then a radio host, wrote at the time that no federal money should be "given to organizations that celebrate and encourage the types of behaviors that facilitate the spreading of the HIV virus," and that instead, "resources should be directed toward those institutions which provide assistance to those seeking to change their sexual behavior."
A spokesperson for Pence, who is vociferously anti-gay, denied that this was a reference to conversion therapy, and said that Pence was merely advocating resources for "groups that promoted safe sexual practices."
The decision by various state legislatures to ban conversion therapy may do more than simply save 10,000 teens from undergoing the process. It could also save lives; in a study released earlier in the month by the Trevor Project, 57% of teens who'd undergone conversion therapy said they'd attempted suicide within the last year.
In addition to the 18 states that have banned conversion therapy, an additional 21 states have legislation pending that would do the same, according to NBC News.