Sterling K. Brown Is In 'Black Panther' & It's Basically A Total 180 From Randall Pearson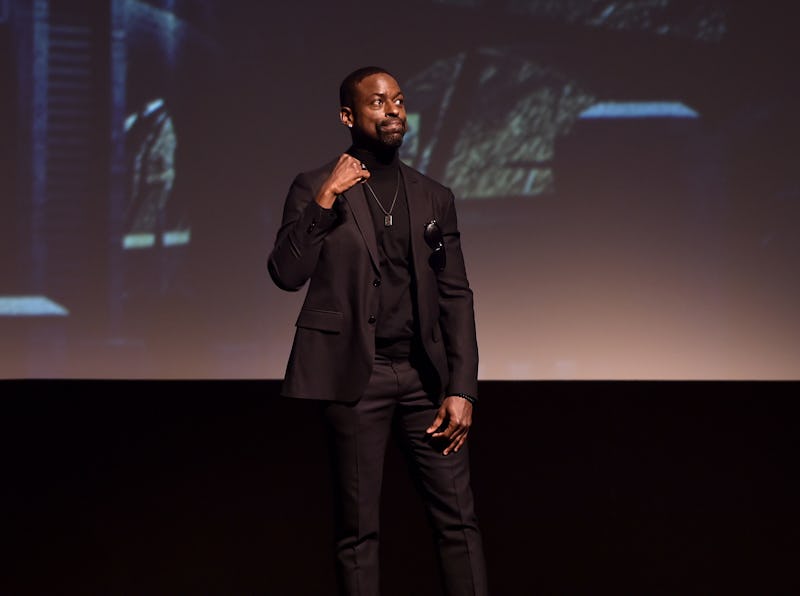 Alberto E. Rodriguez/Getty Images Entertainment/Getty Images
If you're one of the millions of Americans used to seeing Sterling K. Brown on the TV, you might be in for a shock when you step into the theater to see Black Panther. The actor known for playing Randall on This Is Us and Christopher Darden on The People vs. OJ Simpson has a small role in the newest Marvel Cinematic Universe installment, and Sterling K. Brown's Black Panther role is definitely no Randall Pearson.
To all you This Is Us fans casually strolling into a screening of Black Panther, no, your eyes do not deceive you; yes, that is Randall in the Marvel universe. And, no, unfortunately this does not mean that Randall will suddenly discover superhuman powers and start fighting crime and saving foster children from demonic Crock-Pots on This Is Us (no matter how cool that would be).
In fact, it's unclear whether Brown's Black Panther character even demonstrates any of these superhero qualities. Little to nothing has been revealed about Brown's Black Panther role. The only thing fans really know about Brown's move from This Is Us to the MCU is that he's for sure in it. Forget about how Jack died and that insane future Randall reveal, fans have a new mystery to solve: who does Sterling K. Brown play in Black Panther anyways?
There are a lot of new characters being introduced into the MCU in Black Panther, but Brown's might be one of the most secretive of the bunch. All that was confirmed prior to the film's release is that he plays N'Jobu, a character with a mysterious tie to T'Challa's past. Literally, this is the only thing Brown himself was able to say. "His name is N'jobu. He is a character from T'Challa's past, and I think, without losing any limbs on my body, that's all I can say," he told GQ when asked about the role. It turns out, all the work the This Is Us cast had to do to make sure Jack's death wasn't spoiled for fans was great preparation for Brown's Black Panther experience, and vice versa. "Being in a Marvel film is the pinnacle of secrecy training," Brown said in an interview with The LA Times.
All the secrecy aside, there are a few details that have come out about Brown's Black Panther character, though without going into spoiler territory, they aren't all that revealing. Speaking about how he got a role in Black Panther in an interview with People., Brown revealed that he doesn't "have a huge part" in the movie. But, he added, "I'm happy with my part." So we know his role is relatively small, and the idea that he is someone from T'Challa's past also hints at a possible familial connection, but whatever that connection is has been kept top secret.
Brown hasn't be able to say much about his role in Black Panther, but he has been more than open about how he got the part. The actor revealed to People that he actively campaigned to get a role in the historic film during a meeting with producer Nate Moore. "I said, 'Listen, I've been practicing my Wakanda. I know you've already got the titular characters taken care of, but how can I be down? Because man, it's a black superhero," he said. "It's huge."
Though Brown isn't the only black actor on the This Is Us set, working on Black Panther was like stepping into a whole new world. "Just being at base camp, and you see about 24 trailers lined up, one after the other, and each, slowly but surely, a black face comes out of each one of them," Brown told The Hollywood Reporter. "And they get to set to shoot with a black director, [Ryan] Coogler, and a black producer, Nate Moore. To see this level of production with all these black faces? It will bring me to tears right now."
Oh, tears, you say? Well, apparently Brown's role in Black Panther isn't too far off from This Is Us after all.