Sterling K. Brown's Son's Date Night Meltdown Is A 'This Is Us'-Worthy Scene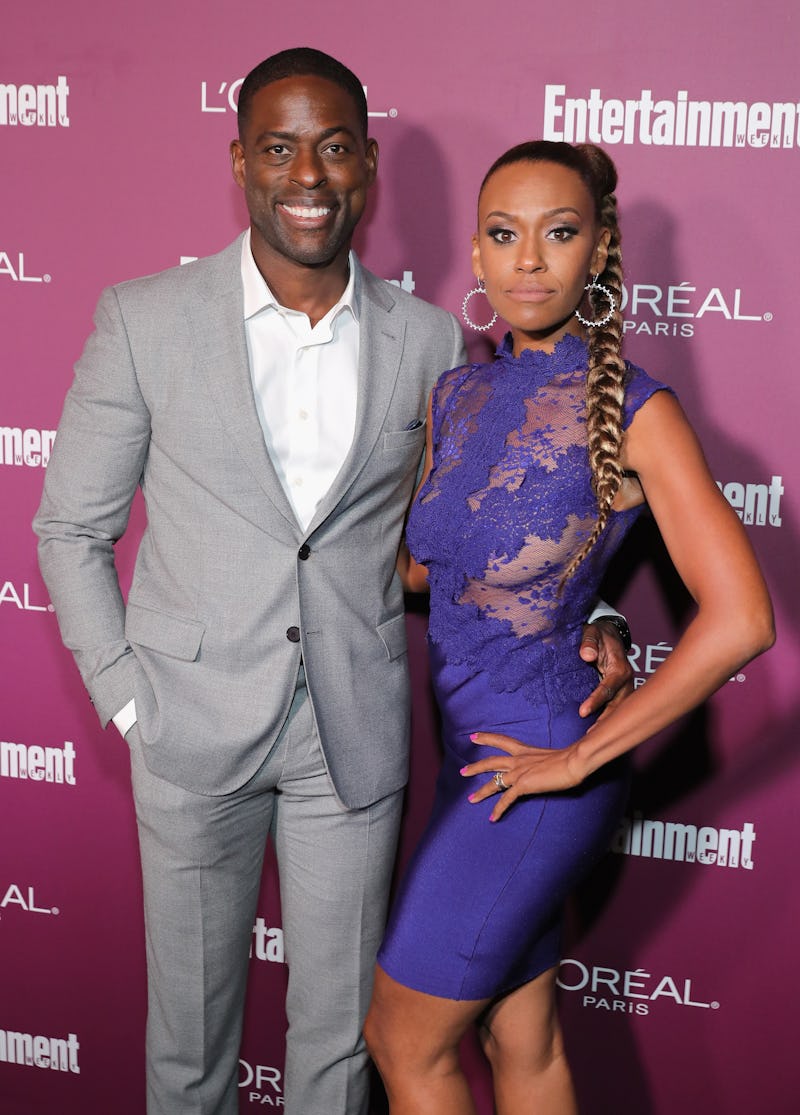 Neilson Barnard/Getty Images Entertainment/Getty Images
There have already been a few tears shed over Emmys night, but they came from an unexpected source. Sterling K. Brown's son had a This Is Us moment as his parents were heading out for a night of pre-Emmy party fun, and his dad captured the emotional scene for Instagram. Brown and his wife Ryan Michelle Bathe have two sons, Andrew, 6, and Amaré, 1. While Andrew was cool with spending the evening with his nanny, Amaré channeled his dad's performance as Randall from This Is Us to offer up a four hankie moment as his parents headed out the door. After watching the video, you'll see there's no doubt that this kid is an honorary member of the Pearson family.
After his mom promised that his big brother would always be there for him, and that she would see him later that night, Amaré broke down in tears, much like the viewers of his dad's show tend to do on a week to week basis. Brown quickly went into Super Dad mode and comforted his youngest, even though his son seemed more distraught about his mom leaving.
The actor also managed to capture his oldest being a major ham. Andrew pulled out an Emmy-worthy performance of his own when he feigned horror at the idea of his parents leaving. The giveaway that Andrew's tantrum was just quality acting comes from his refusal to put his phone down. It definitely looks like Brown and Bathe may have a couple of future stars on their hands.
If all goes well on Sunday night, Brown will have another trophy to share with his sons too. The This Is Us star is up for Best Leading Actor at the ceremony for his amazing work as Randall Pearson, and he has an excellent chance of winning his second Emmy this year (he won his first in 2016 for American Crime Story). Win or lose, at least he and his wife are getting a couple of superior date nights out of the deal.
This is bad news for Amaré, but excellent news for his parents. And before you feel too bad for Brown's adorable son, you should remember that he clearly has a super devoted mom and dad. Both of his parents are working actors, but one look at their social media pages reveals that they absolutely love spending time with their family. In fact, Brown's dad credentials might even rival his TV dad's, Jack Pearson's.
Whether he's taking pictures of playtime or gushing over his two boys' awesomeness, Brown is always a proud dad. And if anything, Amaré's reaction to his parents' date night just proves how amazing they are. Come on, if your parents were Brown and Bathe, you probably wouldn't want them to leave either.
For now, everyone should take a moment and appreciate the fact that Amaré is clearly following in his dad's footsteps. This is one little guy who can already bring some serious This Is Us levels of emotion while tugging on your heartstrings. At least when the show is inevitably rebooted in 20 years, the casting director won't have to look far to find their Randall.