Steve Carell Makes A Perfect Toby Flenderson Joke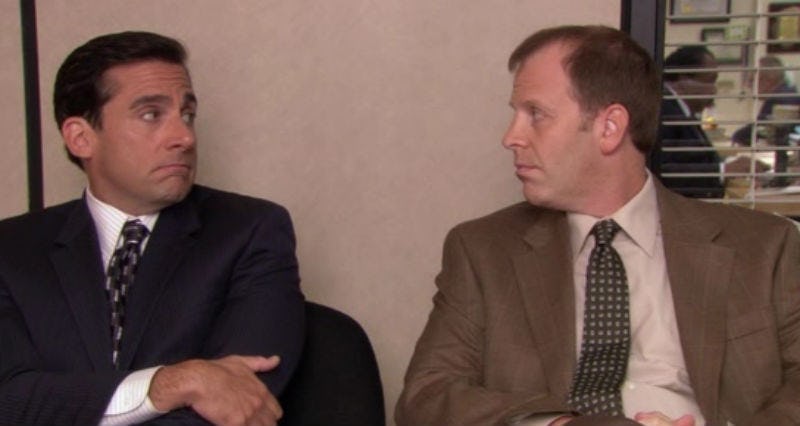 NBC
Way to go, Toby. You just can't help but make everything worse, can you? It seems that Dunder Mifflin's Toby is to blame for Steve Carell's Office revival joke he made on Twitter Wednesday. Carell tweeted Thursday, "My account was hacked by Toby Flenderson." Talk about pulling a Michael Scott. That tweet is a beautiful, beautiful thing, especially for fans of The Office.
On Wednesday, NBC officially confirmed that Will & Grace will return with 10 brand new episodes come the 2017-18 TV season. Like everyone else, Carell commented on the revival by tweeting, "Breaking News: 'The Office' returning to NBC." He then tweeted shortly after, "Wait, sorry. I meant 'Will and Grace' (Typo)." It caused quite the reaction on the internet, and rightfully so. If you're wondering if The Office is actually returning, star B.J. Novak confirmed on Wednesday's Watch What Happens Live that there are no talks of a revival.
So, if you were really hoping The Office was coming back, direct all your anger at Toby just like Michael would. Clearly, it is all Toby's fault for getting fans' hopes up about a revival. Once again, he is ruining life.
As fans know, Michael and Toby did not get along. Basically, Michael hated Toby with so much passion that he even tried to plant marijuana on him and get him arrested and fired. It did not work, because Michael couldn't tell the difference between a marijuana leaf and Caprese salad.
Carell's tweet is a nice way to not only honor The Office, but the disastrous of a relationship Michael and Toby shared. With that, let's take a stroll down memory lane by showing how Michael would most likely react if Toby hacked his Twitter.
He Wouldn't Think It Was Amazing
Nobody cares, Toby.
He'd Ruin Toby's Lunch
Only the most childish reactions for Michael.
He'd Want Him To Leave Forever
Are you on his side, Toby?
He'd Call Toby A Thief
Nothing worse than a thief of joy.
He'd Definitely Say This
Classic, Michael Scott.
He'd Totally Threaten Him
Watch your back, Toby.
He'd Threaten Him Again
That sounds about right.
He'd Actually Physically Hurt Him
It's mean, but try not to laugh.
He'd Question Toby's Existence
He's waiting for an answer, Toby.
He'd Lie To Toby's Face
Always open and honest with Toby.
He'd Go This Far
Typical Michael.
And, Of Course, He'd React Like This
His world would basically end.
One of the best non-friendships ever.