Someone Sent Trump's Treasury Secretary Actual Horse Poop For Christmas & There's A Video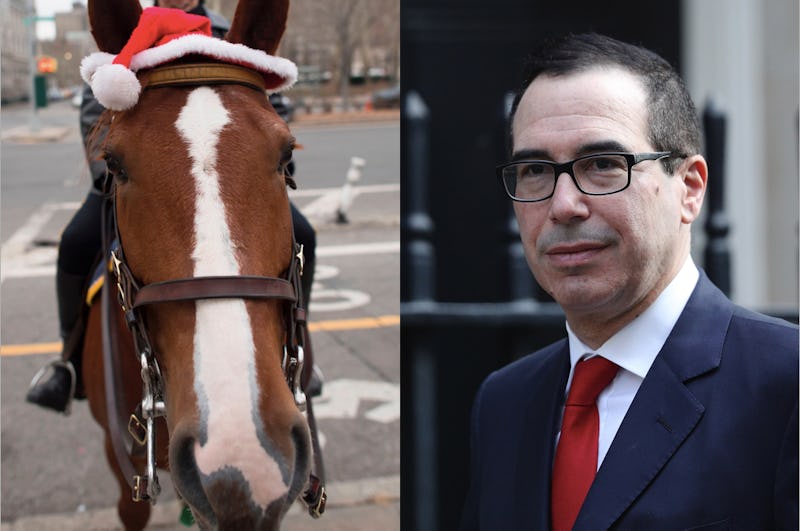 DON EMMERT/AFP; Dan Kitwood/Getty Images News/Getty Images
U.S. Treasury Secretary Steve Mnuchin received a Christmas surprise on Saturday — but it wasn't exactly full of holiday cheer. A gift-wrapped bag of horse manure was found near Mnuchin's Bel Air home this weekend, prompting the bomb squad to be called to the residence to inspect the package.
The Los Angeles Police Department was reportedly tipped off about a suspicious Christmas-themed package that was found in Mnuchin's neighbor's driveway, but addressed to the treasury secretary, around 7:30 p.m. local time. After the package was thoroughly inspected by the LAPD bomb squad, officials announced that the gift was not a threat, but did contain a "pretty good quantity" of horse manure. The package was also labeled as being from "the American people."
Local authorities wrapped up their investigation later that evening, and announced that Secret Service would be picking up the package on Sunday to examine the evidence.
Mnuchin, a wealthy executive and former executive at Goldman Sachs, and his wife Louise Linton have stirred controversy in recent weeks for appearing to be out of touch with the American people by seeming to flaunt their wealth in a number of photographs. Most recently, the wealthy couple was criticized for posing next to sheets of freshly-printed American dollars.
During a tour of the Bureau of Engraving and Printing in November, Mnuchin and Linton were viewing the production of new $1 bills, which have Mnuchin's signature on them and were scheduled to go into circulation beginning in December. What should have been a routine ceremonial visit, however, turned into a PR nightmare when the couple, who had already been criticized earlier in the month for being "out of touch," held sheets of the bills up to their faces while smiling intently for the cameras.
The photos led to widespread ridicule and mockery online, with some users comparing Linton to a Disney villain, and others drawing comparisons to infamous "let them eat cake" Queen of France, Marie Antoinette. Others pointed out that the photos simply highlighted the disconnect between the wealthy Cabinet family and millions of American people.
In August, the family faced scrutiny after Linton got into a war of words with an Instagram user who criticized Linton's luxurious lifestyle. The debacle began when Linton posted a photo of herself exiting a military jet, with the caption, "Great #daytrip to #Kentucky!" She also added the hashtags #rolandmouret, #hermesscarf, #tomford and #valentino to draw attention to her expensive clothing.
An Orgeon woman commented on the photo, "Glad we could pay for your little getaway. #deplorable," and Linton responded with a remarkably condescending tirade.
"Aw!!! Did you think this was a personal trip?! Adorable!" Linton wrote. "Pretty sure the amount we sacrifice per year is a lot more than you'd be willing to sacrifice if the choice was yours ... Your life looks cute. Go chill out and watch the new game of thrones. It's fab!"
Screenshots of Linton's Instagram post went viral on Twitter, where they were widely mocked and ridiculed.
As if things couldn't get any worse for the family's public image, reports surfaced in September that Mnuchin requested a government plane — which would have cost thousands of taxpayer dollars — for his honeymoon in Europe this summer. Mnuchin insisted that the request was a national security matter and "not about convenience."
Given all of these controversies, Mnuchin and his wife are pretty unpopular, which could explain why someone felt the urge to handle, wrap, and deliver horse manure directly to their residence. Needless to say, the Treasury Secretary may think twice before opening any other Christmas gifts this holiday season.