The Full Video Of Stormy Daniels Being Arrested Has Been Released — WATCH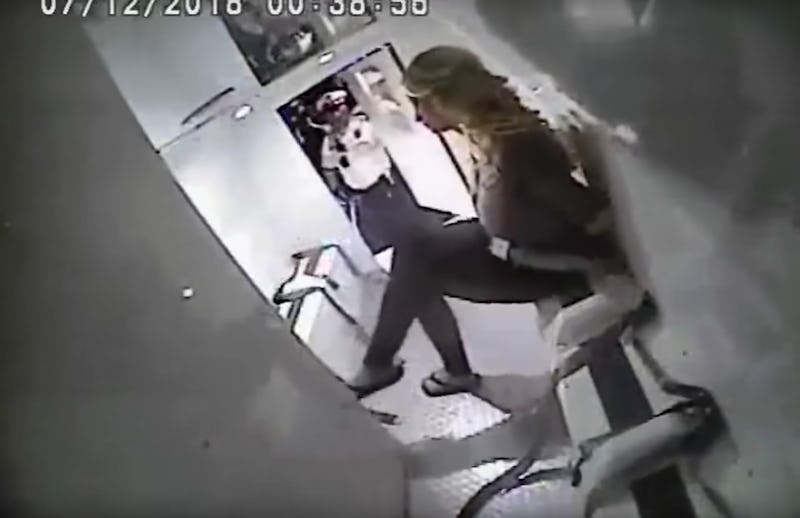 Columbus Division Of Police
The Columbus Division of Police released the arrest video of Stormy Daniels, which was captured by officers' body cameras. Daniels was taken into custody on July 11 under charges of inappropriately touching undercover agents who had posed as patrons, though the charges were quickly dropped. The video is intense and shows Daniels' bodyguards getting agitated — but throughout, Daniels remains calm.
In the footage, Daniels is handcuffed, patted down, and walked to a police van outside the Sirens Gentlemen's Club where she was arrested in Columbus, Ohio. She's then buckled into the van, brought to the police station, and taken into custody.
The video also shows Daniels' bodyguards unsuccessfully attempting to join her in the police van: "She's not going in there alone." Although Daniels stays composed, she's also clearly upset and can be heard sniffling in the vehicle.
"They're gonna take my daughter," she tearfully told a woman whose figure has been blurred out. "It's gonna be alright," the woman replied.
Detective Steve Rosser can be heard explaining the charges to her inside the van. "If you use any anatomical part of your body, like your chest, to put it upon people's face, that's a misdemeanor of the first degree," he said. According to an Ohio law that's rarely enforced, employees at strip clubs may not touch patrons unless they're family members.
"We had a few detectives inside in the crowd," the detective told Daniels, saying she had touched them. "They liked it," she replied, to which he laughed and admitted, "They may have."
Daniels was released on July 12 on a $6,054 bail. City Attorney Zach Klein reviewed her case just hours after the arrest and decided to drop the charges because she "has not made regular appearances at this establishment," essentially meaning that he didn't consider her a Sirens "employee." Michael Avenatti, Daniels' lawyer, called the arrest "politically motivated" and a "setup."
"She was arrested for allegedly allowing a customer to touch her while on stage in a nonsexual manner!" Avenatti tweeted on July 12. He also wrote that Daniels had been "performing the same act she has performed across the nation at nearly a hundred strip clubs."
According to court documents, Daniels made physical contact with three undercover detectives at the club. The record states that she touched their faces with her hands and breasts when they came to the stage. Two other dancers were arrested alongside Daniels under the same law; their charges were also dropped, and Klein announced on Wednesday that his office will not pursue such prosecutions in the future.
"We have recognized there is a glaring inequitable application of the law, which treats people differently for the same conduct based on the frequency of their appearances at sexually oriented businesses," he said in a statement.
The Columbus Police Department has seemed to resist the assertion that the arrests were a sting operation, instead putting out a statement that they were part of a "long-term investigation into allegations of human trafficking, prostitution, & other vice related violations." But Avenatti continues to insist that they were politically motivated. On July 12, he tweeted out screenshots that were allegedly taken of Detective Rosser's Facebook page and seem to indicate that Rosser is a fan of President Trump.
Daniels alleges that she had an affair with Trump in 2006. She was paid $130,000 to keep her story quiet, and the president has moved to fine her for allegedly breaking a nondisclosure agreement. She's filed suits against him in return, including one for defamation. Avenatti told TMZ that he's also exploring options to bring a case against the Columbus Police Department over her arrest.