A TV Show Starring Stormy Daniels' Lawyer & The Mooch Is Being Shopped Around — No Joke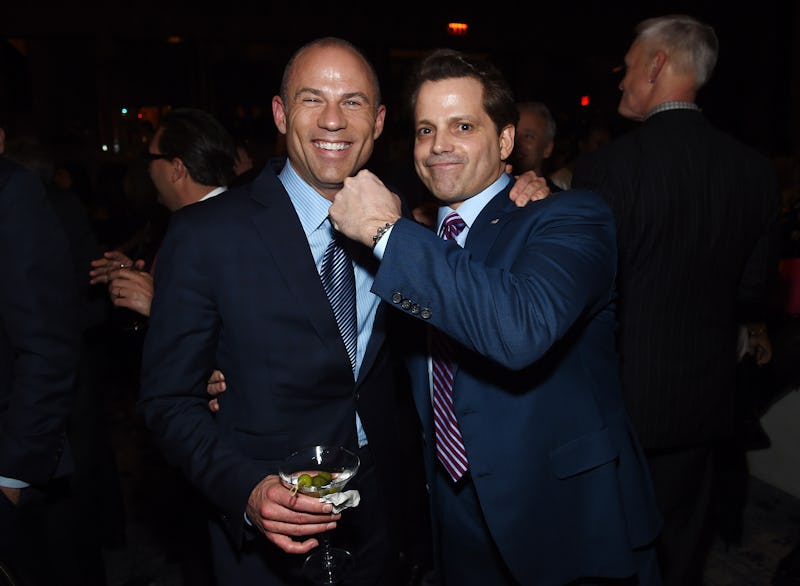 Jamie McCarthy/Getty Images Entertainment/Getty Images
Is it still peak TV? According to the New York Times, a TV show starring Anthony Scaramucci and Stormy Daniels' lawyer, Michael Avenatti, may be on the horizon. The Times reports that a television talent agent has discussed the prospect of such a program with CNN and MSNBC, though it's unclear if it's advanced beyond the discussion stages.
Avenatti is the lead attorney for adult film star Daniels, while Scaramucci, sometimes nicknamed "The Mooch," served as President Trump's communications director for almost two weeks in 2017. Both men are fixtures on cable news programs, and according to The Times, talent agent Jay Sures pitched executives on the idea of a program where the two would square off against one another, presumably on the political topics of the day.
In a statement to The Times, Avenatti said that he has "no interest in television right now," a claim he made previously to The Hollywood Reporter. He said that he's instead looking forward "to prevailing on behalf of my client Stormy Daniels."
Despite his unceremonious firing from the White House, Scaramucci has remained a staunch Trump defender, and is working on book about him titled The Blue Collar President: How Trump Is Reinventing the Aspirational Working Class. Avenatti, meanwhile, has been on television constantly since taking on Daniels as a client, at one point giving 147 interviews in the course of a 10-week period, according to the conservative Media Research Center.
Avenatti is suing Trump on behalf of Daniels, who claims that Trump's former attorney Michael Cohen paid her hush money to stay quiet about an affair she allegedly had with Trump in 2006. Cohen acknowledges having made the payment, and Trump's current attorney Rudy Giuliani acknowledges that Trump repaid the money to Cohen. Trump denies that he had an affair with Daniels, calling the claims "false and extortionist."
Scaramucci was a vocal Trump supporter during the campaign, and he sold his investment firm SkyBridge Capital during the transition in preparation to serve as a presidential adviser the White House. That job "didn't materialize," as Scaramucci put it in May 2017, but he was subsequently hired as White House communications director two months later. However, he quickly drew controversy for giving an expletive-laden interview to The New Yorker, and was fired 10 days into the job by incoming Chief of Staff John Kelly.
The concept of having two ideological foes go toe-to-toe on politics is a tried-and-true format for news shows. It was the premise behind Crossfire, which ran on CNN for over two decades and featured now-Fox News host Tucker Carlson and former Bill Clinton adviser James Carville, among others, debating politics with one another in front of a live studio audience.
However, an Avenatti-Scaramucci TV show can't possibly come to fruition until Avenatti absolves himself of his current client responsibilities, a source told Variety. This means the show would not launch before Avenatti's case on behalf of Daniels concludes — or, alternatively, it continues without Avenatti prosecuting it.
Even before Daniels retained him as her lawyer, Avenatti had plenty of experience in the media, having previously sued Jim Carrey, Paris Hilton, and even The Apprentice producer Mark Burnett. Avenatti's website has a section dedicated to his TV appearances and a separate one that collects print articles about him, though it's worth noting that he's also successfully tried plenty of less media-friendly lawsuits.
According to Variety and The Times, Avenatti and Scaramucci both attended a party that Sures threw the weekend of the White House Correspondents' Dinner. Sures, who is co-president of the powerful United Talent Agency, has previously represented a wide variety of news media stars, including Chuck Todd, Larry Wilmore, Jake Tapper, Dr. Phil, and Glenn Beck.