Stormy Daniels & Michael Avenatti Are No Longer Working Together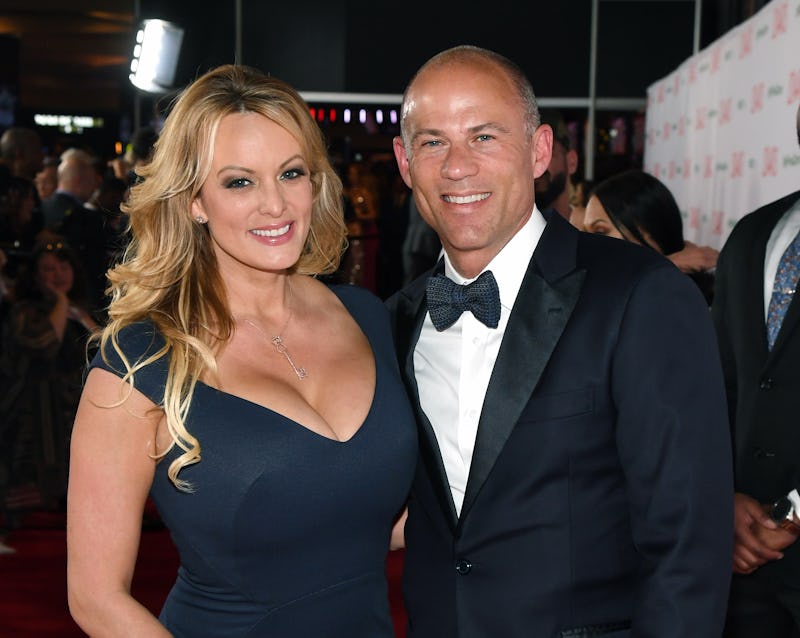 Ethan Miller/Getty Images Entertainment/Getty Images
In separate tweets on Tuesday, Stormy Daniels and attorney Michael Avenatti announced that they had parted ways. Avenatti represented Daniels in her legal dealings with President Trump and his former attorney, Michael Cohen, for several years.
On Twitter, Daniels announced she had found a new lawyer. "I have retained Clark Brewster as my personal lawyer and have asked him and his firm to review all legal matters involving me," she tweeted. "Upon completion of Mr. Brewster's review and further consultation with me, I anticipate Mr. Brewster will serve as my primary counsel on all legal issues."
Through an official statement on Twitter, Avenatti also confirmed that his professional relationship with Daniels had ended. "On Feb. 19, we informed Stormy Daniels in writing that we were terminating our legal representation of her for various reasons that we cannot disclose publicly due to the attorney-client privilege," his statement said. "This was a decision we made lightly and it came only after lengthy discussion, thought, and deliberation, as well as consultation with other professionals."
This news comes less than a week after a federal judge threw out Daniels' lawsuit against Trump and Cohen. The lawsuit sought to void a non-disclosure agreement that prohibited her from speaking publicly about an extramarital affair that she alleged she and Trump once had in 2006. Through official statements from the White House, Trump initially denied having paid hush money to Daniels through Cohen, though he later acknowledged that he reimbursed Cohen for the payment.
The federal judge, James Otero, explained his decision to toss Daniels' lawsuit out by saying that it ought to be sent back to California Superior Court. Otero noted that the lawsuit "lacks subject matter jurisdiction," according to CNN, and should be remanded to the place it first was filed in.
In early March, Avenatti told CNN that the decision worked in Daniels' favor. "The court found that Ms. Daniels received everything she asked for by way of the lawsuit; she won," he said.
Not only has Daniels spoken of an alleged extramarital affair (which Trump has denied), she has also claimed that she was allegedly threatened if she spoke up. The president has denied this claim as well.
Last year, Daniels told 60 Minutes that she was accosted by a man in Las Vegas in 2011. At the time, she said she was with her young daughter. Daniels claimed that the man came over to her and said, "Leave Trump alone. Forget the story."
She added that the man looked at her daughter and said, "That's a beautiful little girl. It'd be a shame if something happened to her mom."
With Avenatti officially out of the picture, Brewster may have large shoes to fill. But he seems to have the professional background for it.
According to KJRH, Brewster is a prominent attorney from Tulsa, Oklahoma, who primarily deals with "high profile" cases. The official website for his firm, Brewster and De Angelis, describes him as a "steeled criminal defense attorney willing to aggressively challenge prosecuting authorities."