'Stranger Things' Cast Describes Season 2 In Emojis & It Sounds Insane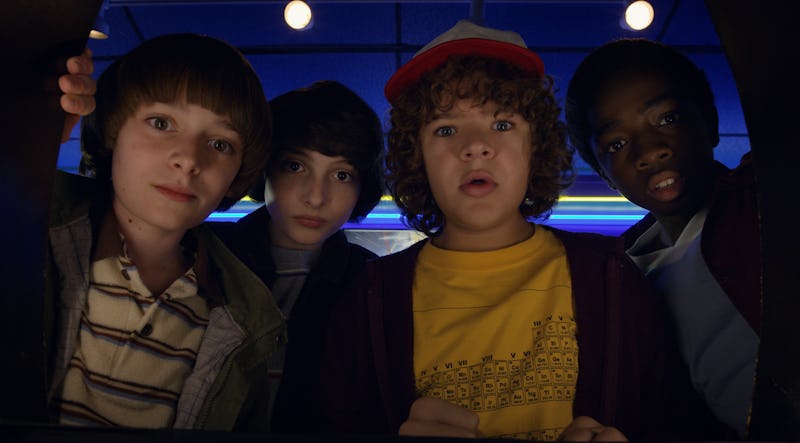 Netflix
This highly anticipated second season is about to rock fans' worlds upside down. Yes, the pun is intended. Stranger Things Season 2 is on the way and by the looks of it, it's going to be a no holds barred event. Appropriately timed with a Halloween-ish release date on October 27, things are about to get spookier and even darker in Hawkins and beyond.
Specifics about the return of the fan-favorite Netflix show, praised for its brilliant pairing of '80s nostalgia and sci-fi/horror, haven't been revealed. As expected coming from the Netflix world, they probably won't be until Season 2 finally makes its debut. But after briefly speaking with stars Gaten Matarazzo (Dustin) and Joe Keery (Steve) at BAFTA's Emmys party, it's safe to say no one will be able to predict the craziness the Upside Down has in store.
At this point, there is some intel that fans have been given. In Season 2, the kids are all older, more mature, and dealing with the aftermath of Will's (Noah Schnapp) rescue and Eleven's (Milly Bobby Brown) disappearance. From the Season 2 teasers, fans see that Will is spontaneously thrust into the Upside Down, and the actor has even said the nature of this season is "a lot darker and scarier" than the first. The Demogorgon's been killed, but the fight is just beginning.
Although this is the walkie talkie gang, their real-life modern skills were put to good use while describing Season 2 in emojis. Joe Keery, who plays the popular guy with a heart of (semi) gold, Steve, describes Season 2 with the following emoji:
"It would be a lightning bolt and I can't say why," the actor explains. "I'm too worried I'll give something away." It's no coincidence that lightning is also highlighted in the Season 2 poster, teasing that the Upside Down will perhaps take new shape and exist in the sky.
But if the actor didn't want to spoil too much about lightning's role in Season 2, perhaps it's even more significant than fans thought from the poster alone. Will it summon victims from the sky? Spread throughout the sky? That remains to be seen.
Additionally, Matarazzo chooses the following emoji to describe the upcoming season, but for reasons fans may not expect:
Of course Season 2 will be scary as hell, but it may also crank up the comedy to deliver what fans are anticipating and more. "It's exciting, it's shocking, it's unpredictable, it's funny," he says. "It's everything you could ever want in a TV show put in one." After all, with more explanations about the mysterious Upside Down on the way, there's nothing that is certain.
Although there will be familiar faces on the show, it's likely many curveballs will be thrown into their journey. While the gang, Matarazzo, Finn Wolfhard (Mike), Caleb McLaughlin (Lucas), and Noah Schnapp (Will) will be back, Brown also reprises her role as Eleven. Additionally, Keery, Winona Ryder (Joyce), David Harbour (Hopper), Natalia Dyer (Nancy), and Charlie Heaton (Jonathan) will return as well. And with the Upside Down coming out more prevalently and spreading beyond Hawkins, Indiana, it looks like the worst of their problems are yet to come.
But Matarazzo is right, it certainly looks like it'll be everything fans want, especially the nostalgia lovers. The Stranger Things Season 2 trailer alone nods to classics like E.T. and Ghostbusters (the boys' Halloween costumes), and is set to Michael Jackson's "Thriller." That alone should let fans know that Season 2 may be more intense, but it also may be even more epic than the first season in all of its '80s, sci-fi glory.