You Need To See 'Stranger Things' Star Sadie Sink Walking The Runway At Paris Fashion Week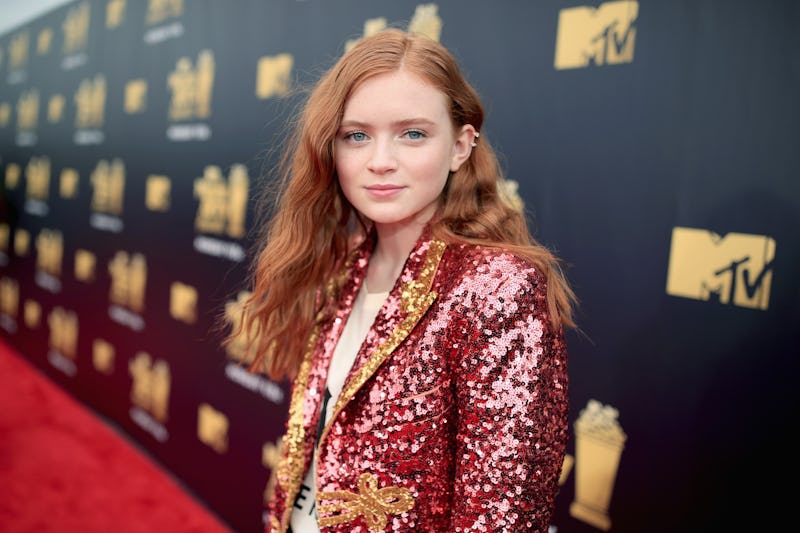 Christopher Polk/Getty Images Entertainment/Getty Images
Every week in Paris is pretty much Fashion Week, but for the first week of July, things turn legit. The haute couture shows take place from July 1-5, and you won't believe some of the models Miu Miu got for their show. Stranger Things star Sadie Sink modeled at Paris Fashion Week, for instance, and she was joined by actors like Rowan Blanchard, Gwendoline Christie, and Kate Bosworth, as well as supermodels like Naomi Campbell.
After the show, Sink popped up on Instagram to say the following:
"I just finished walking in the show and I had an amazing experience. Thank you guys so much for watching, and I hope you all enjoyed it!"
Who wouldn't? Sink rocked it, and she was joined by an endless parade of female celebrities that would make any audience member go Omg, look who they got!
In a video of the runway, the actor is barely recognizable. Gone is the youthful ire of Hawkins newcomer Max; instead, Sink projects a cool, confident indifference — basically, the perfect model for this kind of show. The dark red lip the makeup team chose for her will hopefully inspire gingers everywhere to pick up a similar shade. (Redheads can rock just as many lip colors as everyone else, you know!)
Sink has been a recent muse for the Miu Miu team. If you look at the line's Instagram account, you'll see several different images of the actor, and all stylized for different shoots. With her straight red hair and freckled complexion, Sink could easily be model Cintia Dicker's younger sibling. There's something about Sink's attitude in front of the camera that just feels timeless. She's previously modeled for Topshop, Rooney Mara's vegan clothing line, and Nike, per Sink's Instagram, so scoring a coveted spot on the Miu Miu runway is the next logical step.
Outside of modeling, Sink is best known for her work in Netflix's Stranger Things, where her angsty preteen Mad Max proved a valuable asset in battling demodogs. She's also appeared on TV series like Blue Bloods and The Americans, and she has some impressive Broadway credits to her name, too. (Remember, this is a performer who just turned 16 this past April.) Design house Miu Miu rounded up an impressive roster of participants for their show, but it's definitely Sink who stands out. And in an impressive sea of talent, no less. (Uma Thurman was there! And Cindy Crawford's daughter, Kaia Gerber!)
Some of the Miu Miu models, like Game of Thrones' Christie, first entered the entertainment industry via modeling. Others, like Bosworth, have a history of collaborating with artistic couture lines. And Campbell, of course, helped usher in the era of supermodel close to 30 years ago. It's beyond cool to see such an inclusive range of ages and identities walking in the same Miu Miu show — especially since word on the street is it came together fairly last-second, according to Vogue. Also, good on Sink for adding runway modeling to her list of successes, right up there with acting, singing, dancing, print modeling, and being an understudy for the role of Annie on Broadway. All before she could legally drive a car in a lot of states.
Interestingly enough, this won't be the last time Sink gets to know her fellow runway models. Thurman's daughter Maya Hawke is also an actor, and she was recently cast in Stranger Things Season 3 as a character that starts to catch on to the town's weirdness. Considering Sink's Max is officially wrapped up in it all — a true member of the party, one might say — the odds are they'll definitely cross paths before too long. Maybe Hawke will bring her mom to set. They could have a full-on walk-off. That is, if the multi-talented Sink has time in her busy schedule.