Fans Seriously Can't Deal With 'Stranger Things' Golden Globes Snub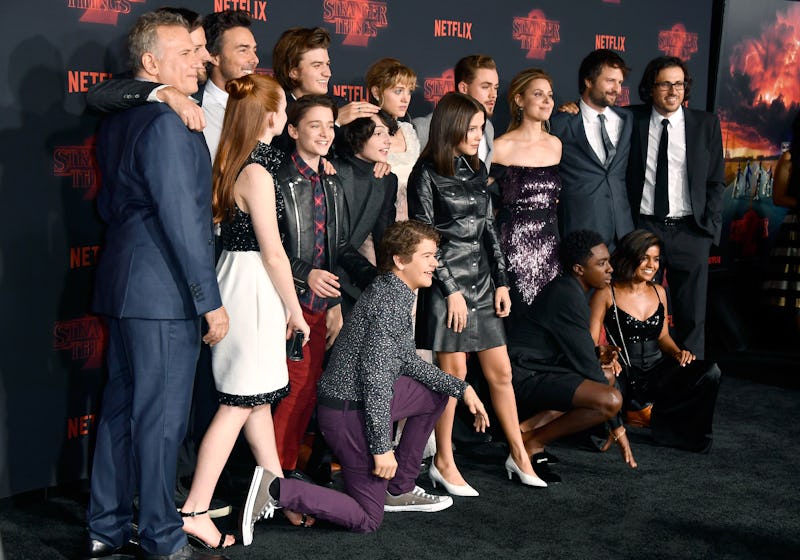 Frazer Harrison/Getty Images Entertainment/Getty Images
Finding a show that the whole family can enjoy can be difficult — some don't like violence, some don't like sex, some don't like romance, etc. But the one show that has united my family, at least, is Stranger Things, and its nomination for Best Television Series, Drama, at the 2018 Golden Globes was well deserved. A show that transcends boundaries, Stranger Things (which is executive produced by Cindy Holland) is a little 1980s, a little sci-fi, a little adventure, and a whole lot of fun. That's why, when Stranger Things was snubbed by the Golden Globe for Best Television Series, Drama, I (and plenty of other fans) were pretty disappointed.
One of the reasons why people seem to like Stranger Things so much is the nostalgia factor — it harkens back to a time when a kid could just ride his bike around all day, only coming home for meals and when the street lamps finally went on. Of course, in those fantasies, a governmental conspiracy and a monster from another dimension aren't usually present, but hey, Stranger Things is fiction. It has to have something to grab you. Besides being nominated for Best Television Series, Drama, David Harbour, who plays Police Chief Jim Hopper, was also nominated for Best Performance by an Actor in a Supporting Role in a Series, Limited Series or Motion Picture Made for Television.
Unfortunately, The Handmaid's Tale (director: Reed Morano) took the statue for Best Television Series, Drama, and I mean, I get it. The Handmaid's Tale is great. But it's a traditional drama, while those science-y, nerd-y kinds of shows like Stranger Things often get overlooked because they're not traditional awards show fare. Plenty of fans on Twitter were disappointed, too.
There Were Some Strong Emotions
Don't mess with people's favorite shows, y'all.
And Some Were Thinking Of The Kids
Those whippersnappers can handle it the loss — don't worry.
At Least One Person Said The Word "Snub"
Other people were definitely thinking it.
Some Said They've Never Heard Of The Handmaid's Tale
Not sure how this is possible with the internet, but you do you.
In any case, Stranger Things missed the trophy this time around (and last year, too, but alas), but there's always next year! Season 3 is coming!
When asked by Ryan Seacrest about plans for Season 3, the young cast of Stranger Things (they always interview them as a group, obviously) said that filming for the new season hasn't started yet, and even if they had started filming, they wouldn't tell Seacrest a thing. They may be kids, but these kids know the power of an NDA when they sign one.
Season 2 of Stranger Things ended with Eleven sewing up that big hole in the space-time continuum and everything going back to normal-ish, but we all know that nothing gold can stay in Hawkins, Indiana. There's another monster on the horizon, but what's really important to me is Steve Harrington. I have so many Steve Harrington questions. Can he continue as a single dad of four children? Will his hair get bigger? Can he and Dustin get their own spinoff buddy comedy in which they drive around solving crimes? Since the show was just renewed, the Duffer brothers probably have some room for suggestions.
And sorry to say, Stranger Things fans, but your favorite show may not premiere until 2019, just like Game Of Thrones. In an interview with Variety, David Harbour said that the Duffer brothers have to write the whole thing first. "Like any good thing, they need time," he said. "And those guys work so hard. I mean, they just sit in their apartment and write for 12, 14 hours a day." Well, write faster! We want to see Stranger Things Season 3 ASAP!