'Stranger Things' Fans Are Rooting For A Cast Reunion On The Golden Globes Red Carpet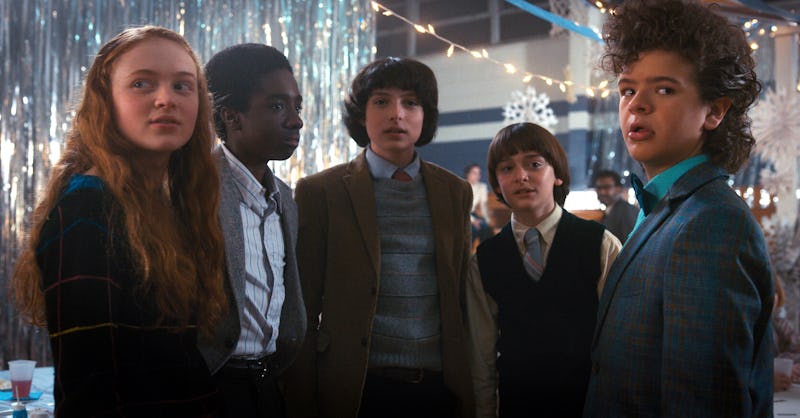 Courtesy Netflix
After the highly anticipated second season debuted in late October, fans questioned whether Stranger Things (associate producer: Emily Morris) would have to wait until 2019 for award recognition, since so many of this season's performances were worthy of praise. But the show's fall premiere proved not to be an issue, and the Netflix original was able to snag two Golden Globe nominations. So, is the Stranger Things cast at the 2018 Golden Globes? Their attendance at the show is pretty likely, since the Globes serve as an exciting kick-off to this year's awards season. And fans are already crossing their fingers for a cast reunion on the red carpet.
UPDATE: Fear not, the Stranger Things cast did attend the 2018 Golden Globes. They even got a shoutout from host Seth Meyers during his opening monologue.
EARLIER: Stranger Things is nominated for two awards: The entire cast and crew is up for the Best Drama Series award, while David Harbour, who plays Chief Hopper on the show, is nominated for the Best Supporting Actor in a Television Series award. Harbour is up against a handful of other powerhouse actors like Christian Slater (Mr. Robot), Alfred Molina (Bette and Joan), Alexander Skarsgård (Big Little Lies), and David Thewlis (Fargo), so there's really no telling who'll end up taking home the statue. But given the fact that this is Harbour's first time being nominated, there's no doubt that the actor who basically stole the show this season (thanks to social media discovering that he's less of a suspicious supporting character and more of a total DILF) will be in attendance at the awards show.
As for the rest of the cast, their attendance seems likely as well. The Stranger Things cast hit the red carpet at last year's ceremony and reminded fans why they fell in love with the show in the first place. Winona Ryder wore a black, floor-length gown that was simple yet elegant enough to stand out from the crowd, while the rest of the kids proved they clean up pretty nicely when they're not playing Dungeons and Dragons and fighting off the Demogorgon.
Stranger Things (executive producer: Cindy Holland) was the breakout show of 2016 when its very first season debuted in the middle of the summer, but even that wasn't enough to see the cast take home any statues at last year's ceremony. Like this year, the show received nominations in 2017 for Best Drama Series as well as Best Actress for Ryder's performance, though The Crown ended up beating the show out in both categories. This new season offers an opportunity for the show to change things around and finally bring home a W (or a few), though it's currently being looked at as the underdog in a category full of large-scale dramas like This Is Us, The Crown, The Handmaid's Tale, and Game of Thrones. The possibility of Stranger Things (casting: Carmen Cuba) winning is obviously something that shouldn't be ruled out, no matter what naysayers on Twitter may think.
It's also worth noting that even though Stranger Things was able to snag the nomination for Best Drama Series, many of its young cast members that have continuously stolen fans' hearts over the past year and a half haven't been acknowledged by the Globes for their individual performances. But if Instagram photos and Twitter interactions are an indicator, the series' cast gets along really well, even when the cameras aren't rolling.
So even though the Stranger Things kids were overlooked for another handful of nominations this year, it wouldn't be surprising if they're sitting in the audience supporting Harbour on his nomination, as well as eagerly waiting to find out if they'll be able to take home the award for Best Drama. That's what fans are hoping for at least.
So it might not be clear just yet if the cast is definitely attending the Golden Globes or not, but their presence seems incredibly likely. And yes, fans are 100 percent ready.