Sugarfina's New Advent Calendar Is 24 Straight Days Of Candy-Eating Bliss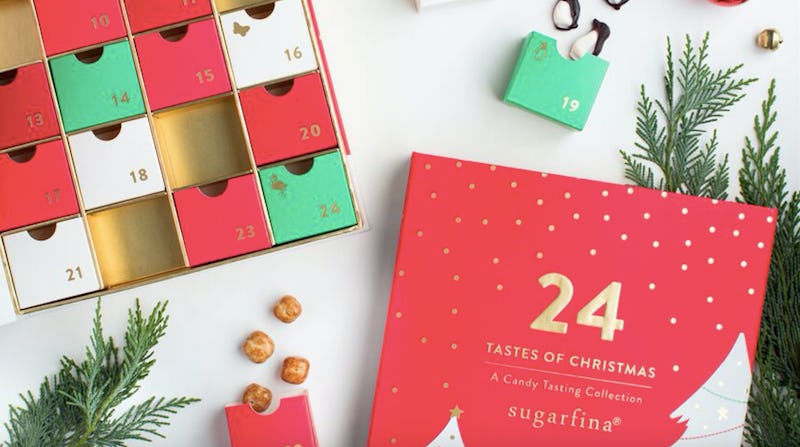 Sugarfina
For many celebrators of the holiday, Christmas shenanigans begin almost a month before the actual day — and at least in 2018, they have plenty of creative ways to start celebrating. Advent calendars of the past that counted down to Christmas might have revealed little pictures each day, or even a piece of chocolate. This year, you can step up your advent calendar game with all kinds of differently-themed countdowns — the latest to throw one into the ring is Sugarfina's candy advent calendar, which is sure to make any sweet tooth's December dreams come true.
Sugarfina's "24 Tastes of Christmas" brings the art of advent calendars to an entirely new level. Per the product description on the Sugarfina website, the "24 Tastes of Christmas" is "... filled with a curated selection of [the company's] favorite treats — open it to discover tiny festive drawers, each hiding four individual pieces of candy. Whether you use it as a traditional Advent calendar with loved ones or break it out at a holiday party for a fun activity, there's a sprinkling of sugar for everyone inside."
If you're familiar with Sugarfina's extensive lineup of confections, you know there are more than enough candies to sample. So, no matter what holiday you celebrate in the winter, the advent calendar is an excellent way to taste a bunch of the treats you've been eyeballing. Then, next time you have a sugar craving, you will know which of Sugarfina's candies to order.
Included in the calendar are all kinds of Sugarfina treats, which range from their more traditional fare to holiday-themed gummies — some even include mini cookies! If you don't mind advent calendar spoilers, or you're worried about dietary restrictions, you can check the company's website for a full description of what candy you'll find inside the boxes.
Though the "24 Tastes of Christmas" may be Sugarfina's first-ever advent calendar, the brand is no stranger to eye-catching candy worth craving. In 2016, the boutique candy store first made headlines with its viral rosé-flavored gummies made with real Whispering Angel Rosé wine. The gummies are available in both bear and rose shapes, and attracted a lengthy list of wannabe snackers when first released.
Most recently, Sugarfina collaborated with Disney to celebrate Mickey Mouse's ninetieth birthday, releasing the Disney Mickey The True Original x Sugarfina Collection, The collection pays homage to Mickey in all of his forms, with a focus on the retro-styled Mickey Mouse. Highlights include gummies shaped like Mickey Mouse's ears and gloves, as well as a line of chocolate bars that include Mickey-shaped sprinkles. Naturally, since it is Sugarfina, significant attention was paid to presentation. You can even purchase a number of the Disney products together in a television-shaped package.
The "24 Tastes of Christmas" can be ordered through Sugarfina's website for $38, but at the time of publishing, the advent calendar is out of stock. Never fear — you can register to receive a notification when it's back, and a representative for Sugarfina informed Bustle it will be hitting Sugarfina's stores. Check to see if there's one near you here.