Yes, 'Suicide Squad' Could Win An Oscar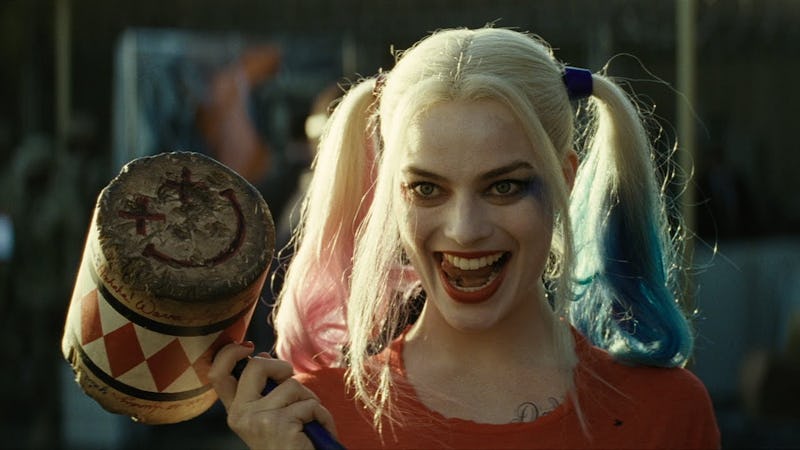 Warner Bros. Pictures
I never thought I'd be announcing the following, but life is full of surprises. Suicide Squad was nominated for an Oscar in 2017, and it's actually well-deserved. It's very possible that Suicide Squad will even win an Oscar, seeing as it's nominated in the Makeup & Hairstyling category. If nothing else, that's one thing that the movie definitely excelled at. The almost universally panned, but financially successful, superhero flick is probably the last movie anyone expected to see in the list of 2017 Oscar nominations. But, in terms of its technical quality, Suicide Squad was kind of impressive.
The fact that Suicide Squad can now call itself an Academy Award-nominated movie is super strange, but the team that styled the anti-heroes did an incredible job. The fact that Margot Robbie's Harley Quinn became one of the most popular Halloween costumes of 2016 speaks volumes.
Suicide Squad had a lot of #stylegoals, and that's all thanks to the Makeup and Hairstyling team, so their nod in the Oscar nominations is recognition of their hard work. When a movie receives tepid reviews, it's easy to forget that a whole host of people worked on creating the iconic images of each of the characters, and that's rarely more true than in the case of a superhero movie.
The team responsible for styling the actors in Suicide Squad created some incredibly impressive transformations, and it's exciting to see their talent recognized by the Oscars. Recreating comic book characters for the big screen comes with a lot of pressure, as fans expect the movie to bring illustrations to life perfectly. While the DD movie didn't always receive abundant praise, Halloween costumes don't lie. It's clear that Suicide Squad was visually influential, and that's exciting.
Suicide Squad is up against Swedish drama A Man Called Ove and Star Trek Beyond at the Oscars, and, with competition from only two other movies, the odds are looking good.