'Suicide Squad's Stars Without Makeup Are Shocking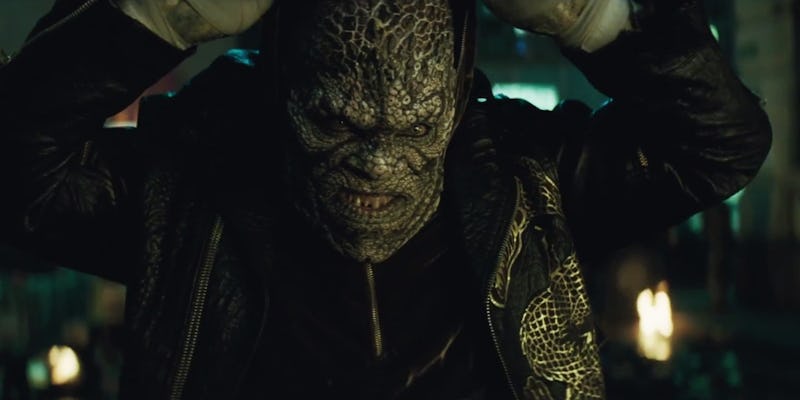 Suicide Squad slaughtered the August opening weekend record at the box office, bringing in around $40 million more than the previous record holder, Guardians of the Galaxy. In other words, the movie is a massive hit, and a good number of you have likely already seen it. The film features a huge and talented cast, but you may have been surprised to see some of the names that were listed among the cast at the end. That's because many of the movie's stars wear heavy makeup, making them unrecognizable. So if you're wondering what the Suicide Squad characters look like without makeup, look no further.
Of course, not every star in the film is incognito. Will Smith is unmistakably Will Smith as Deadshot; albeit with a shaved head. Viola Davis is also quite recognizable as Amanda Waller, though her hairstyle is also a little different from what fans are used to seeing. Joel Kinnaman may not be a big star, but if you know who he is then you'll have no trouble identifying him as no-nonsense military leader Rick Flag. But the rest of the cast? They're a little tougher to pinpoint. So take a look at the actors of Suicide Squad both in and out of costume, and be amazed at the transformation they've gone through.
El Diablo
Jay Hernandez
Yep. The tattooed gang member is actually the stud from Crazy/Beautiful .
Harley Quinn
Margot Robbie
The face that launched a thousand cosplays.
Katana
Karen Fukuhara
Too bad Fukuhara's first on screen role completely hides her face.
Captain Boomerang
Jai Courtney
It's amazing what a beard, metal tooth, and a few bruises can do.
Joker
Jared Leto
The method actor's transformation was more than just physical — his antics on set also managed to creep out his co-stars.
Enchantress
Cara Delevingne
The supermodel underwent a major makeover in order to pass as a 6,000-year-old witch.
Killer Croc
Adewale Akinnuoye-Agbaje
The Lost actor easily takes the cake for least recognizable star in the film, as he was buried under a ton of convincing reptilian makeup.
Suicide Squad actually has a pretty star-studded cast — though you'd never know it thanks to film's amazing makeup transformations.
Images: Warner Bros. Pictures