The FDA Found That Supplements Could Have Traces Of Prescription Drugs In Them, A Study Says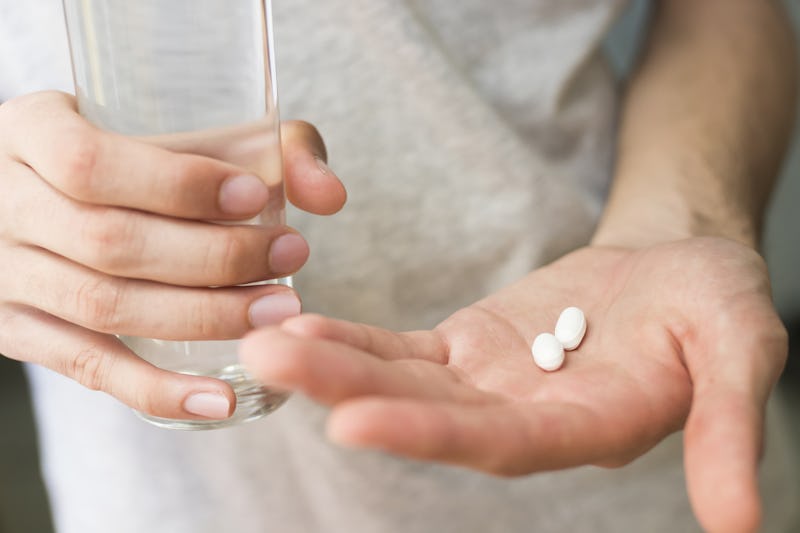 carballo/Fotolia
Many of us use dietary supplements for a variety of reasons, but, according to new research, it's never been more important to make sure that you're getting your vitamins from reputable sources. According to a new public health investigation published in the Journal of the American Medical Association (JAMA), the Food and Drug Administration (FDA) found that hundreds of different supplements contain traces of prescription drugs.
According to the study report, researchers found prescription drug contamination in 746 dietary supplements, most of which were targeted for weight loss, muscle growth, and sexual enhancement. The Washington Post reports that an examination of the FDA's database of tainted supplements from 2007 to 2016 showed the most frequent contaminant was sildenafil, which is the drug commonly sold by prescription as Viagra. Other drugs found were sibutramine and phenolphthalein, both of which are banned by the FDA, according to the Post.
Per the JAMA study, sibutramine was found in supplements marketed for weight loss, while synthetic steroids and "steroid-like" ingredients were found in muscle building supplements. Over 20 percent of the products reviewed contained more than one unapproved ingredient. The study's authors further note that more than 146 different brands were implicated in selling supplements with undeclared and potentially harmful ingredients.
Scientific American reports that less than half of the contaminated products were recalled after findings showed prescription drug contamination, though the reasons for this are unclear. Since dietary supplements aren't regulated like prescription drugs are, the study's authors argue, prescription drugs should not be included in supplement formulas as a matter of public safety. Using prescriptions drugs in ways not intended can cause serious health problems, the California Department of Public Health researchers wrote in the study. For example, undisclosed prescription drugs in supplements could have potential negative interactions with other medications users are legitimately prescribed, or may interact negatively with other lifestyle factors. Scientific American further notes that, due to these potential dangers, medical experts are urging the FDA to get the tainted supplements recalled as quickly as possible.
The Washington Post further notes that, according to the FDA, over 50 percent of the U.S. population takes dietary supplements — but not all consumers are aware that supplements are not regulated products. According to the Dietary Supplement Health and Education Act passed in 1994, dietary supplements are marketed as food products, and as such, aren't submitted for safety testing before marketing. For this reason, it's important to buy supplements from reputable brands.
Daniel Fabricant, president of the Natural Products Association, told The Washington Post that sexual enhancement, weight loss, and muscle building supplements are not the same as traditional dietary herbs, supplements, and vitamin products. He describes these products as "fringe products, often made by fly-by-night manufacturers and sold on the internet or in convenience stores." Fabricant went on to say that "We're completely on the FDA's side here … This is someone spiking the product. They're saying it's a supplement. It's not a supplement in any way, shape, or form." The Washington Post further reports that Fabricant says his organization support the FDA's efforts to bring misdemeanor charges against those companies responsible for lacing their products with unapproved drugs.
If you use supplements, it's best to research the reputations of any supplement brands you buy from carefully, and discuss any concerns with your doctor.