These 'BB20' Houseguests Are Selling Shirts With Their 'Ship Name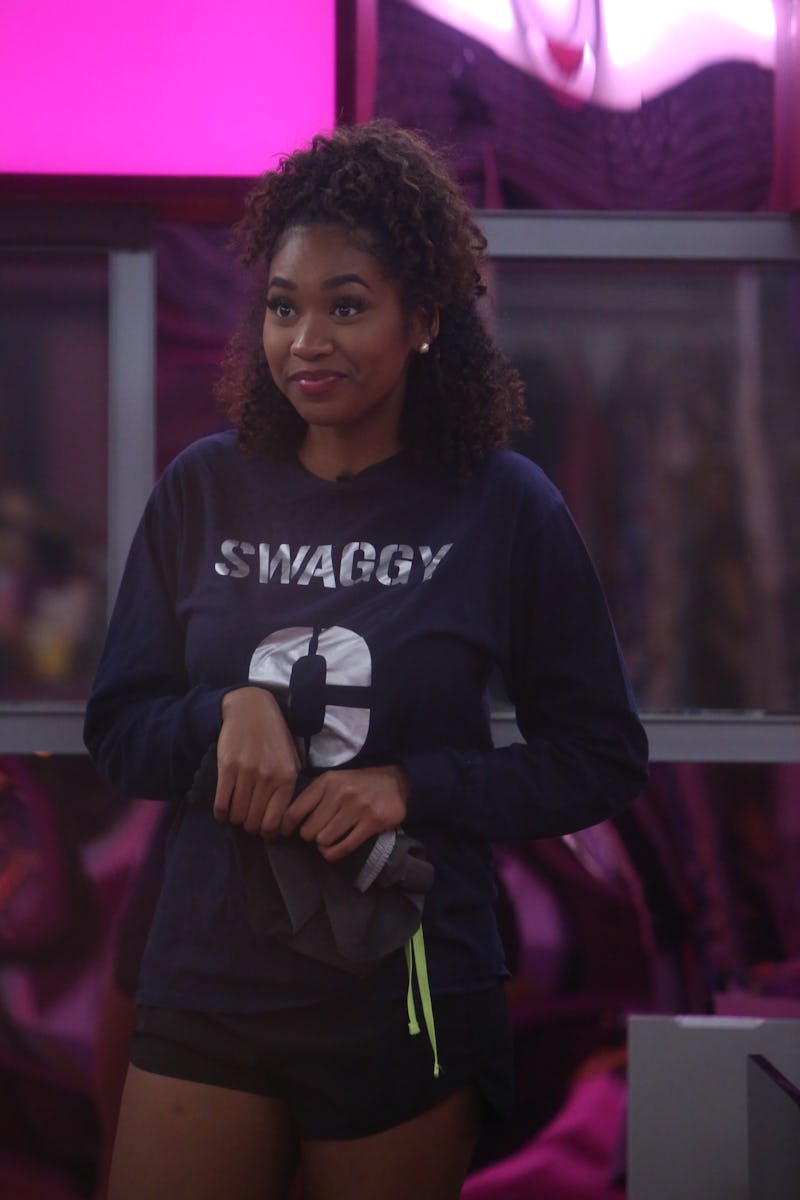 Monty Brinton/CBS
On Big Brother, everyone's motivations are the same: to win $500,000. However, lesser incentives may come into play, too. Since all the competitors are stuck in the house together with no entertainment, showmances are inevitable. This season, the first romance out the gate was Bayleigh and Swaggy C — or Swayleigh, if you will. Though he's sadly been evicted from the house, are Swaggy C and Bayleigh from BB20 still dating?
The short answer: Yes, they are. The long answer: Swaggy's been vocal about his feelings for Bay since leaving the house. In fact, his Twitter account even links to the couple's website, Swayleigh, where he's selling BB-themed merch. "Swaggy had ZERO intentions on selling shirts when he left the house," the site claims. "Fans filled his inbox on possibly getting Swaggy C shirts. After being hesitant at first, Swaggy ended up deciding to sell them."
In addition to the iconic Swaggy C shirts, which are currently available for pre-order (they ship August 1, per the website), there are also ones that say "Swayleigh." Sadly, there isn't any "Bayleigh" merch, save for a T-shirt with a cute, illustrated Bay emoji. What's more, Swaggy made sure to mention on their site and on Twitter that half of the proceeds will go to Bayleigh after she leaves the show.
And not only has Swaggy monetized their romance, but according to an interview he did with Us Weekly, the couple plan to move in together after Bayleigh leaves the show. "When you confide in someone and can put 100 percent trust in them it grows fast," he said. "You see them at their worst, you sleep with them every night, you see them at their best."
What's more, he's been enthusiastically supporting his girlfriend on Twitter, along with live-tweeting the show itself. "Why tf is my girlfriend the cutest girl in the world like wtf Bayleigh Amethyst. You're gorgeous," he tweeted on July 18. He's also voiced his support for BB houseguest Fessy, who aligned himself with Bayleigh, among others. "He got my shirt AND my chain on," Swaggy tweeted about Fessy on July 17. "And he protectin' my girlfriend. Realest in the game. That's MY guy for LIFE."
And the couple seem very compatible, too. In fact, Bayleigh wasn't afraid to call Swaggy out in Episode 1 and give him some gameplay advice. She approached the former basketball player, warning him that coming off as too athletic could put a target on his back. This is because people who are transparently strong competitors are often eliminated early on. "Just calm down the beast," she suggested, and Swaggy agreed to do so.
And, obviously, things progressed quickly from there. "Coming in here, I obviously did not expect to meet Swaggy," Bayleigh said in Episode 9, right after his eviction. "I wasn't expecting to fall head over heels for him. And as long as he was here, I was gonna ride it till the wheels fell off. But now that he's gone, it's time for me to play my game because I came in here to win for me."
With the success of relationships like Jess and Cody from BB19, it's clear that showmances can stand the test of time. However, it remains to be seen what will happen with their relationship once Bayleigh leaves the house. But it looks like they've got a fighting chance.
"It's her personality," Swaggy told Us Weekly in the same interview. "How much she actually cares for me, aside from the game, in terms of me bettering myself. She's genuinely concerned about that." And so it's anyone's guess as to how long Bayleigh will stay in the Big Brother house, she can rest assured that she's got an enthusiastic fan cheering her on back at home.