Swatches Of Nude Kat Von D Lippies Are #ByeMoney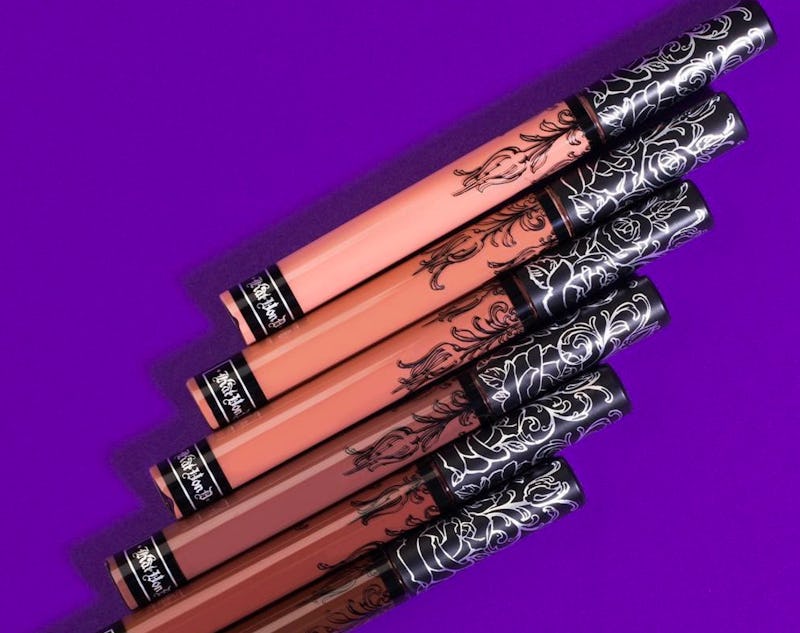 I need you to pay attention. If you are a Kat Von D-evotee, you know that Kat Von D is expanding her Everlasting liquid lipstick range with 25 (!!!) new shades. The release dates and retail locations are staggered. Additionally, the brand is hyping the new shades with the Everlasting Flash promo, where the lippies can drop via Sephora early. You need to be disciplined about following the KVD socials so you don't miss any of the advance drops of or details about the lippies. The latest tease will have liquid lip lovers and matte mouth maniacs in full covet mode, too. The brand teased the nude and neutral Everlastings in their tubes and as swatches and OMFG! It's a total #ByeMoney moment.
But there is some good news here. The nude shades are hitting Sephora.com on Tuesday, Jan. 24. The Nude Bundle will be available sometime in February. Further details on the bundle are TBD. But know that it's on the horizon and it could alleviate any stress you have over choosing which shades you want to nab.
The nudes really span the spectrum, from pale to peachy to brown to an almost raisin shade.
Here's a look at the nude lippes in their tubes.
Can you pick favorite? I sure can't, but I am partial to Ludwig.
This caption accompanied the nude tubes, with the names, descriptions, release date, and bundle info.
The swatches are life. I am super drawn to Ludwig and Sanctuary. How about you?
Nude is the new nude! This caption accompanied the swatch post, for those of you keeping score at home.
Observe the nudes, plus three! This composite demonstrates the expansion of the Everlasting range. There's no way you can't find a lippie that you love, due to the volume of shades. Plus, KVD Everlastings don't budge.
Images: Kat Von D Beauty/Instagram (2); Kat Von D/Instagram (1)