Syrian Refugees Named Their Baby Justin-Trudeau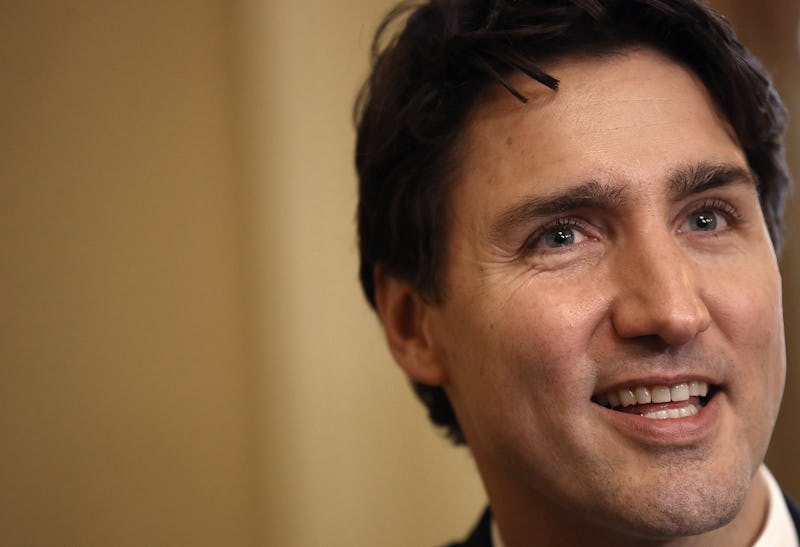 Win McNamee/Getty Images News/Getty Images
Justin Trudeau has long been a vocal proponent of refugee acceptance, resettling over 40,000 Syrian refugees in Canada since he took office as Canadian prime minister in 2015. Now, a refugee family in Calgary is thanking him in a big way — by naming their child after him. Two Syrian refugees named their newborn baby Justin-Trudeau as a way to thank the PM for allowing them to start their new life in the country.
Justin-Trudeau Adam Bilal was welcomed into the world on Thursday, the child of Afraa Hajj Hammoud and Mohammed Belal, who are originally from Damascus. They are two of the approximately 1,400 Syrian refugees who have resettled in Calgary during Trudeau's term.
"My husband says 'How about if we name the boy Justin-Trudeau, like him,'" Hammoud said in an interview with the CBC. I was a little bit shocked ... when he says that, I smile a little bit, a small smile, then I says, 'Yes, there is no problem, it will be like a small thank you for Justin Trudeau.'"
The couple escaped Syria after Belal, a barber, was targeted by the Syrian army and detained. After being freed, Belal and his wife left Syria six years ago and spent three years in Lebanon before arriving in Canada in February 2016.
Hammoud explained that the decision to give the child a non-Arabic name was certainly unorthodox, but that it was important to recognize the person who made their new lives possible.
"In Syria we name the boys like the parents, like my father's name or my husband's father's name, but now it's by appreciation for Justin Trudeau, we name him like this," Hammoud said.
The family is not the first to name their child after the Prime Minister (though they are the first to use his full-name as opposed to just "Justin"). Two other Syrian refugee couples have named their newborns after Justin Trudeau in the past couple of months alone.
Canada has been heralded as a beacon of hope for refugees fleeing persecution, especially in contrast to the United States following President Trump's proposal to halt the U.S. refugee program and restrict travel between America and several Muslim-majority countries.
"To those fleeing persecution, terror & war, Canadians will welcome you, regardless of your faith," Mr. Trudeau wrote on Twitter following Trump's controversial proposals. "Diversity is our strength."
As Canada continues to open its borders to Syrian refugees, who knows? There could be many more tiny Justin-Trudeaus to come.