Taco Bell's Rolled Chicken Taco Is BACK — And Comes With 3 Dipping Sauce Options
by Callie Tansill-Suddath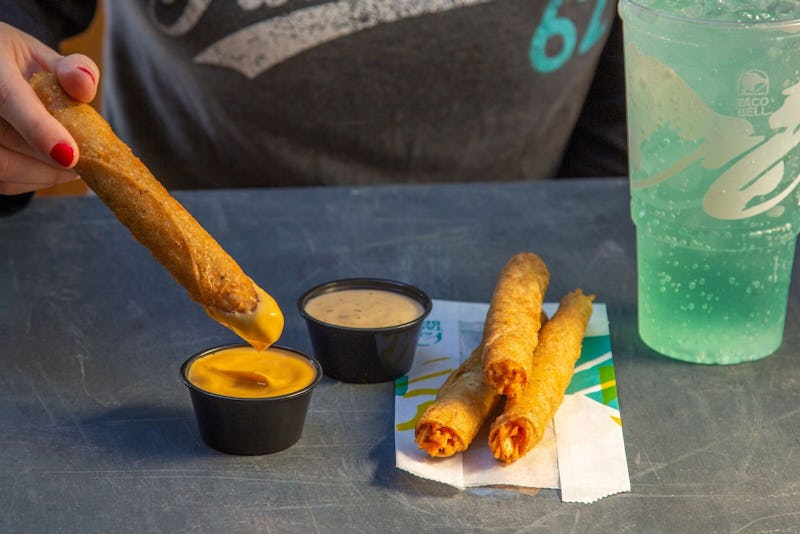 Taco Bell
This week's festivities are far from over once dinner concludes on Thanksgiving this Thursday. Savvy shoppers know the biggest day of the year is actually on Friday. Black Friday takes place annually the day after Thanksgiving. In preparation for the true holiday season, many stores slash prices of their most popular items, which results in hordes of crowd flocking to the mall in search of the best deals. After a long day of shopping — especially one when you were already hungover and exhausted to begin with — you need to refuel. Luckily, you'll have the Taco Bell Rolled Chicken Taco to look forward to, now that the chain has announced its return to the seasonal menu. With a rolled taco in hand, there is no sale you can't conquer— just be sure you don't bring it into the store.
Starting Wednesday, Nov. 21, you can pick up an order of rolled chicken tacos from Taco Bell. This is the snack's fourth appearance on the chain's national menu; their previous releases have solidified the snack a fan favorite. Crispy tacos are rolled up with shredded chicken and served with sauce —a choice of Spicy Ranch, Nacho Cheese, or Guacamole — for dipping. Rolled tacos provide all the good things about a regular taco, with the added perk of portability.
In addition to the Rolled Chicken Tacos, Taco Bell has something xtra special up its sleeve for the people living in Minnesota and Southern California. Residents of Minneapolis will be the first to try the Midnight Melt Taco. Per a press release, "The Midnight Melt Taco features a freshly fried blue corn tortilla shell with a hidden layer of melted cheeses, and is then topped with seasoned beef, cheese, sour cream, lettuce, and tomatoes." There's also a vegetarian option available, you just swap the beef for black beans. It's delicious for vegetarians and meat eaters alike. You can get the taco a la carte for $1.99, or as part of a $5 box that includes the taco, a Beefy 5 Layer, Crunchy Taco, Cinnamon Twists, and a medium drink.
The Midnight Melt Taco will be available beginning Wednesday, Nov. 21, and will remain on menus in Minneapolis through late-December.
As The Midnight Melt Taco arrives in Minneapolis, the Triplelupa, another new menu item, will land at Taco Bell in Orange County, Ca., on Wednesday. Per aforementioned press release, the Triplelupa "...provides a triple flavor experience and features a 3-in-1 tear-apart crispy Chalupa, topped with seasoned beef, three cheese blend, lettuce, tomatoes, and nacho cheese sauce topped on one side, chipotle sauce on the other, and a combination of the two in the middle, creating the ultimate cheesy chipotle flavor." It retails for $3.49 a la carte, or for $5.49 for a combo with the Triplelupa, Crunchy Taco, and large drink.
Taco Bell has had a pretty busy year. In 2018 alone, the chain has introduced a spicy version of its ever-popular naked chicken chalupa, as well as a potato-encrusted taco in India. To really determine the best new menu item at Taco Bell though, you'll have to try them all. Looks like you've got one heck of a road trip to start on!