Tamra Judge's Update On Eddie Judge's Health Will Make 'RHOC' Fans Feel Relieved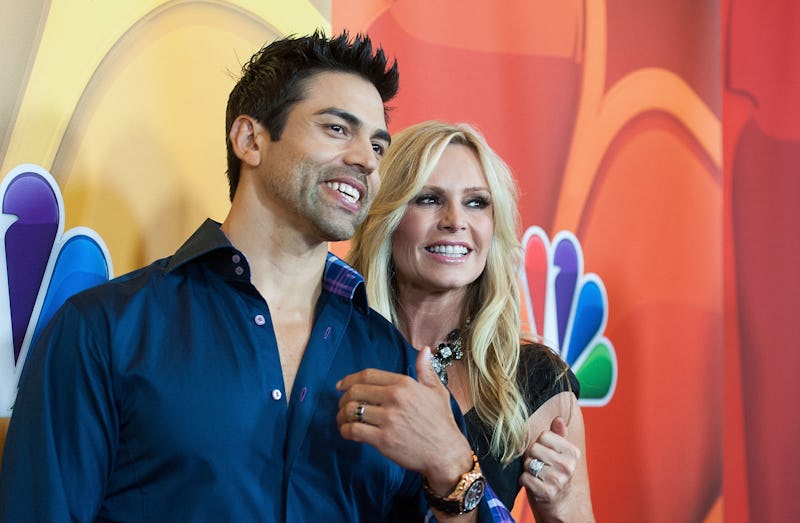 Valerie Macon/Getty Images Entertainment/Getty Images
Encouraging news out of Orange County. On Thursday, Sept. 6, Real Housewives of Orange County star Tamra Judge offered an update on Eddie Judge's health. Not only does it sounds like his latest procedure was a success, but the Bravo couple is confident this will be the last ablation. And considering how intense the last several months have been for Eddie, this update sure is a relief.
Eddie was diagnosed with atrial fibrillation (AFib), or an irregular heartbeat, last year, and he's gone in for multiple operations. He underwent his third cardiac ablation on Wednesday, and both he and Tamra are confident the most recent ablation "did the trick," according to her latest Instagram post.
The day after her husband's most recent procedure, Tamra wrote on Instagram,
"THANK YOU for all your prayers, messages and calls. But most of all thank you Dr. Andrea Natale & team for working so hard to fix my husband. It's been a long road and lot more difficult than anyone expected, confident this did the trick. Now it's time to let your sweet heart heal my love @eddiejudge #leftatrialappendage #ablation #bloodthinners #watchmanprocedure comes next"
Eddie posted a message about ablation number three on Instagram, too. Right after Wednesday's surgery, he wrote,
"I'm still in recovery but Dr. Natale did have to work hard to get me well. With his amazing skills and passion for his work, we're very confident is the last ablation. THANK YOU for all the love and support. I can't wait to be back on my bike living my blessed life again. #No2Afib"
Not even a day after he underwent a cardiac ablation, and he's already thinking about going for a bike ride. What a Spartan.
What a long and scary road it has been. As Tamra recently told Entertainment Tonight,
"He's had, now, six heart procedures. Two invasive heart procedures, which would be the ablation, where they go in through the groin and through the vein in the neck and kind of cauterize the parts of the heart that are not beating properly and where the problem areas are. And then, you have to stay on medication. He's been on heart medication, beta blockers, blood thinners for nine months now. Then you have wait three months to see if it worked. So, it's a process."
A process that calls for strength, positivity, and humor.
On Tuesday, Tamra shared a goofy (and gorgeously filtered) selfie she took with her husband in an effort to bring a bit of levity to the stressful situation. The OC Housewife wrote,
"Too much ? Trying to cheer this guy up and keep his mind off things. Tomorrow morning he goes in for his 3rd ablation . #3rdtimesacharm ##septemberisAFibawarnessmonth"
It's only been one day since his heart was ablated, and Eddie is already standing... and serving stand-up comedy. As Tamra pointed out in a second post-op IG post (it's a pic of his bare behind, so maybe don't pull this up on your work computer), her husband is up and posing for cheeky photos. She wrote,
"He's up walking around ready to break out of this joint. BUTT he needs to get dressed first. @eddiejudge you CRACK me up."
This may be Eddie's final ablation, but there's still work to be done. In the first post that went up on Thursday, Tamra noted the Watchman procedure "comes next." The Watchman implant, according to the device's site, "offers an alternative to the lifelong use of warfarin for people with atrial fibrillation not caused by a heart valve problem (also known as non-valvular AFib)." The permanent implant helps to reduce the risk of thrombosis.
Wishing Eddie a speedy recovery.