Tamra Judge's Photo Of Eddie Before Surgery Will Make 'RHOC' Fans Super Emotional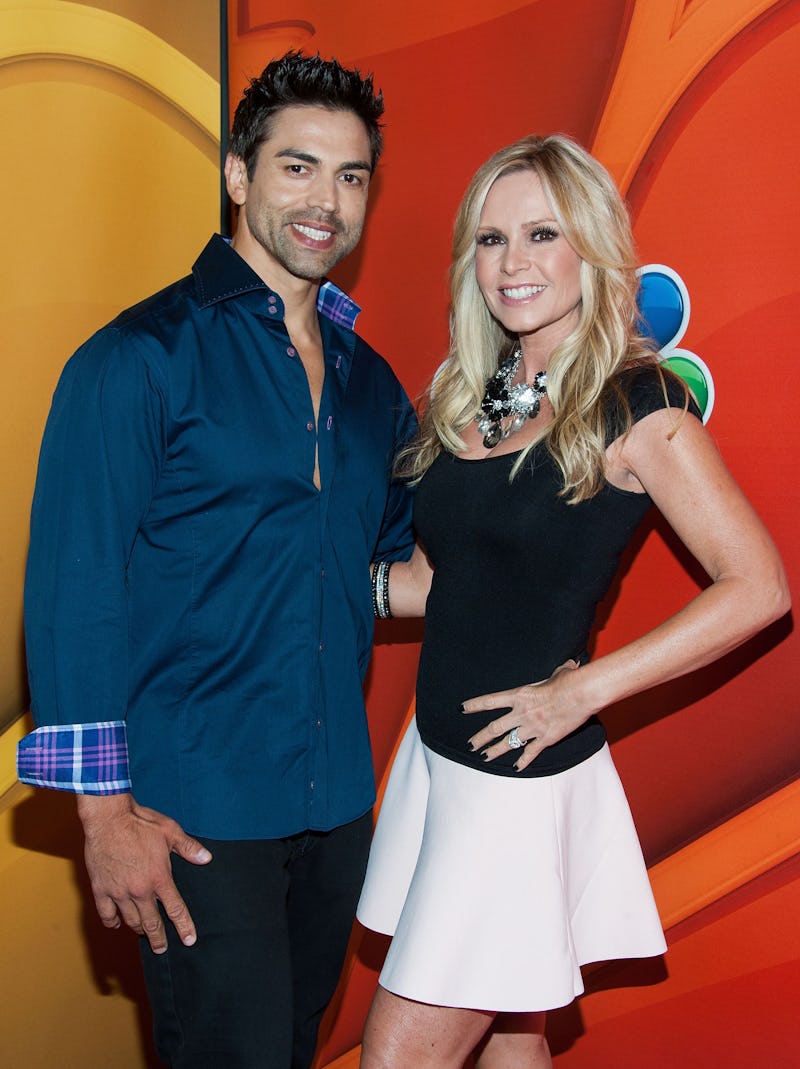 Valerie Macon/Getty Images Entertainment/Getty Images
Sometimes laughter really is the best medicine. Tamra Judge's photo of Eddie before surgery on Instagram showed that she and her husband are both staying strong in the face of yet another difficult heart procedure. As documented on Season 13 of Bravo's The Real Housewives of Orange County, Eddie suffers from Atrial fibrillation (or AFib), which the Mayo Clinic describes as "an irregular and often rapid heart rate that can increase your risk of stroke, heart failure and other heart-related complications" and can also "lead to blood clots forming in the heart that may circulate to other organs and lead to blocked blood flow."
Tamra captioned the Sept. 5 post, which shows a smiling Eddie (wearing a Spartan Race headband) in a hospital bed flexing his bicep: "Always a @spartanrace 💪🏽 and he's off ....see you in 4 hours babe @eddiejudge ❤️ take good care of him Dr. Andrea Natale 🙏 #Afib #cardiacablation #3 #aroo"
One day earlier, Tamra, who joined RHOC in Season 3, displayed her sense of humor with another Instagram photo using a silly face filter and a text overlay that joked "To [sic] much surgery?" She added in the caption, "Trying to cheer this guy up and keep his mind off things. Tomorrow morning he goes in for his 3rd ablation. #3rdtimesacharm ##septemberisAFibawarnessmonth"
For his part, Eddie announced his latest heart surgery via Instagram on Monday, Sept. 3 and asked fans for their support. "Wish me luck this week! It's time for yet another Ablation," he wrote. "I'm in great hands with one of the best heart surgeons in the world BUT, I need all the prayers I can get to get thru this ablation. Thank you for all the love and support."
Revealing that Eddie has had six heart procedures, Tamra recently explained to Entertainment Tonight that an ablation is "where they go in through the groin and through the vein in the neck and kind of cauterize the parts of the heart that are not beating properly and where the problem areas are." The RHOC star, who co-owns CUT Fitness with Eddie, also said that her husband of five years has been on heart medication, beta blockers, blood thinners for nine months" and that they will have to wait for three months to see if his latest procedure was a success.
Unsurprisingly, it has been a harrowing experience for Tamra, who said she's "really starting to get scared" and often speaks of Eddie's health through tears on RHOC. "He'll be sitting on the couch sometimes and be like…" she added to ET, while clutching her heart. "And I'm like, 'Is this the big one? Do I need to call?!' I freak out! And he's like, 'My heart's freaking out. I don't know.' And he'll just lay on the ground or something and take deep breaths."
Back in July, Tamra revealed to Bravo's The Daily Dish that Eddie was "still not doing great" but was "taking it day by day." She added:
"We don't know what his outcome's going to be. He has a doctor's appointment next week to find out what the next step is. But he's actually, right now, worse than when he started out. He just had a heart procedure three weeks ago where they went in and cauterized his heart in 71 places and we thought that that was going to be the end ... But now he's in the healing process and that sent him into what's called a flutter and his heart is just uncontrollable. And he's on all kinds of medication: heart medication and beta blockers. And it's just really been difficult on pretty much all of us — more so on him."
One source of support for Tamra has been her RHOC costars, many of whom have expressed their love and support on social media. The self-proclaimed "OG of the OC" Vicki Gunvalson who has had a complicated relationship with both Tamra and Eddie — to put it lightly — commented on Tamra's most recent post: "Ugh.. praying for this to finally work!! Hang in there honey," adding heart and praying hand emojis.
Kelly Dodd wrote that she was "saying a prayer" and also posted, "Yay!! Love his attitude!! Wishing you the best!" Meanwhile, Shannon Beador also sent her well-wishes: "Love the humor! 3 is the number! Good thoughts!"
Many fans are also praying for the Judges along with the ladies of RHOC and hoping Eddie's latest procedure is a success.