This Is Exactly When Target's Doors Open For Black Friday, So You Can Plan Ahead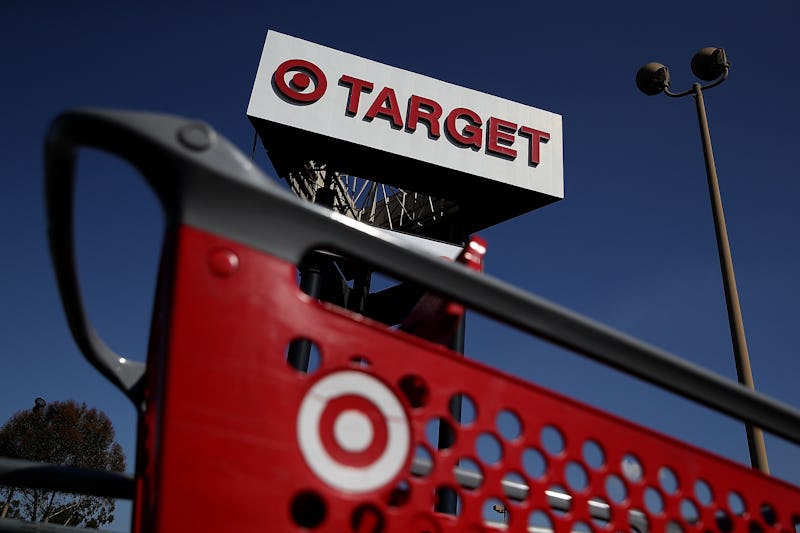 Justin Sullivan/Getty Images News/Getty Images
Many have claimed the happiest place on earth to be Disneyland, but clearly that was before Target was mentioned in the same sentence. With the Yule tide only a few weeks away, Target's Black Friday Hours are even better than last year's. Which basically means you have to get an even earlier start on your holiday shopping.
Last year, Target opened its doors on Thanksgiving Day as early as 6 p.m., but according to Best Black Friday, the megastore is setting its Black Friday start time back an hour and will begin at 5 p.m. on Thanksgiving this year. As hard as it may be to wrap your head around the fact that some people start shopping for gifts instead of turkey, the perks of getting first dips outweigh the mounds of stuffing on the table.
On the other hand, the hard-hitters who go in on Black Friday during Thanksgiving, there's a break amid Target's sale. Similarly to last year's sale, the store will hold its Black Friday hours from 5 p.m. on Thanksgiving until close at 1 a.m. and will reopen its doors on Friday at 7 a.m. So if you've exhausted yourself, you have a 6-hour gap to nap before continuing to push through the crowds of shoppers.
Though, like most people, you're not someone who cares to tear through lines and instead avoids the chaos. That's where online shoppers can heed the sale.
Over the years, Target offers its sale throughout the entire weekend, so if you miss out on all the hype on Black Friday, there's still time to pickup your presents. However, if you decide to walk out into the Black Friday havoc, there will still be exclusive deals available to in-store shoppers.
Prefer to keep your behind at home? It's no biggie since Target's offering a huge treat to online Black Friday shoppers. No matter how big or small your order, Target will ship your goodies to you for free. Now, how could you deny free 2-day shipping with no minimum on any and all orders for the weekend? You're saving a heap of money, so you may want to participate in the mayhem this time around.
Along with its sale, there's also a mention of promotions. Over time Target's offerings of gift cards have held favor with its customers and this year is no different. For example, if you're planning on buying an instant cooker, you'll be gifted with a $10 gift card from Target.
Additionally tech is the main attraction. With smart phones debuting left and right, there's also deals for activating a new shiny phone. According to Forbes, once settling on one of the iPhone X's, you may receive a $250 gift card. Buying a gift for yourself that gives on to someone else is pretty much the best version of killing two birds with one stone.
If you want to save even more money there's a catch. You know those TargetREDcards you deny at checkout all the time? Yeah, thought so. Holders of the REDcard get an additional 5 precent off of their orders every day. It's also pretty handy that to sign up for one is totally free. You've been missing out, queen.
Whether you're staying in with wine and popcorn or parting the red sea of Target employees on Black Friday, there's no doubt you'll steal a deal just in time for exchanging gifts.