Target Has Your New Favorite Halloween Candy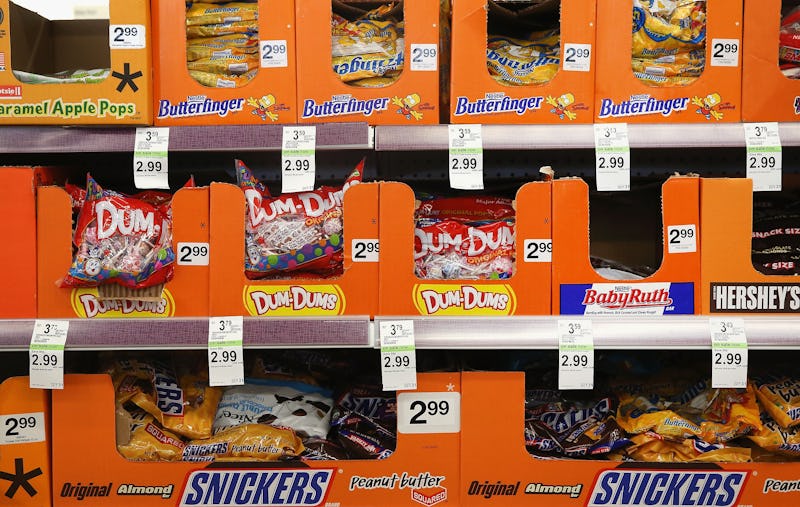 Scott Olson/Getty Images News/Getty Images
We may be at the tail end of summer, but if you're anything like me, bidding adieu to warm weather and all that comes with it a.k.a flamingo pool floats, rooftop B.B.Qs and rose all day (which is like every day this summer) is a pretty depressing prospect. It's like, I see you winter and I'm not ready for you. However, there's an exception for everything and that one thing in this case happens to be in the form of chocolate. Which is always an acceptable trade off in my book. While you might have already noticed all of the sweet treats that are slowly starting to creep in to our grocery stores and bodegas, Target is also offering a few Halloween candy additions that happen to be brand spankin' new — and they're not only helping us all get through this stressful transition period, but they're also helping get us all get into the holiday spirit.
On Aug. 23, Target released some exclusive new treats including the much-anticipated M&M's Cookies and Screeem, Reese's Peanuts Butter Bats (which look equal parts delicious and adorable) and Dove Milk Chocolate & Caramel Witches Mix.
Insta famous junk food reviewer JunkBanter, who seems to have their finger on the pulse when it comes to all things breaking junk food news, posted this photo of the new "Cookies & Screeem" M&M's, as seen at a local Target yesterday. The black and white cookies and cream-flavored candy looks like the love child between an oreo and an M&M's, so I'm sure they're absolutely delicious.
Here's a look at all of the new offerings available at Target:
Reese's Peanut Butter Bats
SweeTarts Skull + Bones
Cookies & Screeem M&M's
Reese's Peanut Butter Cup Miniatures
Dove Witches Mix Caramel & Milk Chocolate
According to the website Popsugar, each of these candies are Target exclusives will be available between now and Halloween.