Every Look From Target's New Clothing Line Will Make You Look Your Fiercest For Fall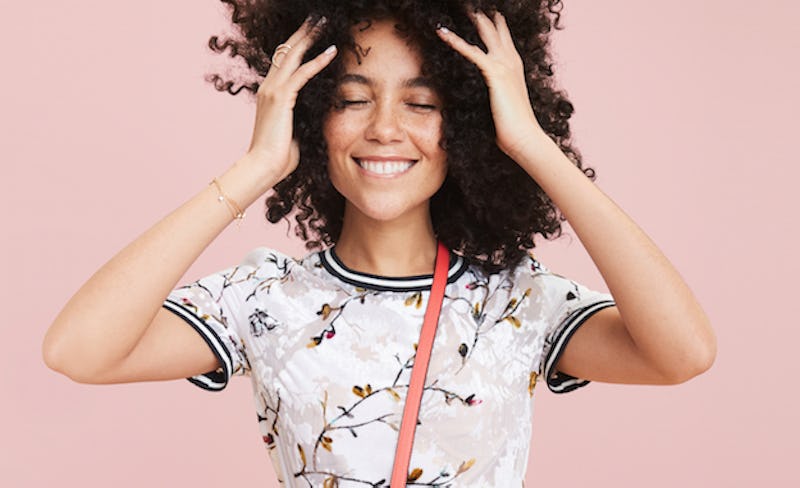 Courtesy Target
When Target first announced that they would be getting rid of some of their fan-favorite brands, fashionistas freaked out. But thankfully, the store isn't wasting any time rolling out amazing fashion lines to take their place. First up is the womenswear label A New Day, which is exclusive to Target.
According to Target, the brand focuses on feeling confident, making a statement, and high-quality items. If you're not ready for fall, you will be soon. The womenswear line offers a range of versatile items, like a boyfriend blazer, feminine blouses, and skirts.
Ready for the kicker? They're offering sizes XS to XXL, and will also offer select items in sizes X-4X and 14W-26W. That's a ranges that Target's past brands like Mossimo and Merona did not offer. It looks like Target is not only updating their styles and quality, but also their inclusiveness as well.
You don't have much longer to wait for the line to hit stores, either. A New Day will arrive at Target on Aug. 27, so get your wallets ready.
"These brands are the perfect example of what makes Target 'Tar-zhay.' Each offers incredible design, great quality and truly unbeatable value. That's something you can find only at Target," said Mark Tritton, Target's executive vice president and chief merchandising officer in a press release. "Since announcing these new brands, we've been blown away from the excitement we've seen from our guests. While they'll have to wait a little longer to shop, now they can see what we've been working so hard on. And the best part—we're just getting started."
If the rest of the brands are as great as this one, you're going to want to set some shopping money aside now. One look at these incredible items from A New Day, and you'll be ready for a fresh new season of style.
1. Boyfriend Blazer
Plaid Boyfriend Blazer, $35, Target
Old-school meets new-school is the chicest way possible.
2. Menswear Inspired
Menswear-Inspired Style, $20, Target
There's a hard and soft element to all the pieces, which is lovely.
3. Tailored Shirtdress
Striped Shirtdress, $30, Target
Comfy and cute!
4. Button-Downs
Poplin Shirt, $25, Target
Now this is what they call minimalist chic.
5. Collared Shirts
Crepe Blouse, $20, Target
This is not your average collared shirt, my friends. The piping detail makes this piece stand out.
6. Adorable Applique
Floral Applique Any Day Shirt, $20, Target
Honestly, you could wear this design through any season.
7. Military-Style Jacket
Embroidered Military Jacket, $35, Target
Because embroidery is in, people.
8. Tweed Jacket
Cropped Shine Jacket, $35, Target
That print is EVERYTHING.
9. Statement Sleeves
Statement Sleeves, $25, Target
If these sleeves are wrong, I don't want to be right.
10. Not-So-Classic White Tee
Statement Sleeves, $28, Target
Serve major style while sticking to your minimalist roots.
11. Gingham-esque
Statement Sleeves, $25, Target
If white's not your thing, it also comes in blue.
12. Midi Skirt
Pleated Midi Skirt, $25, Target
Some items just never go out of style.
13. Trench Coat
Hooded Trench Coat, $45, Target
Layer it up or wear it on its own, because this jacket can do it all.
14. Statement Tees
Foiled Crepe Tee, $25, Target
15. Floral Blouse
Floral Peasant Blouse, $25, Target
Who says florals aren't for fall?
16. Top Coat
Plaid Top Coat, $40, Target
It wouldn't be fall without a little bit of plaid.
No matter what you plan on buying, you really can't go wrong.