Target Released Its PRIDE Line For 2017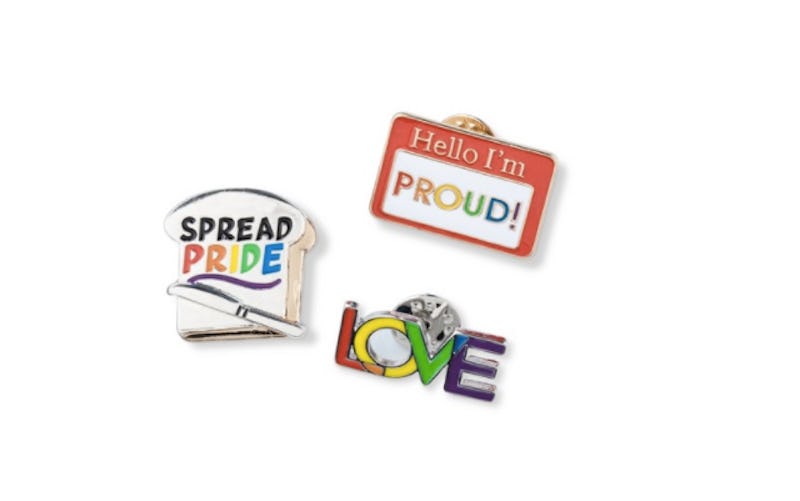 Last week, Target brought back one of its most timely and colorful product lines yet — specifically, the new line of PRIDE products at Target, in preparation for 2017's Pride Month in June. The line includes a whole array of rainbow-clad items, from enamel pins to t-shirts to beach towels to a giant unicorn pool float. Most adorably, they even feature a kid's line, with shirts that say "I Heart My Moms" and "I Heart My Dads". Photos on Twitter have been popping up of the festive displays in Target stores, and the products are available to buy online.
"I Heart My Moms" T-shirt, $10, Target; "I Heart My Dads' T-shirt, $10, Target
The existence of their line of PRIDE products over the past five years isn't a surprising move for Target, a company that has been vocally supportive of the LGBTQ community since 2014, when they first publicized their support for gay marriage. Since then, Target has been similarly progressive in its views as a company, launching #TakePride in 2015 in anticipation of Pride Month.
"We're making our message loud and clear: Target proudly stands with the LGBT community, both as a team member and team player through all that we do — from our volunteer efforts to our long-standing partnerships with groups like Family Equality Council and Gay, Lesbian & Straight Education Network, to the very products we carry in our stores and online," said Laysha Ward, Target's executive vice president and chief corporate social responsibility officer, in a press release in 2015.
Target has also notably stood up for transgender rights, particularly in regards to discriminatory bathroom policies, and recently launched "Pillowfort," an aim toward more gender-neutral homeware for kids. Their support even garnered a "boycott" in 2016 from people who didn't agree with Target's values — and there's no clap back quite as colorful as this year's Pride line.
People have taken to social media to share this year's celebratory displays.
Here are a a few of the products available for purchase in stores and online:
Spread PRIDE Adult Tank Top, $13-$15, Target
Like mermaid toast, but better.
Psst — the 2 Dads! version is here.
PRIDE Unicorn Pool Float, $30, Target
Honestly, you don't even need a body of water to rock this look.
See the full lineup of this year's Target PRIDE collection on their website here.