Target's Gender-Neutral Bedding For Kids Is So Rad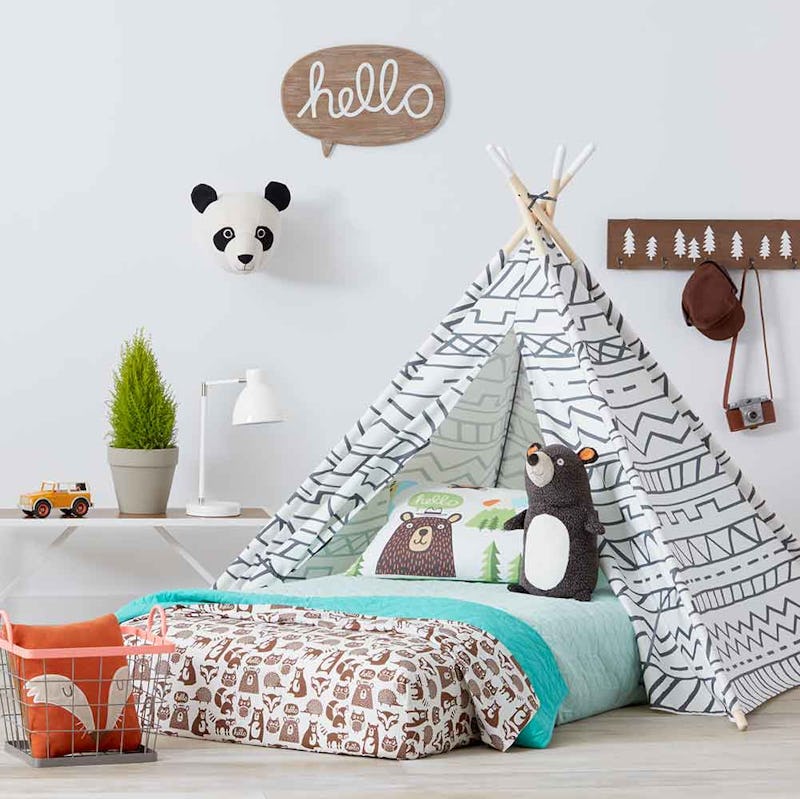 In recent years, Target has taken big steps towards inclusivity. But while all of these steps have been notable, the store has definitely one-upped itself with its latest one: Target's "Pillowfort" line of gender-neutral bedding for kids might just be the coolest thing the store has ever done. I don't even have kids, but I want to buy it for myself. That's how awesome Pillowfort is.
"It was an aisle of pink, fairy princesses, ponies and flowers," Julie Guggemos, senior VP of design and product development, recently told the StarTribune about the genesis of Pillowfort; for the boys, she added, the gendered aisles were all rockets and dinosaurs. But why bother gendering anything at all? As Guggemos put it, "Who are we to say what a child's individual expression is?" The new line, called Pillowfort, will focus instead on animals and nature, with color patterns that are more universal and less gender-oriented. It will be available starting Feb. 21.
I can already hear some people scoffing at this, mumbling something about how we're being too sensitive and too PC and blah blah blah. But let's focus on how amazing it is that shoppers now have the option to pick something not specifically designed to cater to what our culture deems appropriate for their gender. Plus, the designs are so adorable. How can you not fall in love with these things? I give two big thumbs up to Target for them.
I would totally sleep in this bed. Look at it! Bedroom decor doesn't need to be gender-specific to be stylish and appealing, and this is proof.
Check out this "under the sea"-type of theme they've got going on. Can you say precious? There's nothing inherently wrong wrong with princesses and dinosaurs (as long as we're not, y'know, foisting them on kids according to their gender), but seahorses and whales are equally cool.
Other themes include Stellar Station, Tropical Treehouse, and Sprinkle Suite. Awesome? Awesome.
This isn't the first move Target has made to become more gender-neutral, either. Last fall, they removed the "boys" and "girls" signs from their toys and kids' bedding aisles — which, in addition to being great in general, also shows that the company is listening and responding to the feedback they're receiving from parents and children. "Girls were picking prints that the boys picked and vice versa," Guggemos said to the StarTribune about a fair they held where they asked kids to pick their favorite patterns. Parents have also been asking for more neutral colors in their designs. "It's time to change," she added.
Indeed it is, and this is a beautifully positive step forward. All of this is not to say that purchasing things adorned with ponies and rockets is a bad thing; if that's what your child likes, then right on! What I love about this is that Target is at least giving people a chance to do something different. They're not telling families, "If you have a daughter, these are her only options. If you have a son, here is a completely different set of options." Now, the gender binary is breaking down, and it's incredible. These younger years are so important in a person's life; it's a great time to teach kids that they can be whoever they want to be, regardless as to how they identify.
Image: Target