Target Is Replacing Mossimo With A Size-Inclusive Denim Brand That Starts At Just $5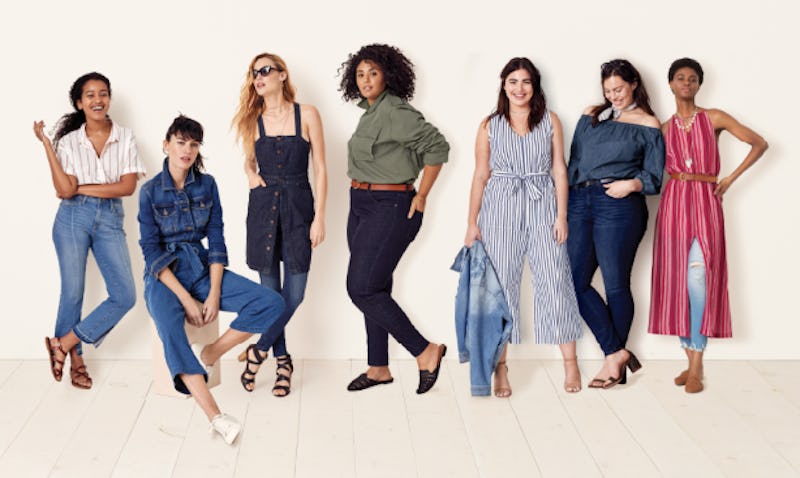 Courtesy Target
Just about every fashion lover freaked out when they heard that some of Target's staple brands were getting the boot back in 2017. The blow was softened when the brand announced three size-inclusive and stylish brands, and now they're announcing one more to get you excited. According to Star Tribune, Target's latest brand, Universal Thread is replacing Mossimo. The denim brand is almost here — and you'll want to get your wallets ready.
Just when you thought that you couldn't possibly spend any more time in Target, the brand announces a line that you just have to browse. Universal Thread's is a size-inclusive denim-focused brand featuring bags, shoes, tops, and, well, denim in sizes 00 to 26W.
According to Mark Tritton, Target's executive vice president and chief merchandising officer, the line was created after women said that they hated buying denim, oddly enough. Target reached out to 1,000 women and found — shocker — that they hate trying to find the right jeans. So the brand is hoping to change that.
"What we heard from nearly all of them was that they dreaded shopping for new jeans," Tritton says in a press release. "Whether the rise was too long or the inseam was too short or the pair of jeans they wanted didn't come in their size—finding the perfect fit for their body type was just too challenging. That's a problem we wanted to solve. So, our design team rolled up their sleeves and got to work creating a line that caters to all women, with multiple fits, silhouettes, lengths, rises and sizes."
Universal Thread will be available to shop in-store and online on Feb. 4.
The size inclusivity isn't the only exciting part of the brand, either. According to Tritton, Universal Thread will be Target's most affordable brand in the store. Denim can be pricey, so it's nice to see the brand taking into account all body types, price ranges, and quality of clothing into one.
"Value is not just about price, it's also about quality and fit. Universal Thread brings all of that together with items priced at an incredible value. In fact, the everyday denim is priced, on average, up to 10 percent lower than our current offerings, and the quality guests will find is unprecedented at this price," Tritton said in the press release.
Universal Thread also offers an adaptive collection filled with back pocket-less jeans and shirts without tags in them. The sensory-friendly clothing is perfect for people on the spectrum or for people with other touch-sensitive disabilities. This brand uses something as simple as denim and basic knits to make the shopping experience easier for everyone involved.
As if all of that wasn't already enough, Universal Thread also has eco-friendly options as well. While not every design offers Earth-friendly aspects, there are a handful of denim items to shop. According to the website, a portion of the jeans include pockets that are recycled from plastic bottles and uses a dyeing process to help reduce water, chemical, and energy consumption. The brand also offers recycled denim jeans.
Of course, like all great Target brands, Universal Thread offers accessories. You'll be able to shop shoes, purses, and jewelry as well. It looks like this isn't the only brand that's coming, either. Tritton hinted that plenty more are on the way.
"We're improving our existing assortment or bringing newness," he said in the press release. "We've got plenty more amazing brands up our sleeves to make Target the preferred destination for guests again and again."
High-Rise Split Hem Universal Thread Jeans, $25, Target
Get your wallets ready, because this is one line that you won't want to miss out on — even if we have to wave goodbye to Mossimo.