Tarte Apologizes For Racially Offensive Instagram Post, But Some Fans Still Aren't Happy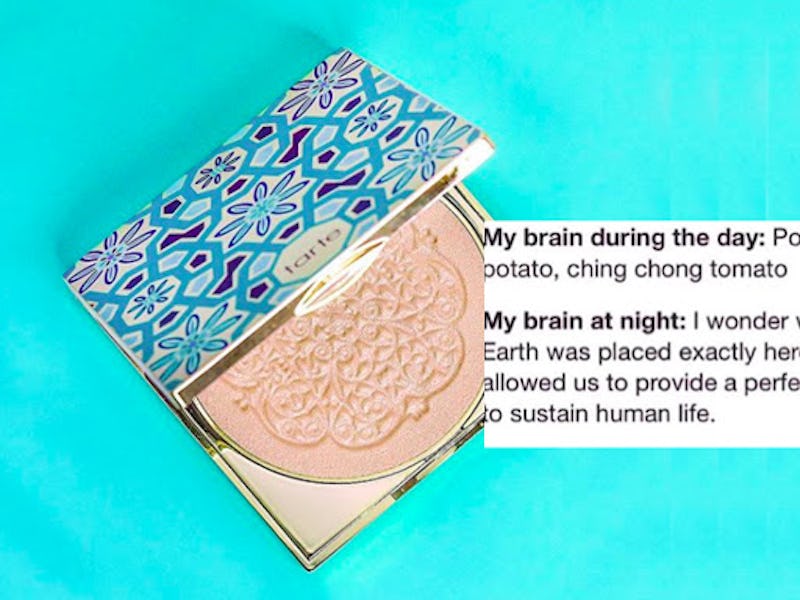 Tarte Cosmetics/Instagram
Tarte Cosmetics, known for its high performance neutrals and naturals, found itself at the center of controversy due to an insensitive social media post this weekend. According to a Reddit thread and fan screenshots, the brand shared a racially offensive meme that was originally posted on Instagram by makeup artist, stylist, and Kardashian fave Hrush Achemyan. The meme also targets people with intellectual disabilities.
The meme started with the phrase, "My brain during the day: Potato, potato, ching chong tomato." The offensive statement is commonly used around social media to insinuate a person doesn't think clearly or has no common sense.
The meme is insulting to both Asian communities and those with intellectual disabilities, originating from the "I can count to potato" scene from the movie The Ringer, which eventually further devolved in internet meme culture to include a negative Asian reference.
Twitter and Reddit users were both vocal in calling Tarte out for the offending post, contextualizing why it's inappropriate and why it's hardly just an innocent meme. For instance, Allure editor-in-chief Michelle Lee posted a Twitter thread explaining why "ching chong" isn't just a random string of words, but is a racial slur.
The brand quickly leapt into action, issuing an apology on Instagram, blaming an intern, and claiming it was an oversight that was not posted with any malice or intent to offend. The insulting post was removed and the initial apology was actually deleted; according to the company, the comments had been getting out of hand and users were hurling additional insults at one another.
Bustle reached out to the brand for further comment regarding the situation this morning and received an immediate response. Bustle also reached out to Hrush Achemyan for a statement, but hadn't heard back by press time.
UPDATE: Reps for Achemyan responded to our email and offered this statement: "To all of my fans and everyone who saw and was affected by my Instagram post, I sincerely apologize for the insensitive and ignorant nature of it. I in no way intended to use a racial slur and never want to promote hatred or racism. I'm a firm believer in diversity and stand by people from all different walks of life. I'm blessed to have fans across the world and always strive to show my love for all of you. I take full responsibility for the post and will do much better in the future. Thank you for your unconditional love and support!"
A Tarte spokesperson told Bustle over the phone that the company addressed the situation in a team meeting, and that company founder Maureen Kelly is committed to implementing an education process to ensure that a situation like this never happens again. The brand said they want to make sure all cultures, both internally and externally, are considered and respected.
Kelly personally issued a statement Bustle, saying, "We're not taking this social misstep lightly — beyond our sincerest apologies, we're using it as a learning opportunity not only for our team, but our entire social community. There's never an excuse to use an inappropriate term."
Here's how the scenario played out initially. Since nothing ever dies on the internet, screenshots of the racially offensive post and first apology circulated widely.
These are the initial insensitive comments by Hrush Achemyan, which were later reposted by Tarte.
This screenshot was of the first apology, which was later deleted. On Sunday, Tarte also posted another apology, direct from Kelly. This apology, which addressed to the loyalists known as "tartelettes," came from the very top of the company's food chain. The brand accepted accountability, and noted that using a racially offensive slur is inexcusable, regardless of context.
As you can see in the last line of the apology, Kelly intimates that the brand plans to educate its team further, which is also a good thing. But the fact that such education needs take place is unfortunate.
Here is a sampling of comments from Redditors who were angered by Tarte's post and apology. Fans were especially critical of the brand's original post putting blame on an intern.
As these comments show, many beauty lovers are getting tired of reading and accepting such apologies, since offensive moments seem to be happening all too often in the makeup world.
Just a few weeks ago, popular blogger Kathleen Lights came under fire for using the N-word. She posted an apology, which was received by an equal amount of supporters and skeptical detractors.
It's only been a few days since the last high-profile offensive statement, yet here we are again, processing multiple apologies.