This Is Not A Drill: Taylor Swift Just Made A Huge Claim About Kimye's Receipts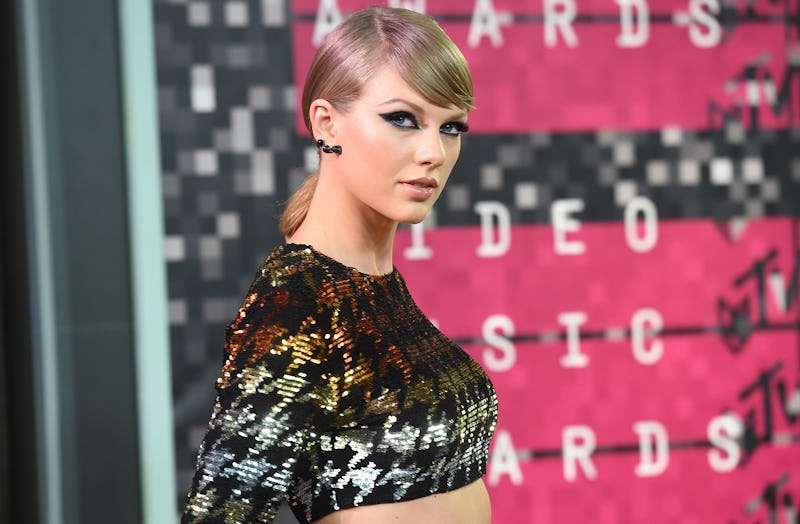 Jason Merritt/Getty Images Entertainment/Getty Images
After releasing her latest single late Thursday night, the video for Taylor Swift "Look What You Made Me Do" debuted at the VMAs on Sunday, and it was loaded with references to her beefs. In the video, Swift also seemingly claimed that Kimye edited the Snapchat video that they used against her in 2016. Bustle reached out to reps for Kim Kardashian and Kanye West for comment on the video, but did not receive a response at the time of publication.
UPDATE: A source close to the situation tells Bustle that what Kardashian posted was "raw unedited footage" but that Kardashian "Snapchatted bits and pieces."
EARLIER: During the parade of past Taylors that ended the video, one was seen taking pictures. When asked why by another Taylor, she responded that she was "taking receipts. I'm gonna edit them later." Viewers believe that this line is in reference to Kardashian's infamous Snapchat videos in which a phone call between West and Swift could be heard. Some fans believe that Swift is claiming that Kimye edited the footage and that the receipts are fake. It's a new claim in a feud that seems to never end.
The Snapchat videos in question featured a phone conversation between West and Swift, in which West talked to her about his song "Famous". The Snapchat seemed to indicate that Swift was fine with the lyrics, but she later denied being OK with all of the lyrics in the Instagram post in which she famously wrote," I would very much like to be excluded from this narrative, one that I have never asked to be a part of, since 2009". In the song, West raps, "I feel like me and Taylor might still have sex/ Why? I made that b*tch famous."
Based on the title and the first single, it seems as if Swift's entire upcoming album, Reputation, is going to be a response to how people viewed her in the wake of the videos being released and everything that happened in her life in the public eye afterward. Whether it's true or not that the videos were edited, it seems that Swift has no interest in letting go of the feud. When it comes to her, she does not forgive and absolutely does not forget.