Twitter Thinks Taylor Swift's New Song Is All About Kimye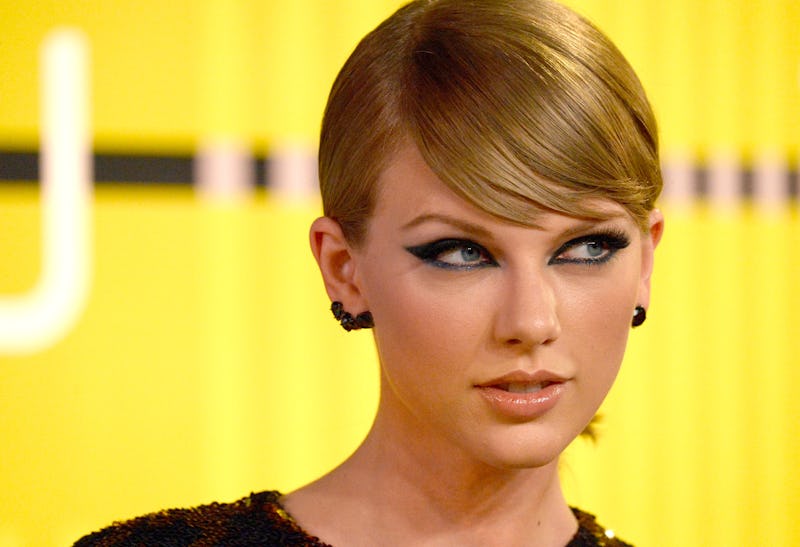 Frazer Harrison/Getty Images Entertainment/Getty Images
Three snake videos later, the moment has arrived: Taylor Swift officially dropped a new single. On Thursday night, the singer released a brand new track called "Look What You Made Me Do," and, naturally, fans are already wondering if Swift's "Look At What You Made Me Do" is about Kimye. When considering the lyrics, it certainly seems possible that Swift is rehashing her Kim Kardashian and Kanye West feud in her first single off Reputation.
The singer begins the track by singing, "I don't like your little games / Don't like your tilted stage," which, as one fan pointed out, seems like a direct reference to West, since his Life Of Pablo stage was, yes, tilted. It's also fitting that Swift would reference West's last album, Life Of Pablo considering the fact that it's the reason that she and Kimye got into a fight in the first place.
In February 2016, West dropped Pablo and the world got to hear "Famous," which included the infamous line about Swift where he raps, "I feel like me and Taylor might still have sex I made that b*tch famous." After Swift's squad criticized the line, West defended it on Twitter, stating that he had "an hour-long conversation" with the singer about the song, and that Swift gave the track her blessing.
It's something Swift would refute and later reference in her 2016 Grammys speech: "There are going to be people along the way who will try to undercut your success or take credit for your accomplishments or your fame." But Kardashian questioned Swift's explanation of what happened, and, in hopes of defending her husband, offered the internet receipts of what really happened.
It was Kardashian releasing West's "Famous" call with Swift on Snapchat, though, that really escalated this feud. That's what led Kardashian fans to flood Swift's social media accounts with snake emojis and the reason why Swift's snake videos seemed to hint that her new single would be about Kimye. And, of course, there's the snake-filled lyric video for "Look What You Made Me Do" that she dropped.
Swift makes reference to a phone call on the song, delivering a spoken word in which she explains:
I'm sorry, the old Taylor Swift can't come to the phone right now
Why?
Oh, 'cause she's dead
It was that Kanye call that had Swift saying she "would very much like to be excluded from this narrative, one that I have never asked to be part of." And since it was the audio from that call that had people accusing Swift of being a liar, it's fitting that it would have "killed" her. It was then that she had to change and become tougher. It would all fit.
While we may have figured out the secret of "Look What You Made Me Do" is about, there's still something fans and non-fans a like can look forward to: West's response to Swift's alleged diss track.