Taylor Swift Earned 3 Grammy Noms For 'Lover,' But Fans Still Think She Got Snubbed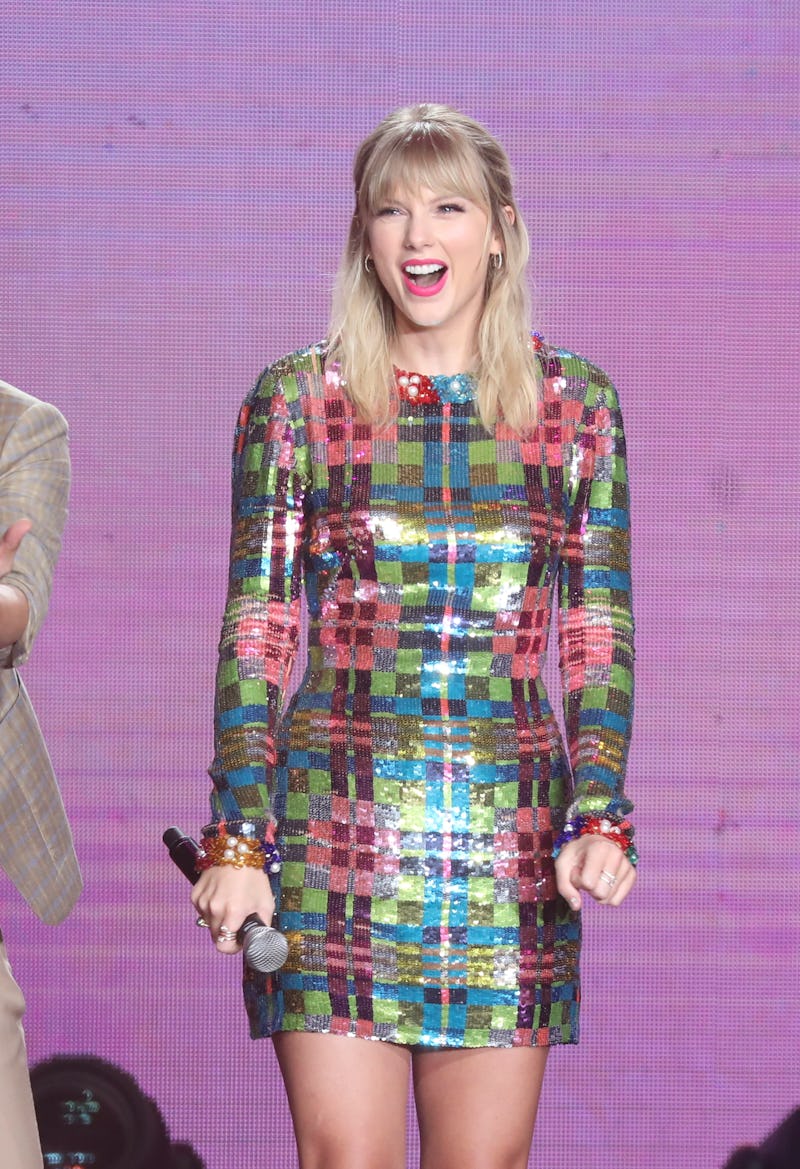 VCG/Visual China Group/Getty Images
If Taylor Swift was nervous about the Grammy nominations announcement this morning, she needs to calm down. After all, Taylor Swift received three 2020 Grammy nominations, as announced on Wednesday, Nov. 20, even landing a spot in one of the biggest categories. Her hit single "Lover" is nominated for Song of the Year — but some fans are unhappy that she didn't receive more.
The singer also received a nod for Best Pop Solo Performance with her other huge hit this year, "You Need to Calm Down," while her smash album Lover was nominated for Best Pop Vocal Album. But her Song of the Year nomination for "Lover" is especially significant for Swift given that she is the sole credited songwriter on the track, and has talked extensively about writing the song by herself. In fact, she specifically celebrated that fact in an Instagram story reacting to the nominations. "Wrote this one alone in a quiet moment and seeing it honored in the Song of the Year category by my peers means so much," she wrote. "Wow."
During her NPR Tiny Desk concert, Swift said that she knew "Lover" would be the title track of her album as soon as she wrote it. "With this song, it was just one of those weird moments, just middle of the night, I'm like in my PJs, stumbling to the piano as I got this idea and the song just happened really quickly," she said at the time. She's especially proud of the song's wedding vow-style bridge, as she told Vogue in August 2019. "This has one of my favorite bridges," she said. "I love a bridge, and I was really able to go to Bridge City."
Swift fared better in the nominations in this go-around than last year, when her album Reputation was virtually snubbed, receiving just one nomination for her hit record, in Best Pop Vocal Album. That said, just because she got three nominations this year doesn't mean fans are satisfied, with many still disappointed that she missed out on Album of the Year for the second year in a row. And Swifties are standing with their idol on Twitter, ready for battle.
While acknowledgement for Lover in Album of the Year would have surely been appreciated, Swift should still be proud for being apart of a rare occurance at the Grammys: all five nominees for Best Pop Solo Performance this year are women. Swift will face off against Beyoncé, Billie Eilish, Ariana Grande, and Lizzo in the category.
She'll be competing with these ladies, save for Lizzo, once again in Best Pop Vocal Album. She'll also be dueling Eilish and Lizzo in Song of the Year, along with Lady Gaga, Lana Del Rey, and H.E.R., making it a highly successful year for women at the Grammys. Swifties, it's time to get your prayer candles out.