This Advice Taylor Swift Gave Shawn Mendes About Performing Live Is Spot-On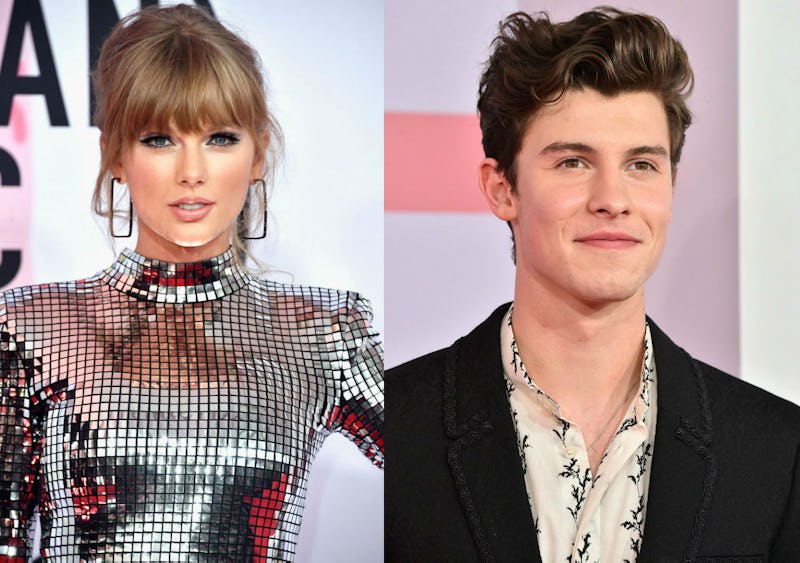 Frazer Harrison/Getty Images Entertainment/Getty Images (2)
Performing live sometimes isn't easy, even for famous musicians who do it for a living. Even Taylor Swift had to give Shawn Mendes advice about doing a concert. Believe it or not, but there was one point in time when Mendes would get extremely nervous about singing in front of massive crowds. However, while touring as the opening act for Swift's 1989 World Tour in 2015, she helped Mendes battle his nerves with one key piece of knowledge.
At Billboard's Live Music Summit on Tuesday in Los Angeles, Mendes and his manager, Andrew Gertler, chatted about the 20-year-old's rise to fame and how he's grown as an artist. During their panel, the "In My Blood" artist said about Swift's advice,
"She said to me one day, 'Are you nervous?' And, I got nervous just because she's Taylor Swift — my face would get red every time. But, she goes, 'Are you nervous?' And I was like, 'Yeah.' She goes, 'Why?' I was like, 'I just don't want to mess up,' which is the main reason. She goes, 'Everybody in the audience is there to have fun and support you. Literally, nobody is there to judge. It's not a TV show where they're here to judge you.'"
That moment forward, Mendes was able to do what he knows and loves without worrying about making a mistake.
He explained further at Billboard's event, "Kind of since that moment, I really learned what it meant to be a performer and it wasn't about being perfect — it was about enjoying it. Because you watch someone on stage and whatever they're doing, if they are truly enjoying themselves, so are you."
As for Swift, the "Lost in Japan" singer said Swift took her own advice every time she performed during their tour together. He said,
"She went on stage every night to have fun, to enjoy and to be in happiness because that's what the live show is about. It wasn't about being perfect. She's perfect either way, but that was the biggest thing I learned from her."
In August 2017 for VMAN magazine (via E! News), Mendes discussed Swift and how helpful she's been to him as a friend and colleague. Like on Billboard's panel, he told the publication, "She told me not to be afraid to go out on stage, because everyone in the stadium came to have fun. This is not a judging contest, this is a concert."
Clearly, Swift was impressed with Mendes and his live performance abilities, or he would've never been part of her tour. Plus, in May, Mendes once again joined Swift on stage during her Rose Bowl show for her Reputation stadium tour. They sang his song "There's Nothing Holdin' Me Back." Ever since touring together, they've clearly formed a bond.
Reuniting with Swift meant a lot to Mendes. He told E! News at the 2018 Billboard Music Awards about the opportunity, "It was unbelievable. It was obviously just really awesome to be back and to be with her, but it's a very different thing to be brought out as a special guest from opening. Unreal, man. I wish you could experience what it feels like."
And Mendes saying, "I wish you could experience what it feels like," is proof that he took Swift's advice to heart. He clearly had fun, like she taught him.