Taylor Swift Teases Her Music Video With Zayn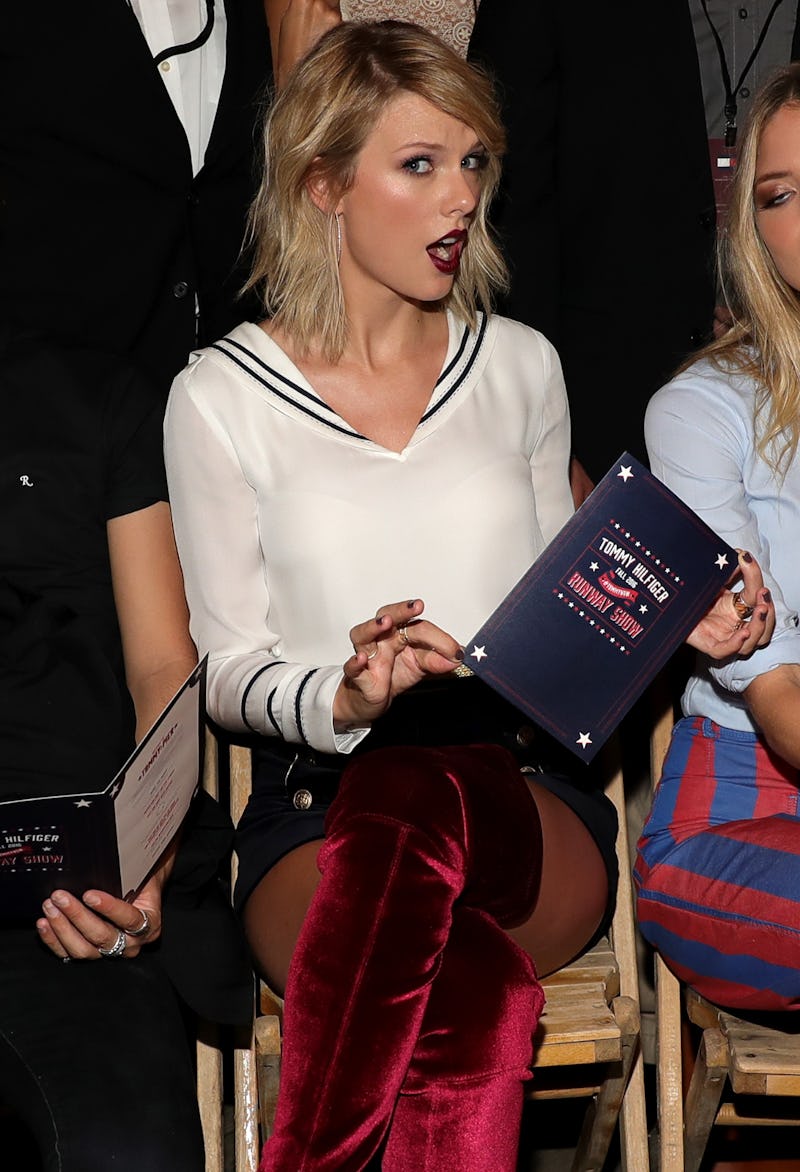 Neilson Barnard/Getty Images Entertainment/Getty Images
If you were concerned a certain pop starlet wouldn't end up in Zayn Malik's next music video, panic no longer. On Thursday, Taylor Swift posted a sneak peak of the "I Don't Wanna Live Forever" video on Instagram, the song of course being the smash single off the Fifty Shades Darker soundtrack. It's quite the tease, because all we see is the two singers back-to-back, bathed in fifty shades of blue (nobody got the memo, I guess). And given how this music video is supposed to be so tied to the upcoming Fifty Shades sequel, I do have to wonder how its outcome is going to service Swift and and Malik's aesthetics.
On a base level, one would expect that the "I Don't Want To Live Forever" video would tie into the movie's brand by being sexy, sexy, and sexy. It's a film about romance and bondage and all the things that gives mom some spice to put back into her marriage. As such, one would expect this video — which does feature a Malik suited up in the rain, according to reports — to dial up the passion, with two at least playing some tonsil hockey or something.
But I'm not 110 percent sensing such passion from this particular screenshot, and, even though it's possible they're saving more for later, it could be possible that the vid will be more moody and pining then sexually charged — especially if Swift gets her way.
The thing about duets is that you're often melding two different personalities. And while the two don't necessarily operate on opposing genres (hell, I haven't forgotten when Swift dated Malik's One Direction bandmate), their careers are sort of veering in separate ways. Malik, for example, has been working hard to shed his boy band image for the past year, basically since he released "Pillowtalk" with girlfriend, and Swift squad member, Gigi Hadid. He's perfectly suited for something like Fifty Shades Darker, because it aligns with that bad boy brand he's trying to sell.
Swift, however, is very careful about treading a line of appropriateness; she is not about isolating her younger fans. Sure, certain songs off 1989 embrace her edgier side, but referencing a "tight little skirt" during the late night liaison in "Style" is the closest she'd gotten to risqué. Hell, the video itself is just Swift and her boytoy looking into a bunch of shattered mirrors. So even when she veers towards sexy, she operated better on the power of suggestion rather than, you know, overtly groping a model for three minutes and 23 seconds.
Maybe, then, it is a perfect match-up, since the last movie saw Ana as a doe-eyed innocent and now she's becoming a more fully-fledged woman (I mean, I assume from the trailers; I've watched every Twilight film ironically, and I think that's the trajectory this is going in). The two might make for an appropriate pairing, no matter if the mood is casually sultry or insanely sexed up.
With Fifty Shades Darker hitting theaters February 10, it's only a matter of time before "I Don't Wanna Live Forever" gets it's own proper release. Let's hope that the color issue is the only problem in the video.