Taylor Swift's Lit AMAs Performance Had A Cameo Fans Can't Stop Talking About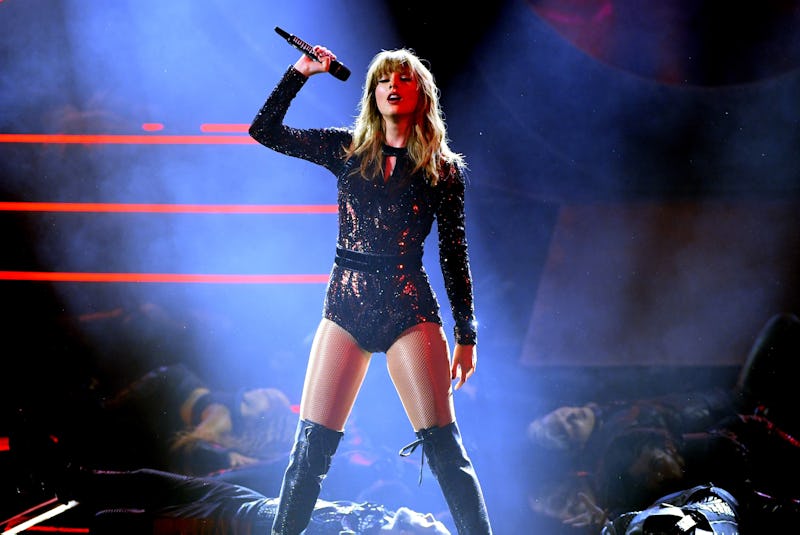 Kevin Winter/Getty Images Entertainment/Getty Images
She warned us it was coming, and yet, we still weren't ready for it… bowomm bwommm bwommmmm. Taylor Swift's performance at the 2018 American Music Awards was so incredible, it left teardrops on guitars everywhere on Oct. 9. Some might even say it something out of their wildest dreams. Just as she announced on Instagram last Tuesday, Swift kicked off the evening with "I Did Something Bad," and whew, it never missed a beat and it was lightning on its feet. *Checks system.* Well, it looks like I've officially gotten all of the cheesy Taylor Swift song references out of my system. Anyway, if you missed the show, thankfully, some swift Swifties nabbed some video and tossed it on Twitter. You can watch the performance here.
Tuesday evening's award program sure is a big one for Swift. The "Look What You Made Me Do" singer is up for several awards, including Artist of the Year and Tour of the Year, which she won. But before all of the winners could be revealed, the show had to begin. And the show could not begin until Swift played "I Did Something Bad" for the folks sitting in the audience and for the folks watching at home. And wow, what an opener it was.
Swift brought the heat, the backup dancers brought the heat, the costumes brought the heat, the literal flames on the stage brought the heat, and Karyn the snake brought the heat. Yes, Karyn from the Reputation Stadium Tour attended the AMAs in all of her slithering glory.
And yes, the Swifties were all about this cameo.
Karyn had quite a night.
Who can sleep while Karyn is on TV?
It's a moment for the hisssssss-tory books.
*Wipes brow.* Close call.
After a performance like that, Karyn's inbox must be going nuts.
What an emotional moment.
She really, really did.
May we never stop stanning a balloon.
Oh, wait a second. It looks like there is one more cheesy T. Swift lyric joke in the system after all: This performance of "I Did Something Bad" happened just a few days after the musician did something good. On Sunday, Swift posted on Instagram that she will be voting for Tennessee Democrats Phil Bredesen and Jim Cooper in the upcoming midterm elections, and asked her followers to register to vote.
And it seems like a lot of people listened. Vote.org director of communications Kamari Guthrie told BuzzFeed News that the nonprofit saw 65,000 new registrations in the first 24 hours after Swift's plea went up on IG. As awesome as her post is, it did not go over well with everyone.
Suffice to say, hearing Swift sing the lyrics to "I Did Something Bad" (e.g., "I never trust a narcissist/But they love me," "They say I did something bad/Then why's it feel so good?", "If a man talks sh*t/Then I owe him nothing") on national television less than three days after she got political on social media sure felt like A Moment.