The Old Taylor Swift Is Filming A Music Video In A London Kebab Shop — Yes, Really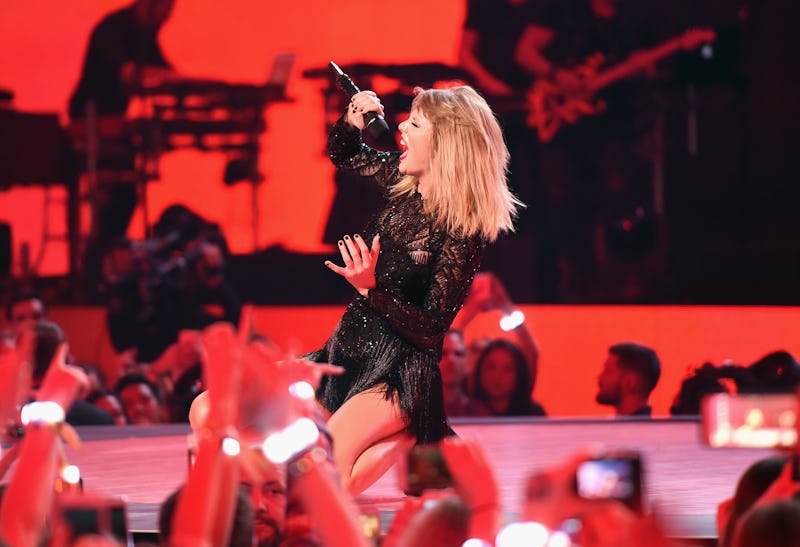 Kevin Winter/Getty Images Entertainment/Getty Images
If you've been wondering where Taylor Swift will shoot her next video, then relax: The Telegraph's revelation that the new Swift video will be set in London makes perfect sense. What it suggests about the direction the blonde is taking her new album Reputation in, however, is a little more noteworthy — namely, that this video will return her to that girl-next-door image that was potentially part of the reason for her success in the first place. Of course, there's no telling exactly what Swift is thinking as she gears up for the release of her next album, but the evidence that this new video will be more like the Old Taylor Swift is certainly there.
According to The Telegraph, the video will be paying "homage" to Alwyn. An unnamed source reportedly close to Swift claimed that it would show the pop star on a night out and that "all of the locations are places she has been to with Joe." These locations reportedly include Kentish Delight, a kebab shop in Kentish Town, North London, a stint on one of London's night buses, and even the British actor's local pub. The newspaper also reports that the 27-year-old singer will be shown cycling across the Millennium Bridge, the structure that bridges the River Thames. The same source said, "She wants to show people she is just a normal girl."
This poses a contrast with her previous video for "Look What You Made Me Do." As W Magazine has noted, the opening of the video, in which the singer climbs out of her own grave, was an obvious reference to Michael Jackson's "Thriller." As the book Michael Jackson: King Of Pop observes, Thriller cost $500,000 to make back in a time when music videos were generally made for tens of thousands of dollars.
As such, this reference seems to set the tone for the rest of the lavish video — the scene with the singer in a diamond bath alone cost "well over $10 million" according to Page Six, who reported that the diamonds used in the scene were real. This seems fitting for a video which appeared to deliver a brand new version of Swift to the public: a diva. We see this in the over the top outfits, the assistants scurrying around after her trying to curry favor, her seat on a throne, and in her manufacturing squad members. Ostensibly, she isn't playing.
It's a far cry from her former image as an everywoman that we witnessed thanks to videos like "Ours," "Picture To Burn" and "We Are Never Ever Getting Back Together." On one hand, the new strategy seemed to work for her: "Look What You Made Me Do" is Swift's most popular video ever, with Forbes reporting it broke a personal record for the musician, hitting 100 million views in less than four days. Which is what makes it so strange that she appears to be returning to her more relatable image in her next video. Or is it strange?
Because despite the millions of views, the song and its accompanying video were mostly critically panned. Salon described the first single from Reputation as being "really more about petty teen retribution and recrimination more than anything else," USA Today described the video as petty and shows Swift hasn't "quite finished lashing out at her enemies," while Vulture concluded acidly that the short is "very much the video one would expect for New Taylor's venge-y debut."
So maybe it's no wonder that the former country music star seems to be returning to her just-like-you wholesome image of yore with her next music video. The last time she released a new album, with 1989, The New York Times concluded that "she has set herself apart and, implicitly, above," and Rolling Stone gushed that Swift's fifth studio album was "deeply weird, feverishly emotional, wildly enthusiastic."
The old Taylor might be dead, but, musically, she didn't get as much bad press. And this is the persona that has resonated the most with her fans.