Taylor Swift's New Film With James Corden & Jennifer Hudson Finally Has A Release Date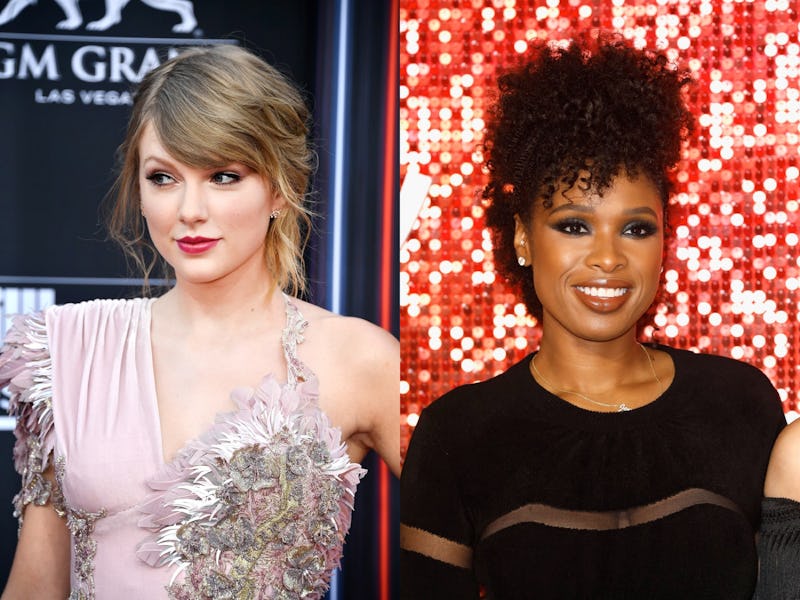 Frazer Harrison/Tristan Fewings/Getty Images Entertainment/Getty Images
Remember when you were eight, and in drama club, and you learned all the words to "Macavity The Mystery Cat" for your group performance of the musical Cats? Could you ever have imagined that said musical, all catsuits and questionable face paint, would be made into a giant Hollywood feature, with names as big as Taylor Swift, Jennifer Hudson, Ian McKellen, and James Corden attached (yes, most of them weren't famous yet, but you understand the point)? Just over a month after the plans were revealed, a release date for Taylor Swift's Cats movie has been announced — and it's a lot sooner than you might have anticipated, given the scale of the production.
According to Variety, the Cats adaptation will be released on December 20, 2019, which is significantly sooner than I would have guessed. There's choreography to learn! Fake fur to apply! An entire Jellicle Ball to recreate! How can all that be achieved in just a year and a half?
Here's the info we know so far about the movie. Jennifer Hudson will play Grizabella, the part originated by Elaine Paige, according to the Hollywood Reporter. For those who didn't spend their youth fantasising about a future on the stage (and ignoring the reality of their terrible singing voice), that's pretty much the lead role — she sings 'Memory', probably the most famous song in the show. Nicole Scherzinger played Grizabella on the West End, as the Guardian reports, while Leona Lewis replaced her for the Broadway revival. After Scherzinger, Beverley Knight took up the role on the West End. Ian McKellen will play Old Deuteronomy, the leader of the band of cats. And Swift? She's apparently lined up to play Bombalurina, "a flirtatious red cat."
And the team behind the camera are just as impressive: it'll be directed by Tom Hooper, known for his work on another little-known musical adaptation, Les Misérables, according to Variety. Les Misérables won three Oscars, including Best Actress for Anne Hathaway, while Hooper won Best Director for his work on The King's Speech.
Jennifer Hudson's an Oscar winner, too, receiving the Best Supporting Actress award for her role in Dreamgirls, while Ian McKellen's received two Oscar nods. Does this mean that Cats might claw its way (sorry) to an award? Will the magical Mr. Mistoffelees appear on the Oscars stage? Will Hollywood luminaries wear long, furry tails on the red carpet?
Also attached to the Cats adaptation? Wayne McGregor, a critically acclaimed choreographer for the Royal Ballet. Basically, the names are big, and it sounds like the production will be too.
Here's one slight challenge for Cats: it's sharing a release date with some pretty significant titles. It pinched the December 20 slot from another major musical adaptation, Wicked, as Variety reports; as a result, it's now competing with Star Wars: Episode IX and Murder on the Orient Express follow-up Death on the Nile. Would anyone like to join me in viewing an extremely confusing and disjointed triple feature?