This Taylor Swift Rumor Could Mean New Music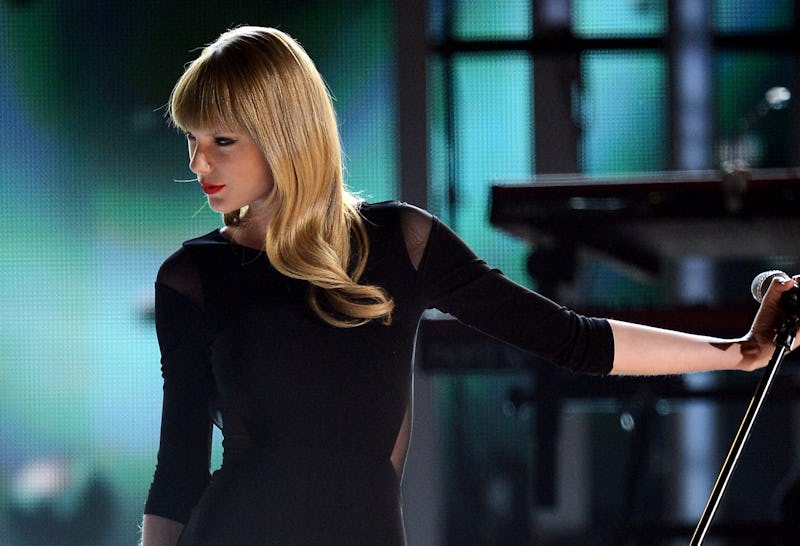 Ethan Miller/Getty Images Entertainment/Getty Images
Taylor Swift fans have been waiting for a follow up to 1989 for a long time. The singer's usually strict schedule, which sees her release a new album every two years, has seemingly been abandoned, leaving Swifties unsure as to when their queen will return. The singer has continued to write music throughout her hiatus, including Little Big Town's single "Better Man", but when will the world have new music from Taylor Swift? TMZ has reported that the singer is starting a music website called Swifties. Sources have since refuted initial reports that the site will be a streaming service — Bustle has reached out to Swift's reps for further details but has yet to receive a response — but is it possible that Taylor Swift's next album will utilize an online space?
It's clear that Swift is moving her career in a bold new direction, and her fans are at the centre of it. According to TMZ, Swift is planning on releasing her own branded music products, as well as organizing educational music camps, and providing exclusive online tutorials for her fans, which all sounds very exciting, if true. Please let it be true, because, if anyone could do such a thing and do it well, it's Swift.
While the singer isn't developing her own streaming service, she does seem to be creating a unique online portal for fans. When coupled with Ed Sheeran's comments that Swift's album will be coming out towards the end of the year, it seems possible that the singer is creating a new model for releasing music. Swift's negotiations with Spotify and Apple Music have been legendary, which is why it would make sense for the singer to take control of her music sales in a major way. Perhaps the "Style" singer's new album will only be available via her new website?
It's also a possibility that Swifties is the name of Swift's next album. Perhaps her new music will be inspired by fans instead of romantic relationships? The world is ready for the pop star to take her music in a brand new direction, especially following numerous dramas involving Calvin Harris, Kimye, and Tom Hiddleston. Despite wanting to hear songs inspired by Hiddleswift, an album that doesn't mention romantic love would be way more interesting, and unexpected, at this point.
We'll all have to wait patiently to find out the true meaning of Swift's rumored new website, but it's exciting to know that the singer has new projects in the works.