Ed Sheeran Reveals Taylor's Album Release Date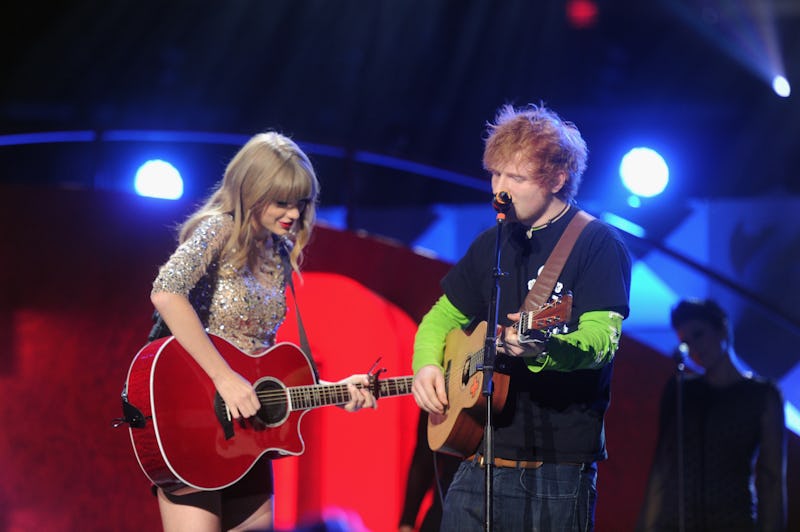 Jamie McCarthy/Getty Images Entertainment/Getty Images
As a self-proclaimed Pop Culture Detective, no one was more disappointed than I was when Taylor Swift broke her streak of releasing music every two years like clockwork and didn't put out a new album in 2016. But I'm picking myself up and dusting myself off, and Ed Sheeran's reveal of Taylor Swift's album release date is just the clue I need to get back on the case.
In a recent conversation with the BBC, Sheeran was asked by the interviewer what the high point of his career has been so far, and the 26-year-old singer said it was right now, because anyone he wouldn't want to compete with for album sales just put music out in 2016. You know, like Beyoncé, Bruno Mars, and The Weeknd. He then released a juicy tidbit about his good friend Swift's upcoming schedule:
Taylor isn't going to be releasing until probably the end of this year — Christmas is the smartest time to release because that's when everyone buys records. So I've got a full year of just all Ed, all the time.
It might sound like an offhand remark, but there are a lot of reasons to believe that Sheeran is correct about the timing for Swift's followup to her smash hit 1989.
Taylor Swift And Ed Sheeran, Y'Know, Talk To Each Other
Let's start with the obvious; if Swift had even a vague idea about the release date for her sixth studio album, her BFF Sheeran would probably be one of the first to know.
Christmas Sales Are No Joke
Like Sheeran said, Christmas is a really smart time to release an album, whether it's Christmas music or not, and Swift is no dummy. If you want to drive album sales, December is a great time to put out a project, because everyone's flush with cash and buying gifts.
She's Never Done An Official Christmas Album
That said, ya girl has never put out specifically Christmas music — at least not officially, or since 2007 — so that's an untapped arena for Swift, whose last album branched out into pop from her original country roots. Who knows where the next release could take her?
It Could Commemorate A Special Moment In Her Life
I don't know if you've ever been invited to one of her epic parties (me neither), but Taylor Swift's birthday is actually in December, on the 13th. She might choose to put out an album around then, Adele-style, so it exemplifies how she was feeling going from age 27 to 28. After all, her last album was named after the year of her birth, so she seems to be feeling a bit referential.
Taylor Swift Tends To Release Music Later In The Year Regardless
Historically, October has really been Swift's sweet spot, with four of her five studio albums coming out in the same five-day stretch within the fall month, spanning Oct. 22 (2012's Red) to Oct. 27 (2014's 1989), with 2006's Taylor Swift and 2010's Speak Now falling in between, on Oct. 24 and 25, respectively. Her sophomore album Fearless was the only exception to the rule, dropping on Nov. 11, 2008, but even that didn't stray too far from the pack. The girl likes a month that falls late in the year, and December would fit right in with that theme.
She's Been Working On New Material For A Minute
We might not have an exact date yet, but one thing that's not in question here is that Swift has been hard at work. She's been spotted at the studio off-and-on for months, and speculation has been rife about new projects. You know she's got something up her sleeve and is just waiting for the timing to be right.
Keep your eyes peeled and ears perked for more clues as to the release date of Taylor Swift's next album, and you know I'll alert you the moment I hear anything.