This Tweet About Taylor Swift Makes The World's Most Savage 'Gossip Girl' Connection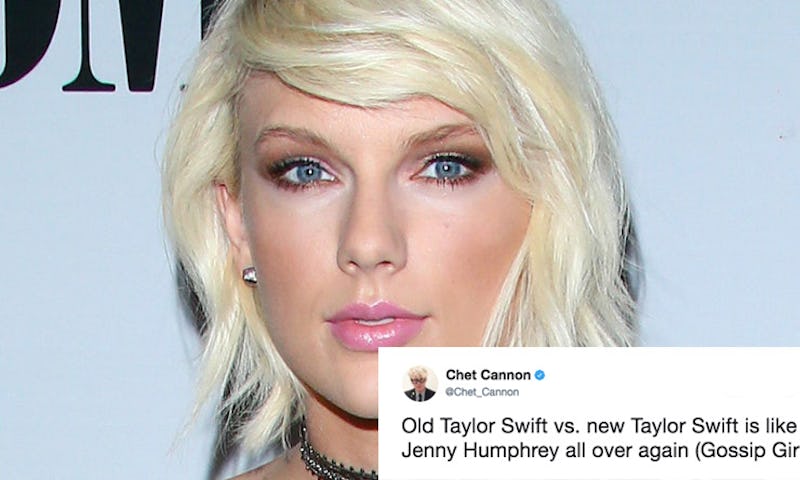 Getty Images/Bustle
Those who stayed up late on Thursday night in order to listen to Taylor Swift's "Look What You Made Me Do," her first single in three years, were in for a real treat. No, not because of the song, which is of arguable quality, according to the Twitter. The real gold is the reactions to the song, which range from GIFs to flailing and screaming to some truly on point comparisons. In fact, one tweet compares Swift to Jenny Humphrey from Gossip Girl because of the new era in her career introduced by "Look What You Made Me Do" — and it's savage AF for how accurate it is.
For those who weren't obsessed with Gossip Girl — all six of you — the show about Upper East Side rich kids featured a non-Upper East Sider named Jenny Humphrey, who desperately wanted to be popular and well-liked by the Queen Bees at her all-girls school, Constance Billard. Season 1 Jenny was an infamously sweet sycophant who was just learning how to play the game well enough to make even the mighty Blair Waldorf respect her... and maybe even surpass her. Fast-forward to a few seasons later, when Jenny Humphrey went punk goth, and her reign as Queen of Constance in Season 3 was differentiated from Blair's by the fact that she was all deep red lipstick, all-black clothes, bleached white hair, and ~edginess~.
Does this transformation remind you of anyone else right now? Well, Chet Cannon saw it first. (Well, a 2016 BuzzFeed article saw it first. But Chet Cannon brought it up again now that "Look What You Made Me Do" has confirmed it.)
The comparison gets even better when you think of the singles that Swift has released between her first album and "Look What You Made Me Do." Taylor Swift, her debut album, featured all kinds of songs about common woes plaguing teenage girls, and certainly got me through quite a few tough spots in high school. Fearless, Speak Now, and Red maintained that same sweet sound that matured as Swift matured and learned the musical/Hollywood game.
Then 1989 Taylor Swift gave us Season 2 Jenny Humphrey vibes, not a girl but not yet a woman, with thick black eyeliner and a new cropped hairstyle with bangs.
And now we're getting the Reputation Era, which, by the sounds of "Look What You Made Me Do," really does seem to be giving us a Swift who is ready to run the Upper East Side her own way. Ironically, Jenny Humphrey's upgraded looks were a case of real life writing the plot, as actress Taylor Momsen was growing up, finding herself, and fronting rock band The Pretty Reckless. Swift, whose music has always been drawn primarily from her personal life, seems to be going through a pop rock transition of her own, and it will be interesting to see how that plays out on stage.
For now, this Jenny Humphrey/Taylor Swift connection is just too perfect to be denied. Is it savage? Yes. But can you un-see it? No, no you can't.