This Photo Of Taylor Swift & Her Mom After They Voted Is Patriotic As Heck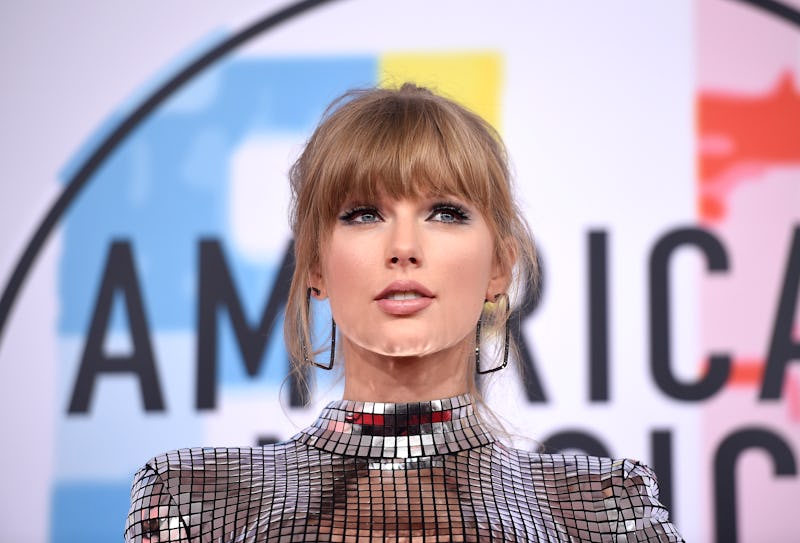 Kevork Djansezian/Getty Images Entertainment/Getty Images
One of the country's most famous music stars let her followers on Instagram know that she was ahead of the voting curve in her home state of Tennessee. Taylor Swift posted a photo after voting with her mom, Andrea Swift, on Instagram Tuesday. They both held American flags while standing in front of a large sign for former Tennessee Gov. Phil Bredesen of the Democratic Party.
Swift also tagged Bredesen, who is running for Senate in her home state, in her post and wrote, "These two Tennessee women voted for the candidate who has proven himself to be reasonable and trustworthy. We want leadership, not fear-based extremism. Early voting goes til Thursday and Election Day is Nov. 6. Please don't sit this one out."
On Oct. 7, Swift publicly voiced her political opinion for the first time on the same platform, Instagram, by mentioning Bredesen. In her caption, Swift wrote, "In the past I've been reluctant to publicly voice my political opinions, but due to several events in my life and in the world in the past two years, I feel very differently about that now."
Swift wrote that although she believed in upholding women and their political aspirations, she did not support GOP Rep. Marsha Blackburn specifically for the political positions the Republican took in the past.
The musician wrote in her caption that she firmly believed in demanding equality for the members of the LGTBQ community and human rights while standing against systemic racism and sexual discrimination. Because of those reasons, Swift wrote, "I cannot vote for someone who will not be willing to fight for dignity for ALL Americans, no matter their skin color, gender or who they love."
When it came to Blackburn, Swift wrote, "I cannot support Marsha Blackburn. Her voting record in Congress appalls and terrifies me. She voted against equal pay for women. She voted against the Reauthorization of the Violence Against Women Act, which attempts to protect women from domestic violence, stalking, and date rape. She believes businesses have a right to refuse service to gay couples. She also believes they should not have the right to marry."
In response to Swift, Blackburn went on Fox & Friends First and said, "Of course I support women and I want violence to end against women. I have been very active in abuse shelters and in child advocacy centers, I've been advocating for women and equal pay since I was 19 years old and making certain that women have the opportunity for maximum pay."
Swift has been keeping her political posts up. In another Instagram photo, Swift talked about how she wished she knew about early voting when she was 18. "It makes it so quick and easy to go and cast your vote before Nov. 6," she wrote. In her photo, Swift shared what were presumably her own toenails covered in red, white, and blue nail polish.
It's an uncharacteristically vocal tone that she's taken on. In the past, Swift didn't talk about the tumultuous 2016 American presidential election, but now politics seems to be the among the musician's go-to subjects.