Taylor Swift Continues To Speak Out About The Importance Of Voting In Her Latest IG Post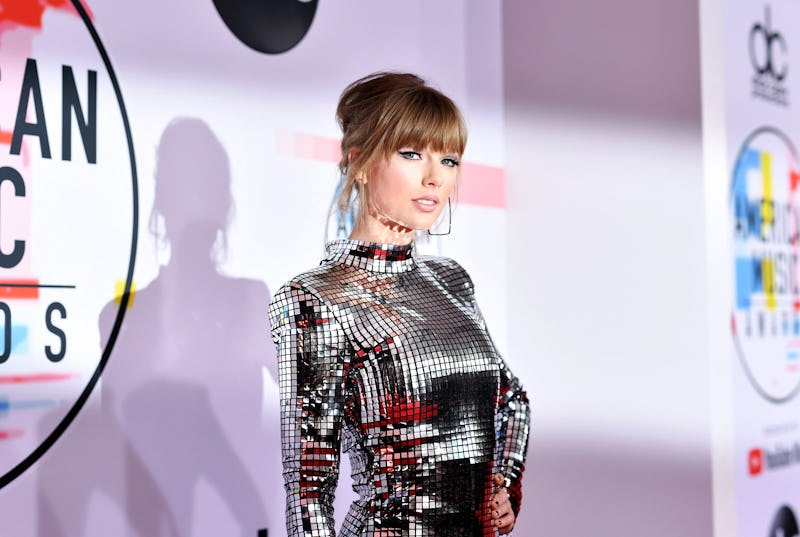 Emma McIntyre/Getty Images Entertainment/Getty Images
A week after speaking out about politics for the first time publicly, Taylor Swift is encouraging early voting as an option for exercising your civic right this season. The "Look What You Made Me Do" singer shared an Instagram photo of her feet with red, white, and blue nail polish, along with a message about her own experience of her first time voting.
"Something I wish I knew about when I was 18 and voting for the first time: ✨EARLY VOTING✨," Swift wrote in her Instagram caption. "It makes it so quick and easy to go and cast your vote before November 6." The 10-time Grammy winner added that in her home state of Tennessee, early voting started on Wednesday, Oct. 17.
In her Instagram bio, Swift also shared the link to an early voting calendar, where fans can check when early voting starts and ends in their own states. It's worth pointing out that early voting isn't an option in every state — New York, for example, doesn't let voters cast their ballots before Election Day on Nov. 6. (If you can't make it to the polls on that day, though, states that don't offer early voting will let you cast an absentee ballot.)
Last week, Swift shared a political Instagram post about Tennessee's midterm elections that caught fans by surprise. The singer explained that while she hasn't shared her political leanings in the past, "events in my life and in the world in the past two years" changed her mind. Swift wrote in her Instagram post that she supports equal rights for all, and that she wants to work against "systemic racism."
"I will be voting for Phil Bredesen for Senate and Jim Cooper for House of Representatives," Swift wrote in her Instagram post. She also shared a list of reasons she wouldn't be voting for Marsha Blackburn in the Tennessee midterms, citing the Republican representative's voting record on policies such as the Violence Against Women Act.
Swift's post seems to have made a tangible impact, too. After her Instagram post on Oct. 7, voter registration surged, with as many as 65,000 new voter registrations that may be thanks to Swift, according to Vote.org and BuzzFeed News. Of course, part of the registration surge could be due to the fact that Tennessee's voter registration deadline was Oct. 9, and people might have been registering regardless of her post. But it's more than possible that a significant amount of those new registrations were tied to the "Delicate" singer.
Before this month, Swift rarely addressed politics at all. She shared an Instagram post about the March for Our Lives this past spring, but Swift didn't share her opinion about the 2016 presidential election. Based on her most recent posts, though, it's safe to guess that Swift didn't vote for President Trump (despite a few conspiracy theories that claimed that).
Swift also got political at the 2018 American Music Awards. As she accepted the four awards she won, Swift encouraged people to vote in the upcoming midterm elections. 2018 may not be a presidential election year, but local elections are super important, too. And while it would've been nice to see Swift talk about politics sooner, it's nice to see she's using her star power to encourage fans to vote this year.